Over the last few years, the Gorpcore style revolution has created and maintained a desirable spot in popular culture. As a style, Gorpcore can be quickly summarized as functional and technical apparel and shoes made for the most extreme and testing of environments in the great outdoors. Popular styles include waterproof Arc'teryx rain jackets, Salomon Trail Shoes, and other apparel pieces made to withstand and function in the rain, snow, mud, and more. In August, Arc'teryx linked with Beams for a rare partnership that featured one of the brand's most popular styles, the Beta Jacket, in a rare collaborative colorway.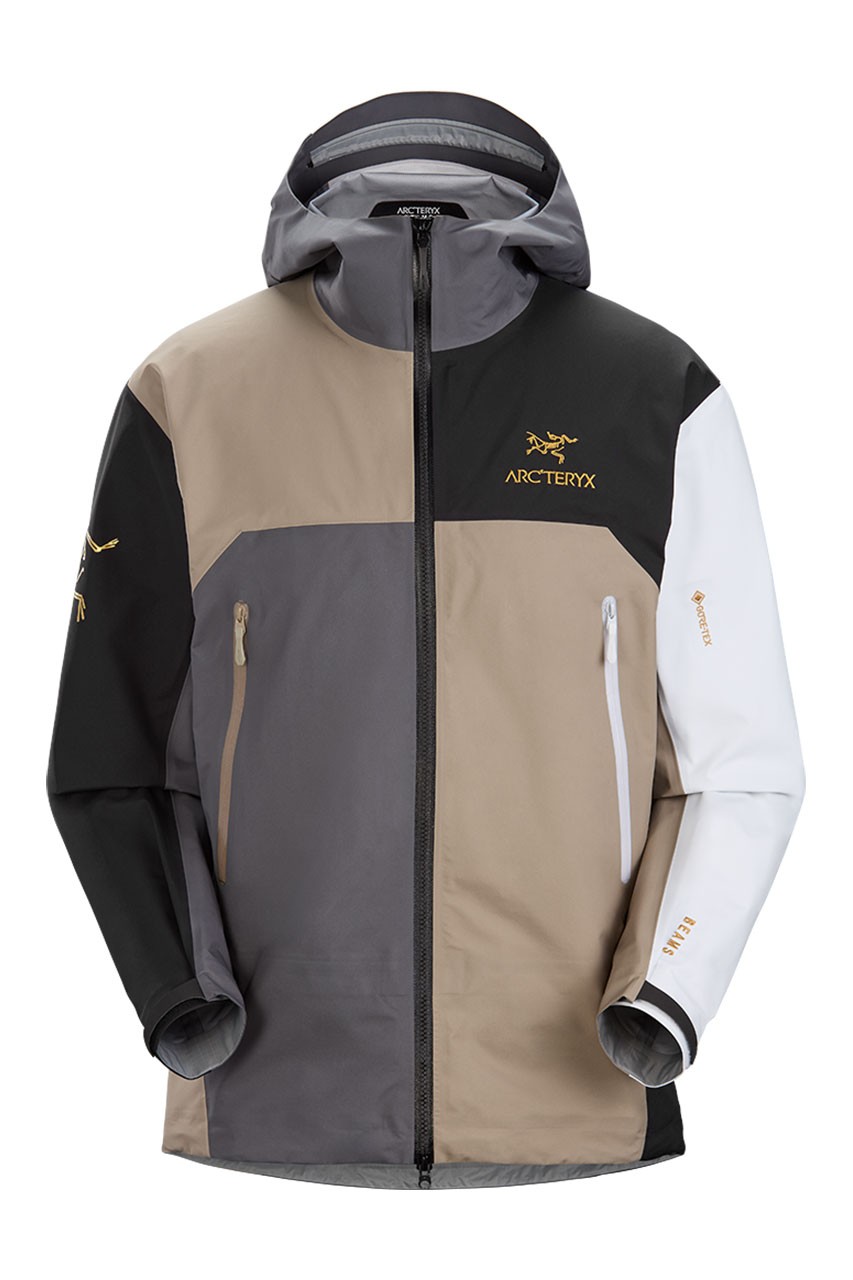 As a brand, Arc'teryx is subculture's unquestionable leader, and their most desirable piece is the Beta Jacket. Available in styles ranging from AR (All Around), LT (Lightweight), and SL (a style traditionally offered exclusively in Japan), the Beta Jacket style delivers a GORE-TEX shell with taped seams for added weatherproofing. Officially released back in August, the Arc'teryx x Beams Beta Jacket is a special edition of the SL Jacket, designed and released exclusively through the collaboration with the Japanese retailer. From a style perspective, Arc'teryx and Beams didn't change much, offering a colorblocked "Dimensions" design that features three different colors separated by the jackets paneling.
For those unfamiliar with Arc'teryx, the brand is a Canadian outdoor technical apparel and footwear company founded in 1989. They're well known for their incredibly functional and exceptionally made apparel that's hailed as the one of the industry's highest standards. Arc'teryx's recent popular culture spotlight has not come without it celebrity endorsements. Big names from Drake to Frank Ocean and even the late Virgil Abloh have been frequently seen over the last four years wearing jackets from the brand.
Beams is a Japanese retailer founded in 1976 by Etsuzo Shitara. Originally called American Life Shop Beams, the retailer opened with a focus on American and Ivy League style clothing. Beams quickly became an innovator in the space in Japan, setting its focus on styles from America's west coast. Additionally, they partnered with the now-legendary Japanese style magazine Popeye to deliver the best international styles they could find in Japan. Over the next forty years, Beams exploded, launching their own lines like Beams + and opening coffee shops, an art gallery, a record label and even an archive furniture store. Today, Beams operates over 100 stores across Japan and is recognized globally by those in the know and they boast collaborative collections with brands like Nike, New Balance, Arc'teryx and more.
If you're looking for a go to jacket for this fall/winter season that's guaranteed to keep you both dry and warm in any conditions, the Arc'teryx Beta jacket may be for you. It offers both a futuristic, technical gorpcore style and protection from the harshest weather. Additionally, the jacket is appropriate for the golf course, a late night out, and even just a brief walk in the rain. 
Buy & Sell the Arc'teryx x Beams Beta Jacket alongside similar styles on StockX below.