With the fast-paced, cyclical nature of fashion, sometimes it's hard to keep up. The good news for you is that we've been taking notes, saving inspo, and doing the necessary runway research to help you prep your personal style for 2023. We even picked out a few favorites that you can recreate right now from StockX.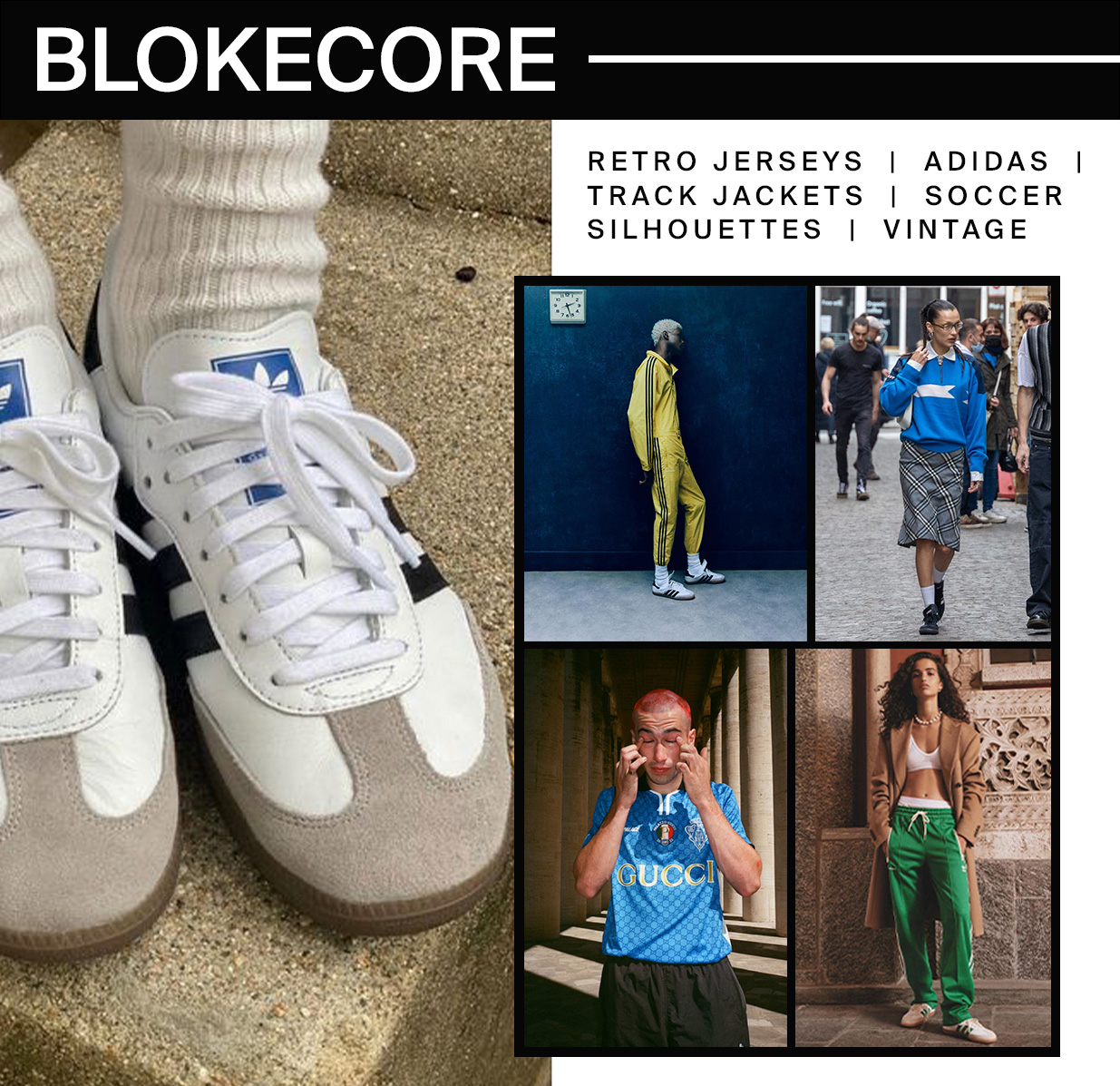 Coming off the World Cup, fashion and football (sorry, soccer) have been more intertwined than ever before. So it's no surprise that the Blokecore aesthetic is on the rise again. For those of you who are new to the trend, Blokecore's roots stem from the retro style of British soccer fans from the '80s and '90s. A typical Blokecore 'fit consists of adidas sneakers, baggy or bootcut denim, and your home team's jersey. And thanks to soccer-inspired collabs from luxury labels, soccer silhouettes are going to continue moving off the field and into the fashion world in 2023. 
To refresh this trend for the new year, center your look on one or two Blokecore essentials, whether it's a vintage inspired jersey or classic adidas sneaker. That way your 'fit feels more like a subtle nod to the play rather than one that really looks part of the lineup. Unique collaborations with luxury and streetwear brands also create an elevated take on the trend, such as the adidas Originals by Wales Bonner and the Palace x Gucci jerseys.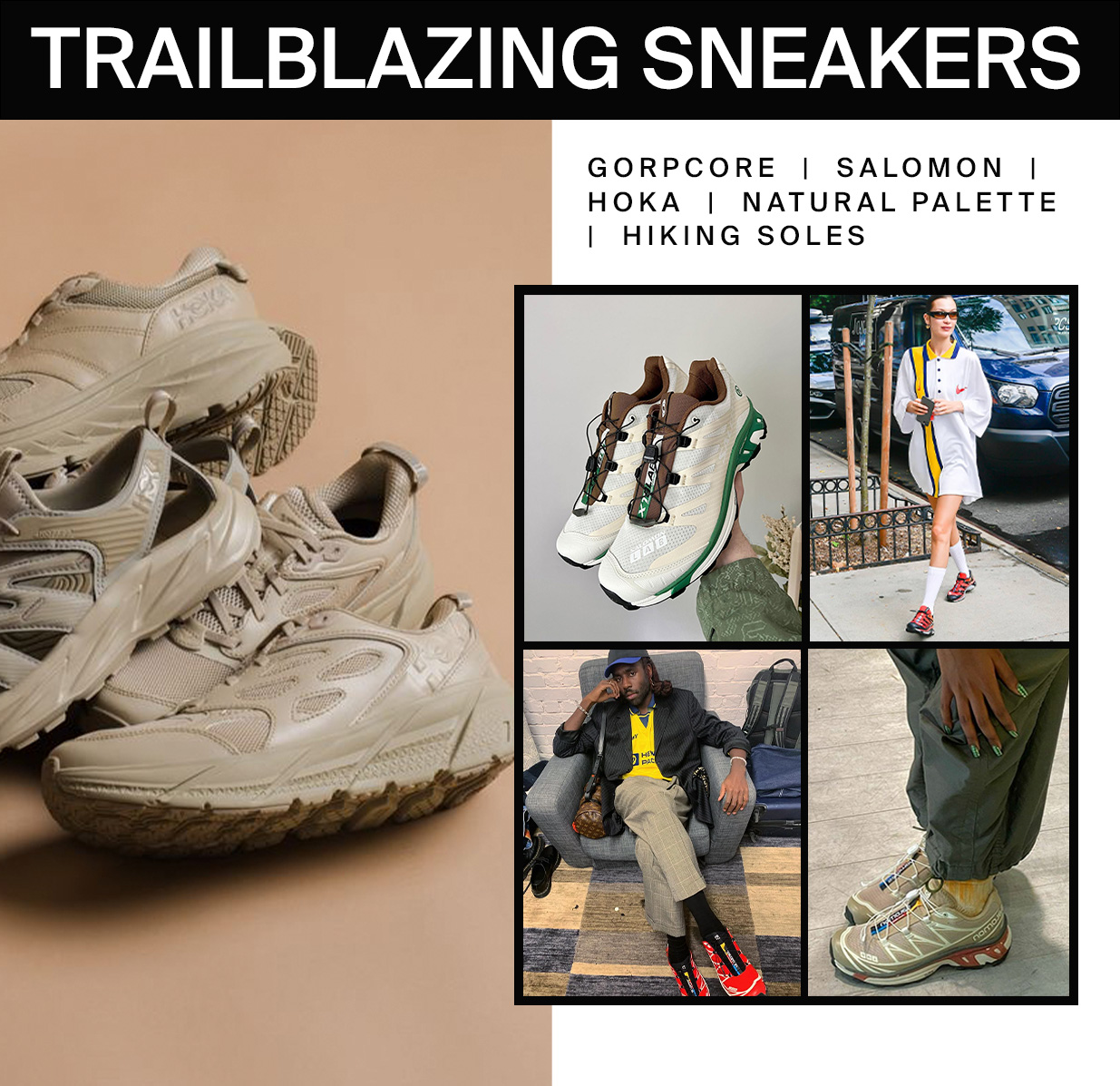 The Gorpcore trend from 2017 is taking over again, thanks to TikTok recently re-discovering the casual, yet subtly active, layer-heavy aesthetic.  While cargo pants and puffers are obvious choices, we've been focusing on the sneaker category within this micro-trend for the new year. Because of their utilitarian designs and comfortable fits, both Hoka and Salomon sneakers are the perfect pairings with any Gorpcore look, positioning both brands to have another big year in the trend cycle. 
The Hoka One One Ora Clifton L Suede in Simply Taupe Pumice Stone is a fashion-forward choice that fits in with the neutral color palette of this trend. While the Salomon XT-6 Gore-Tex and S/LAB XT-4 Advanced are fan favorites among off-duty models including Bella Hadid. These trailblazing sneakers (literally and figuratively) may be on their way to dethroning the beloved dad sneaker.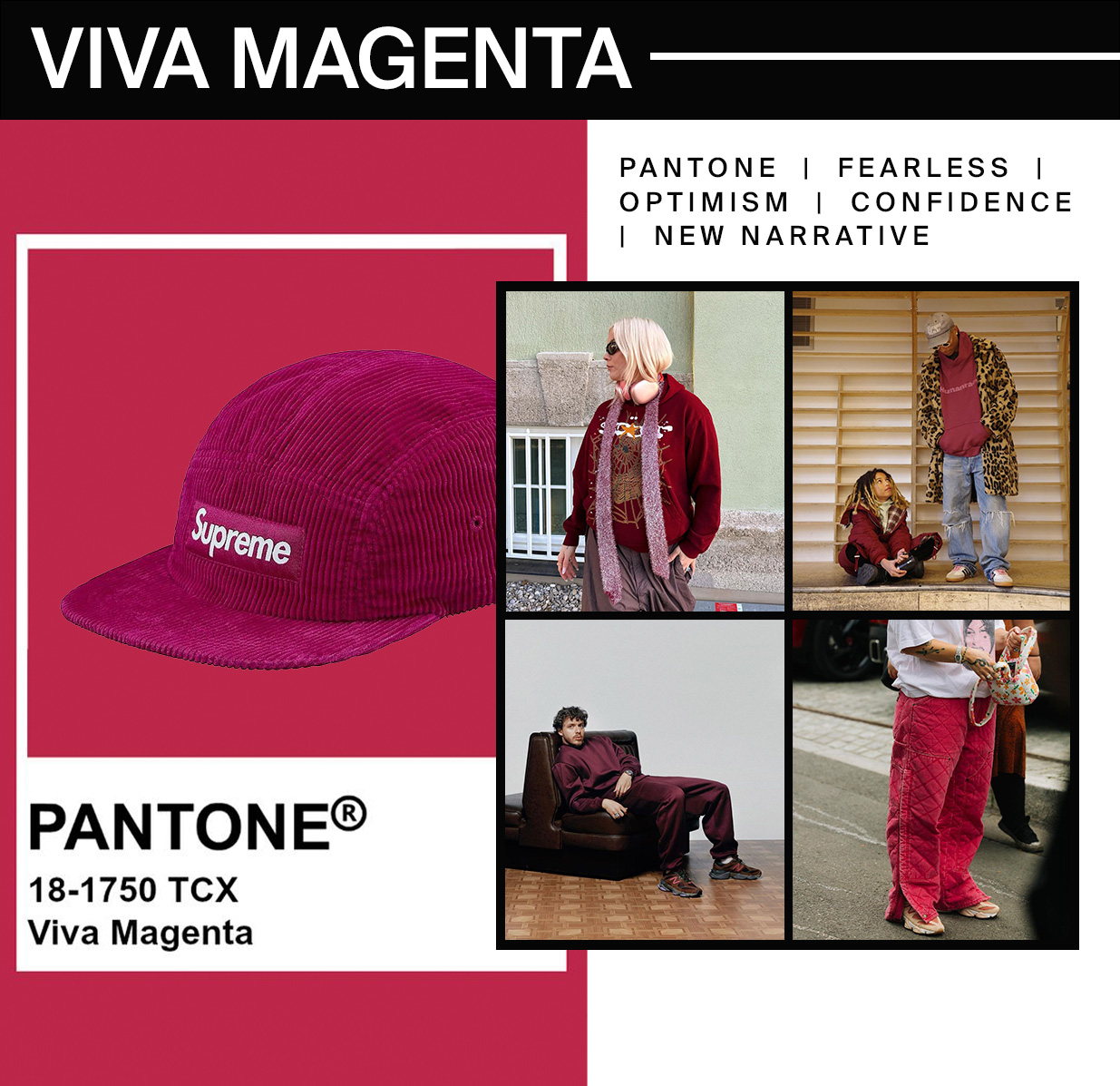 The Barbiecore pink palette dominated 2022, but there's a new color to watch out for in the new year. Inspired by Pantone's color of the year, 2023 is all about magenta. The renowned color institute calls the shade "a new narrative," which is fitting as we all hit a quick reset to write a new style story for our wardrobes. Pantone's color of the year is always selected to be an extension of current culture, and Viva Magenta inspires fearlessness, optimism, and confidence in self-expression – a triple threat for 2023. 
When it comes to embracing the color of the year in your personal style, you can either go bold with your basics or add a touch of the crimson hue in the details of your favorite sneaker. The choice is yours. Be on the lookout for our collaboration with Pantone later this year.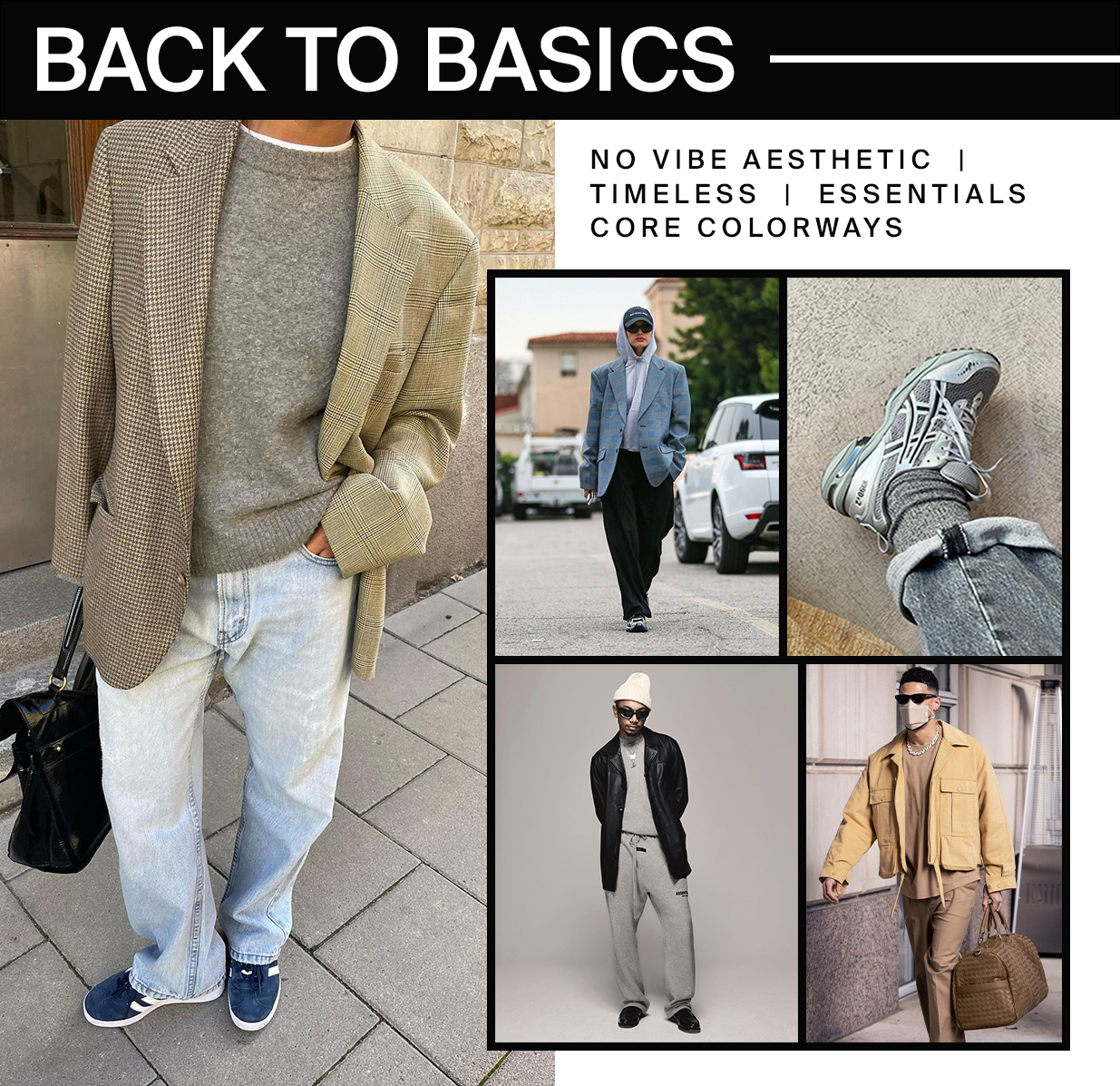 For the past few years, the fashion scene has been overcrowded with constant microtrends and quick turnovers of "core" aesthetics (see blokecore, gorpcore, and barbiecore above). Now it's time for yet another vibe shift to no vibe at all. You read that right. 2023 will focus on going back to the basics – the essential building blocks that make up your everyday wardrobes. 
Focus on investing in the pieces that matter – the classic t-shirts, hoodies, and jackets that will never go out of style and will always be in your current rotation. When it comes to good basics, think quality material, perfect fit, and the classic silhouettes that define your favorite streetwear brands. A pair of sneakers in a classic colorway finishes off any and every back to basics look.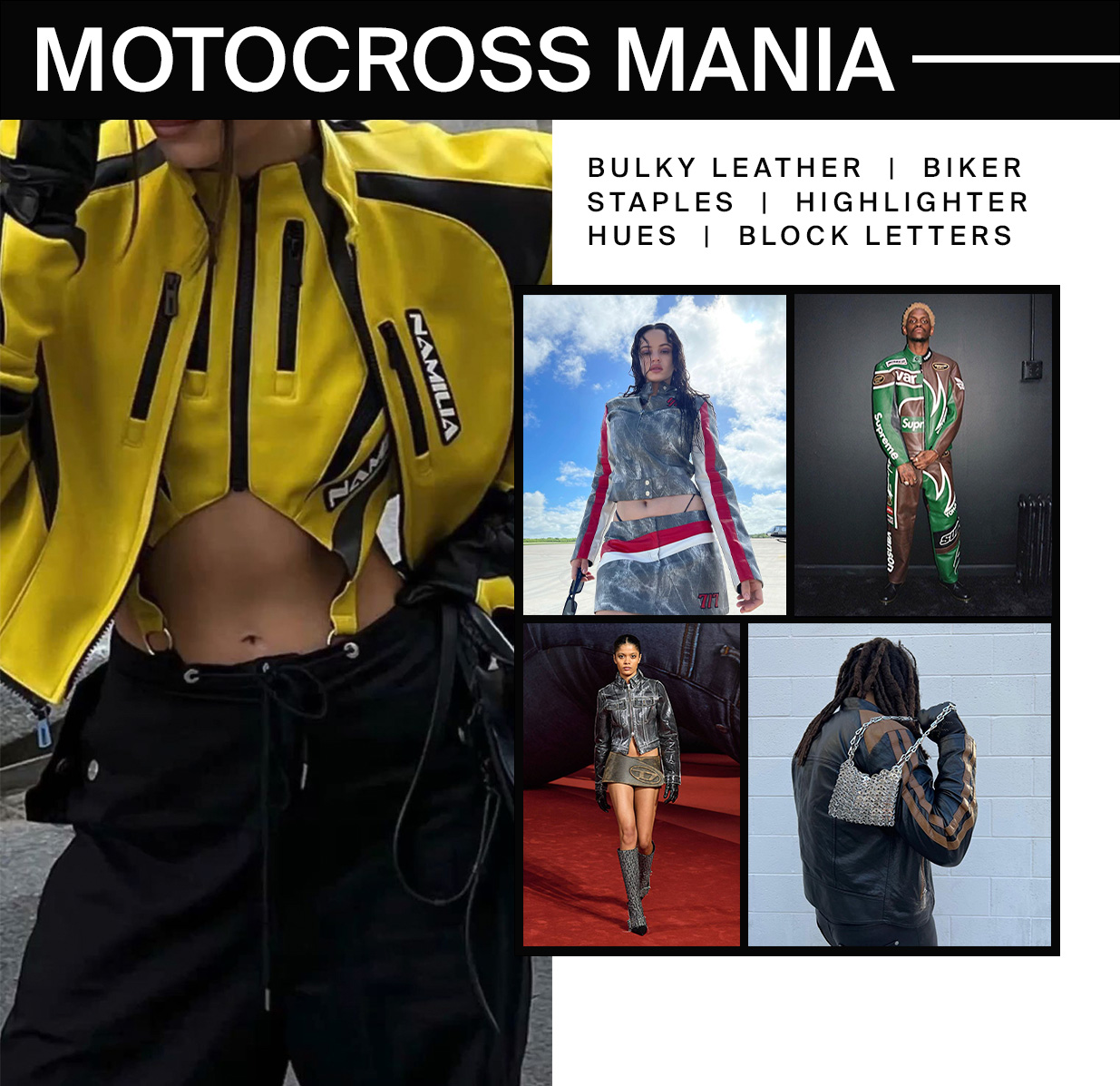 Maybe it's Rosalía's hot new album Motomami. Or maybe it's the comeback of Diesel on this year's fashion runways. Whatever the case, motocross mania has been gaining speed and there is no sign of it slowing down in 2023. Seen on trendsetters like A$AP Nast, Julia Fox, and Dua Lipa, the motocross trend is all about biker staples. 
Think boxy silhouettes, bulky leather, and tall boots. Racing jackets are also a must-have staple for this trend. However, if highlighter hues and block letters aren't your thing, classic leather jackets in oversized fits still tap into the motocross energy without being too on track. 
Photo credit: Palace, Sporty & Rich, @humanrace, Grazia Magazine, WhoWhatWear, @crumblingsoles, Vogue, @devhynes, High Snobiety, Hoka, @pharrell, @idabroen, THE CON.CEPT, @matildadjerf, British Vogue, Bottega Veneta, Fear of God ESSENTIALS, @rosalia.vt, @asapnast, Diesel, @lukasabbat