It's the most wonderful time of the year: winter coat season. No one has a grip on winter outerwear like The North Face, but their legacy is even deeper if you take into all the collaborations they've done over the years. And we're going to take that a step further: most of those wins have been with the help of Supreme. Yes, this is a list of all the best The North Face Collaborations, and, yes, it's almost exclusively a list of Supreme x The North Face pieces, but that's because they kill it season after season. So zip up and get ready to brave the outdoors with some of the best jackets we've ever seen.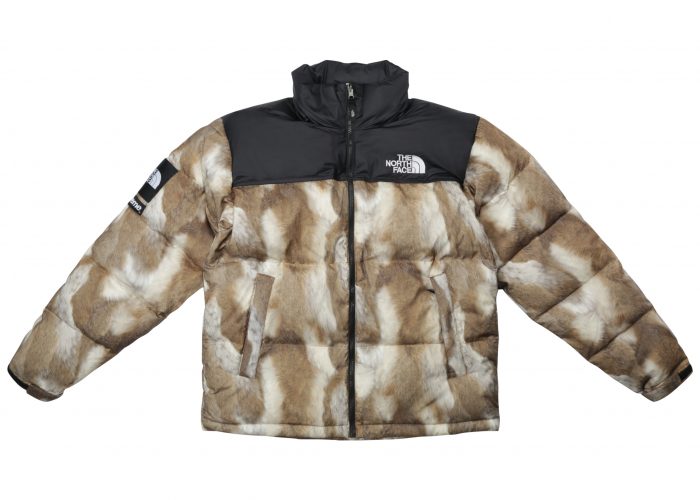 Generally speaking, we're all about the real thing. We want that real tea, real truffles, and everything's got to be Verified Authentic. But when it comes to fur, we understand if you want to go with the fake stuff. Back in 2013, a less balmy age when fewer were worried about global warming or animal rights, Supreme linked up with The North Face on a collection of Fur Print pieces, including this Nuptse jacket. In the years since it's become a grail to many, representing a true moment from Supreme's golden age and incredibly progressive design. This jacket is increasingly difficult to get, and might not be the most recognizable to new Supreme adoptees, but those in the know recognize it for what it is.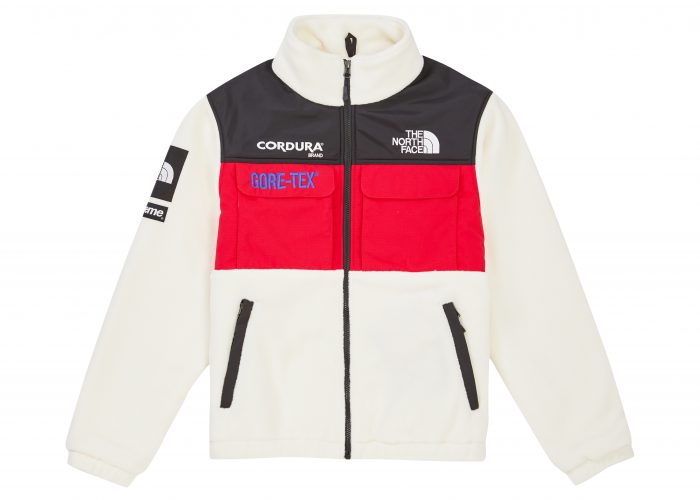 The Supreme x The North Face drop that included this Expedition Fleece back in the Fall of 2018 had some relatively tame designs compared to others on this list. A third of the collection was all black, another third was a combination of Sulphur yellow with purple and black, but the bangers were all in this white, red, and black colorway. There were some shell jackets, some pants, and plenty of accessories, but the Expedition Fleece Jackets stole the show – and rightfully so! The double thickness makes them as warm as an outer jacket with all the styling to prove you're comfy in even the wildest winter wonderlands.
While most of the choices on this list get points for bold design (or pure audacity), this Cargo Jacket came in just black and "Gold" (which was more like a rich beige) making it the perfect jacket to grab and go. If the rest of the fit is balanced for indoor peepage, you may need a jacket that can act as the perfect basic blank slate, and this black Cargo Jacket, made in collaboration with Supreme (yes, again) offers just that. A black jacket is always the perfect choice.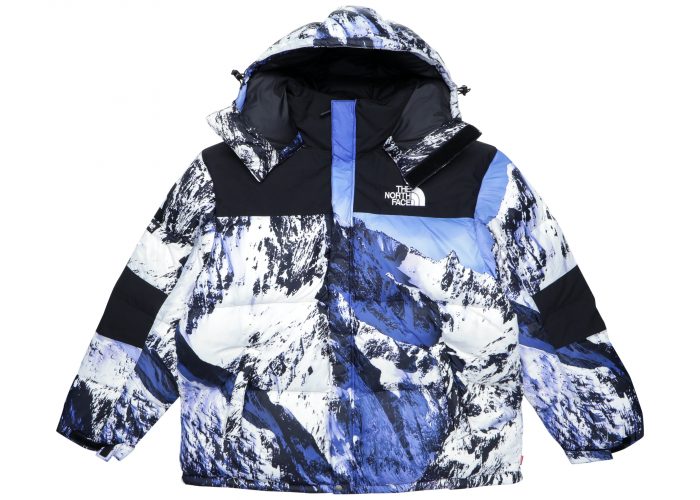 This Mountain Baltoro Jacket, made in collaboration with Supreme, is the complete opposite end of the spectrum from a basic black jacket. The piece is massive, practically a parka, absolutely stuffed to gills with down feathers, and features a gigantic print of a snow-sodden mountain (sort of how you'll look and feel wearing it). This is for an outside outfit, a style to wear when you want to flex on the street in the dead of winter and still work up a sweat; this thing is big warm.
Point of personal privilege: when the By Any Means Nuptses dropped with Supreme in 2015 I certainly didn't predict they'd appreciate the way they have. If they were closer to the traditional Box Logo, it would make more sense, but these are basically a riff on the Bogo with a seldom-used catchphrase. As Supreme is wont to do, the words are less important than the design they imply and that lettered texture has turned this jacket into one of the most valuable Supreme x The North Face Jackets ever. The jackets dropped in a number of colors, the Red being most traditional, but we have a soft spot for Yellow so that's the direction we'd go in. But have yourself a happy holiday and follow your taste.
While it's officially winter in the Northern Hemisphere (Happy Capricorn Season), the Supreme x The North Face Leaves Nuptse from 2016 can keep those fall vibes drifting deep with the snow. Flexing the inheritance of the aforementioned Fur Print jacket, this Leaves print Nuptse brings all the joy of frolicking in piles of leaves into a real fashion flex. This is another one of those jackets that's oft-overlooked by recent adopters, but you can see from the recent transitions that those who know what it is are willing to spend some serious cash on it.
Gucci's monogram of interlocked double Gs is one of the most recognizable and iconic patterns in all of fashion, and it's a winner any time it's used. So when it was thrown on a number of overstuffed North Face Jackets in the latest example of collaboration saturation it was an immediate win. The collections that The North Face and Gucci have been pumping out are full of winners from top to bottom (this vest is killer, this massive jacket is comically amazing, and this beige puffer will become a historical piece for all time) but for this season we're going to bypass some of the more family-friendly jackets for this riff on a green Nuptse. First, it's not a real Nuptse, this we know. And, obviously, the Black Nuptse jacket is a The North Face calling card, but other colors, like purple and green, have gained more cache in the culture in recent years. This bright Kelly Green jacket is a luxe facsimile of the Neo-classic colorway for those who want to flaunt hard.
Shop the Best North Face Collaborations