Over the last few years, Fear of God Essentials has become one of the biggest apparel brands on StockX. The brand's cult following, regular releases, and unique offering have separated Essentials from the pack, making them a must-know for anyone interested in current culture. To those familiar with the three-pronged Fear of God family and its founder Jerry Lorenzo, it's no surprise that the Essentials line has become so popular. 
In order to understand the story behind Essentials, it's important first to know how the original Fear of God brand came to be. Jerry Lorenzo founded Fear of God out of Los Angeles in 2013, showing his first collection that year. Met with success and an ecstatic reaction from fans and peers, the brand began to carve out its own space in the rapidly growing men's fashion space. Over the next few years, Fear of God continued to release collections while the brand's founder Lorenzo worked on collaborative projects with names like Kanye West, Justin Bieber, and A.P.C. In 2015, Fear of God released their third collection, one that cemented the brand's laid back luxury aesthetic.
2015 also gave way to the earliest prototypes of an Essentials line. After releasing their third collection that year, the brand announced an official collaboration with Pacsun to create a more affordable diffusion line. It was called F.O.G. and their first release took place in late 2015 and maintained a similar aesthetic as Fear of God. Lorenzo ended the F.O.G. partnership with Pacsun in 2018, following it up with an in-house version, leading to the creation of what is now Fear of God Essentials. This partnership took Lorenzo's vision of delivering his more accessible version of the Fear of God lifestyle to a different level. Today, Essentials delivers high quality apparel pieces with minimal branding in muted or earth tone colors at a reasonable price. They are unquestionably the best option on the market for well made and relatively affordable loungewear, especially if you like a boxy, relaxed fit.
What's the difference between Fear of God and Essentials?
Fear of God is the original luxury/runway brand that Jerry Lorenzo founded in 2013. After a few years of running Fear of God, Lorenzo founded Essentials as a sister brand to provide more accessible apparel that still featured the Fear of God aesthetic. Though the two brands are technically separate, they each live in the Fear of God family, which also includes Fear of God Athletics, a partnership with adidas.
How does StockX authenticate Essentials?
StockX's authentication materials for Fear of God and Essentials are constantly evolving, living breathing documents. We've recently launched several programs that will increase the frequency of training and increase data farming into our knowledge center. This allows us to be the most accurate authentication marketplace and to consistently update information about the brand in the active market. New and improved systems eliminate fraud at the source, reducing the risk of fakes across the network. We're also working on multiple technology project that will compliment our authentication processes, improving them as we move into the future. Additionally, close relationships to our power sellers give us the ability to adjust our strategy in real time, meaning we're always iterating on the authentication process.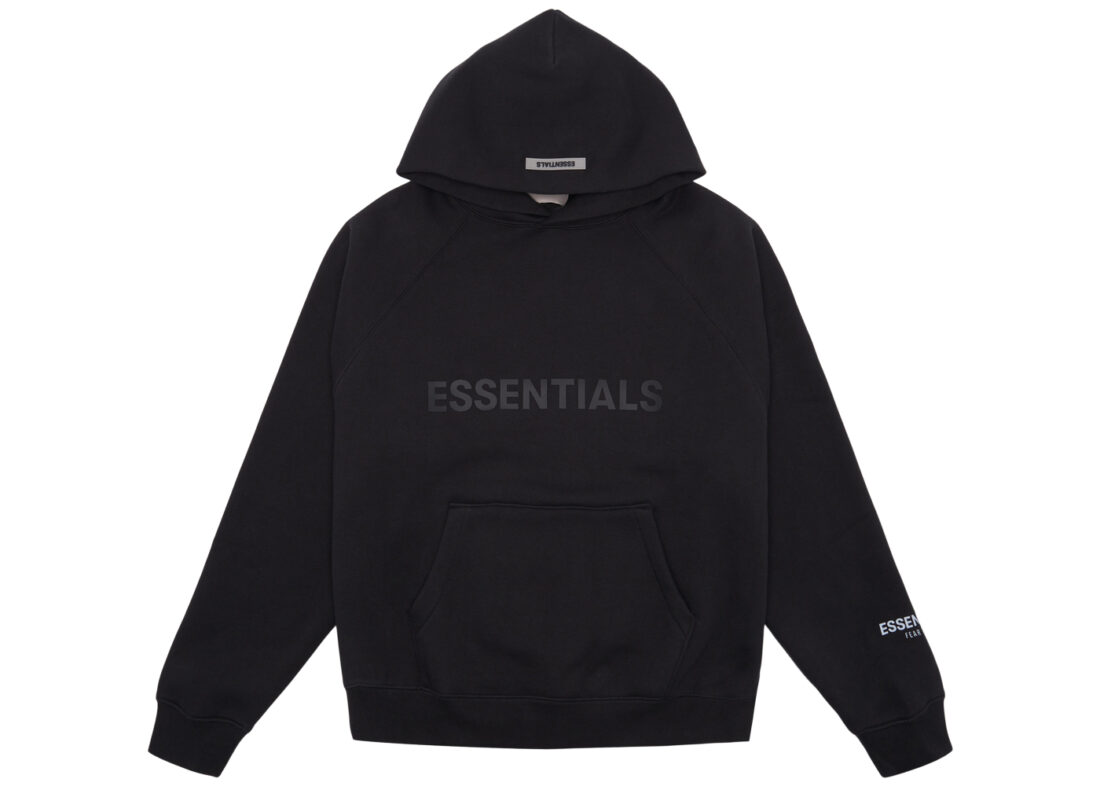 What is the most popular Fear of God Essentials item on StockX
The most popular Essentials apparel piece on StockX is the black Hoodie that was released as a part of the brand's Spring/Summer 2020 season. Despite the fact that Essentials traditionally delivers a new black hoodie each season, the hoodie released for Spring/Summer 2020 still outsells even newer and more affordable versions. The hoodie features a black Essentials logo on the chest and one of the sleeves and delivers the brand's traditional oversized boxy fit.
What kind of clothes does Essentials make?
Fear of God Essentials makes high-quality casual apparel pieces that many have classified as loungewear. Their most popular pieces on StockX are their sweatshirts and sweatpants but the brand also released knitwear, denim, and accessories. As of their more recent seasons, Essentials has expanded their offering from a traditional menswear focus to include seasonal assortments of women's and children's apparel.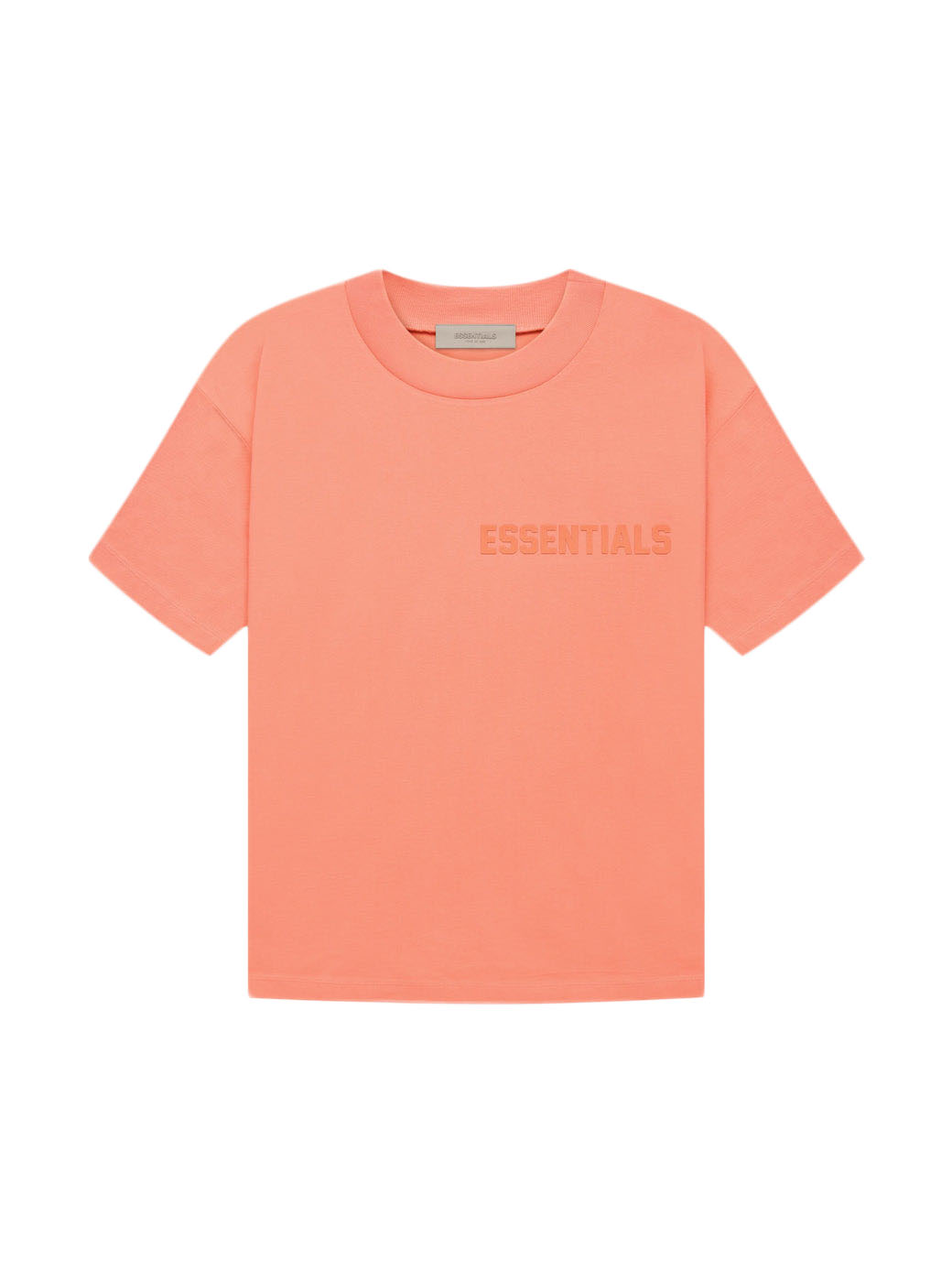 Is Fear of God Essentials a luxury brand?
Essentials is not a luxury brand. It is the sister brand of Fear of God, which is a luxury brand, and is designed by the same founder, Jerry Lorenzo. Essentials was created to deliver Fear of God's luxury aesthetic and unique fit at more affordable and accessible prices.