StockX is at Coachella, and we're giving you everything we can to help get the best of the Coachella experience from wherever you are. While on the ground during Weekend 1 we linked up with Cuco, the LA-born and based artist, and collaborator with Chelsea Drugstore on their exclusive Coachella x StockX merch (learn more about that project here). When we met him backstage at Coachella, Cuco told us how he navigates the desert heat, gave us a little info on a potential tour this summer, and confessed his favorite cult-classic sneaker.
StockX: What's the fit inspo for today?
Cuco: I had this Acne shirt over my ProClub, but it was really hot. But I also had the StockX x Chelsea Drugstore x Cuco merch on me and it was very cozy, very comfy. Got the Gallery shorts. Really just comfy, because it's hot as hell. In the summer I'll wear shorts. I like showing off my leg tattoos and shit, so.
What's your favorite Jordan 1 colorway?
My favorite 1 colorway. I'd say the Union 1s. And I also wear the 6 Rings a lot, too. Also, I don't know if it's okay to say this, but The Heaven's Gates. [Note: Cuco is referring to the Nike Decade, the shoes worn by The Heaven's Gate cult in 1997.] I got the Heaven's Gates is my favorite. And I say the Union Dunks, too. Honestly, anything that Union drops is like fire. I love it.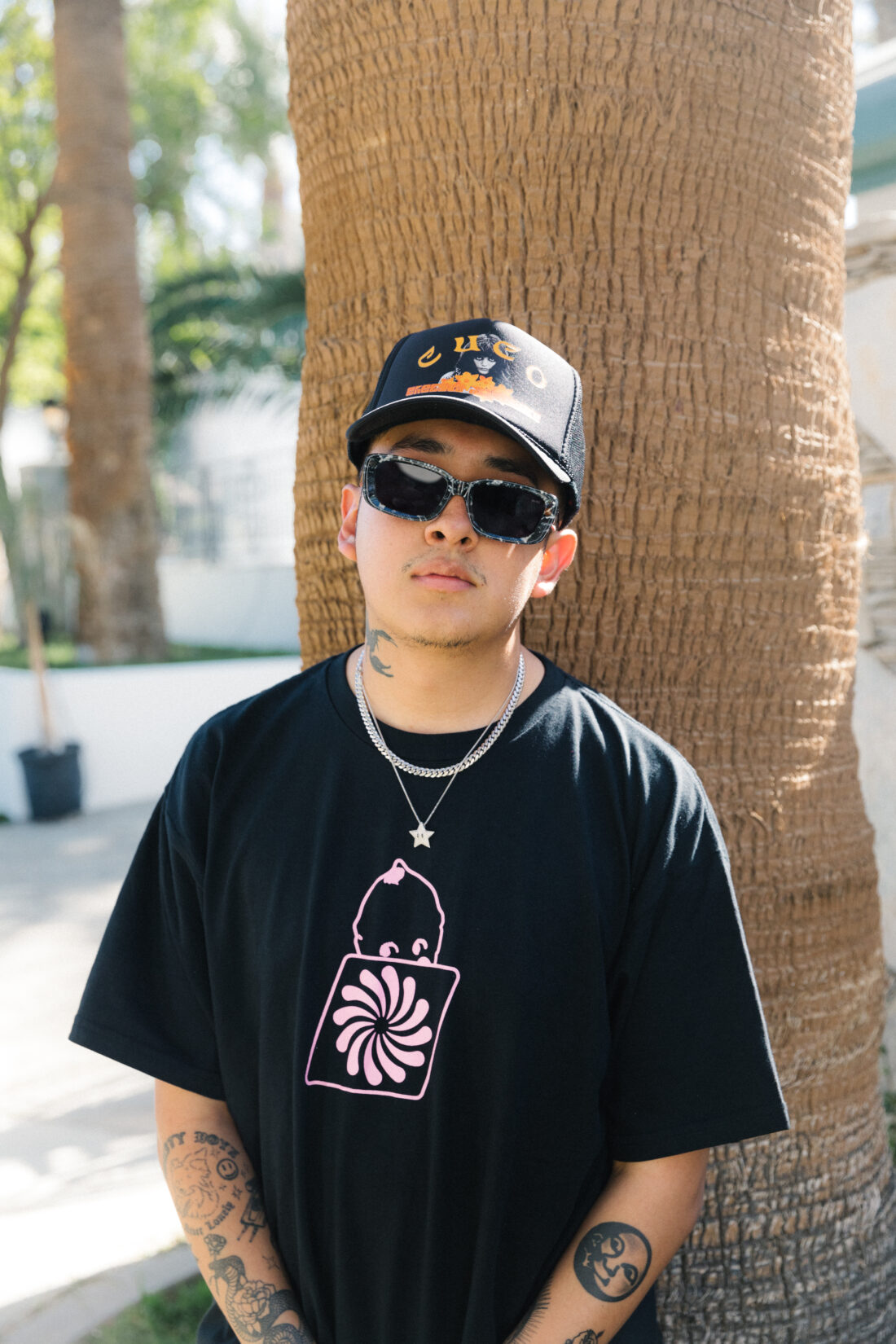 What's it feel like to be at Coachella after three years? What are you most looking forward to being part of this festival?
I'm just looking to enjoy it. I haven't been here in a minute. I came 2019 as a guest and I performed in 2018. I'm really just excited to enjoy it. I'm excited to perform. I'm really excited to perform.
What's the most challenging part of Coachella?
Just dealing with the heat. I'm a big fan of the cold weather. Even if it's cold, I always wear a hoodie and some shorts but I'll always like baggy jeans, cargos, you know?
Most underrated part of Coachella?
Honestly, the cold brew that they had on tap right now was hitting.
Besides performing this weekend, what are you most excited about right now?
I just finished up my album, so I'm excited to do the whole album rollout and just start promoting it soon.
Are you hitting the road this summer and everything?
After the album comes out? Yes. Yes. I can't say much, but yes.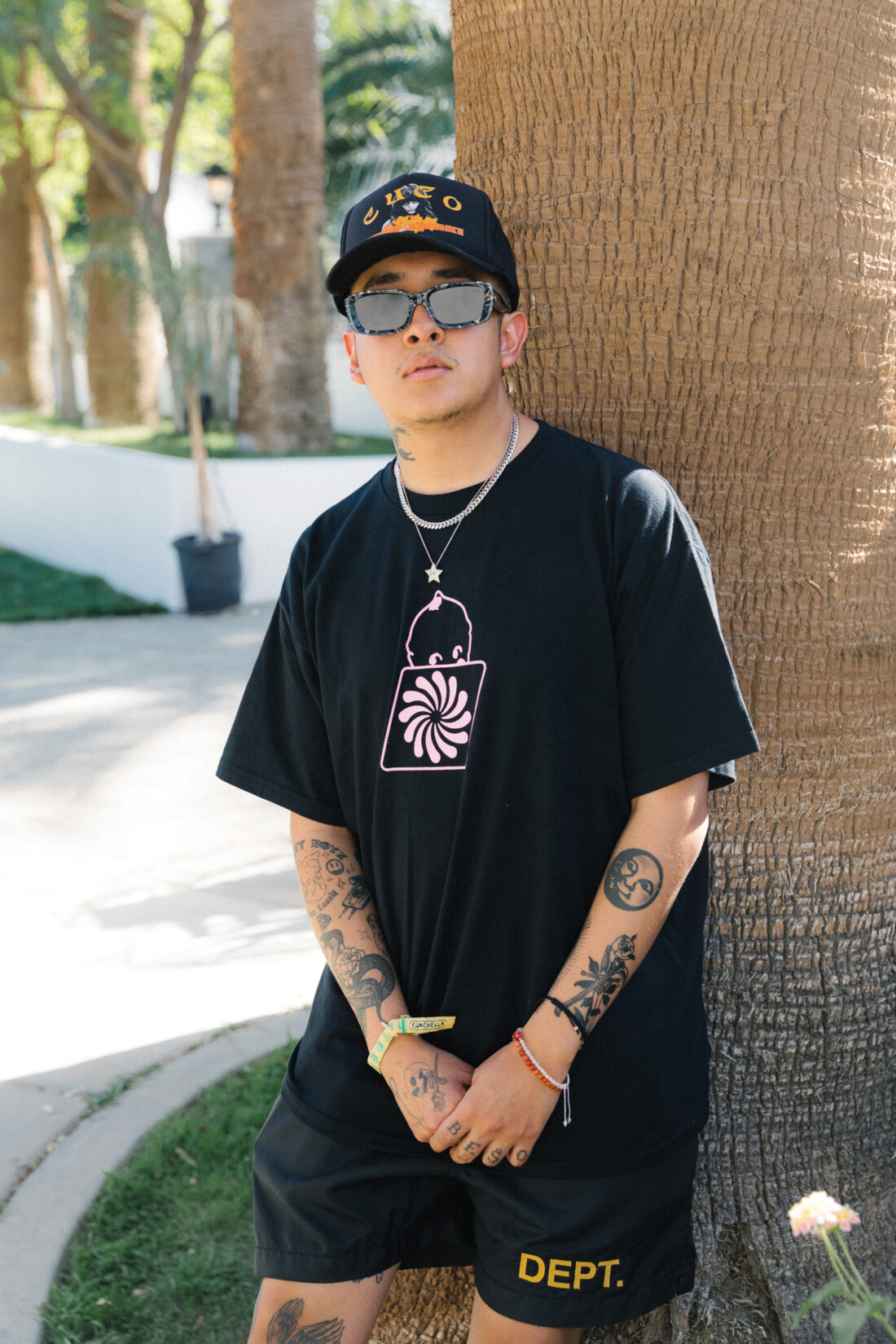 How would you describe your relationship with your fans? What's it like when you perform? How's that energy?
It's amazing. My fans are the best fans of any fanbase, I think because the way they show love, the way that they show admiration. And I'm able to show it back to them in that I'm able to express myself to the people that listen to me. I think it's all very well received. And I always want to emphasize how much I appreciate them, because every time somebody comes up to me, I want to tell them, "Yo, I'm here because of you guys." You know? So I'm who I am because of the people that support me.
I think that's often slept on. It's a two-way street with fans and artists. We need you as an artist as much as you need us as fans. And we need to give that energy back and forth.
A hundred percent.
Anything else you want to tell the people at home?
Just, I appreciate you. I appreciate my family, my parents, my team, and my fans for being able to help me get in such a blessed position. And, yeah, I look forward to seeing everybody on tour. And I hope everybody enjoys the album when it comes out.
Shop the Chelsea Drugstore x Cuco x Coachella merch, plus the merch from all the other artist and designer collaborations exclusive to StockX here.