What are the conditions of cards sold on StockX?
Trading cards can be sold on StockX as either Raw or professionally graded.
What is the verification process for trading cards?
Just like other products on our site, our dedicated verification team will thoroughly inspect each card to make sure it is as described and in an original, undamaged grading slab.
How do I ship my trading card to StockX?
We've written a handy guide so you know exactly how to ship your items to StockX.
How much does shipping cost for trading cards?
Shipping prices are the same for Raw and graded cards, but do vary by the country you are in. Pricing starts as low as $4.15 USD for individual cards, and increases to $10.00 USD for bulk or lot listings. You can confirm your shipping cost for any print in the final step before placing a new Bid or Buying Now.
What are the processing fees for trading cards?
There is not a minimum fee for Trading Cards, but the maximum fee is capped at $4.95.
Are the photos depicting the actual card for sale on the site?
No, the photos you see are stock images. We only accept cards that are professionally graded, so you don't have to worry about receiving a card in bad condition.
What if I would like to buy or sell a card that is not listed?
We would love to hear your thoughts! You can request a card to be added here. If this card meets our criteria for our catalog, we will be happy to add it for trading. There are no guarantees a card requested will be added, and if your request is not added, it is because it does not help meet the goals of our demand driven catalog.
If the card you are interested in is from a new or upcoming release, it should be added and available for trading soon.
Why did my item fail verification?
Graded Cards
All graded cards bought and sold on StockX must be professionally graded to ensure transparency on condition.. If the grading case is chipped, scratched or broken, the card will not pass our verification and the sale will be cancelled.
Raw Cards
The most common reasons as to why your card failed verification are as follows:
1. The wrong variation or parallel was submitted. A common example of this is the Panini Prizm Base Card (left) vs. the Panini Prizm Silver (right). The Base Card has a silver/dark gray border that does not reflect a rainbow on the surface when held up to light. The Prizm Silver has a lighter silver border that experiences a rainbow effect when held up to light. The Prizm Silver also says the word "Prizm" on the back of the card, typically in the corner, whereas the Base Card does not.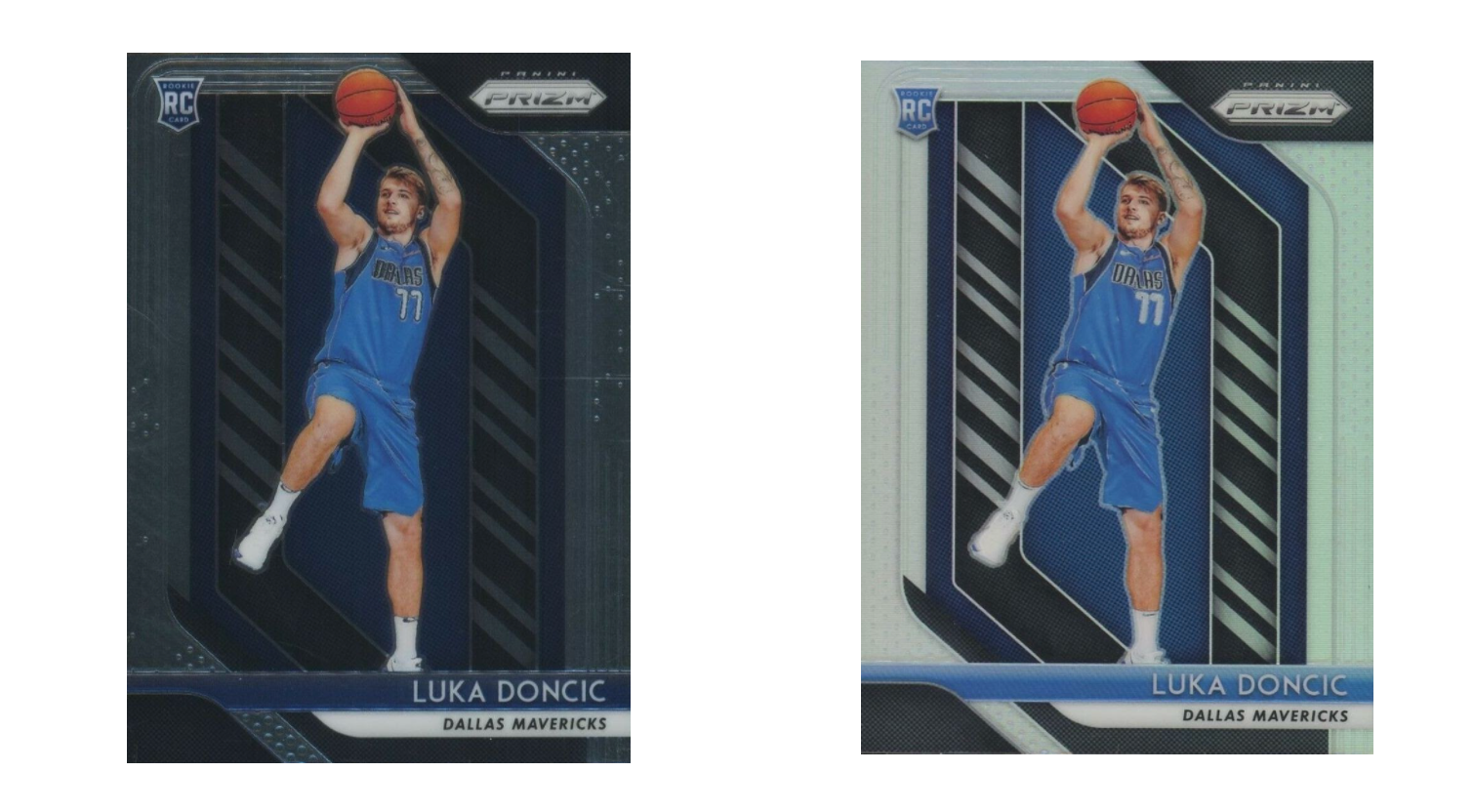 Similarly, for Trading Card Games like Pokémon, a card may fail if the correct version was not sent in. For example, there is often confusion between 1st Edition cards and Unlimited Print cards. 1st Edition cards have a 1st Edition stamp on them that can be found below the lower left-hand corner of the art panel on the front of the card. Unlimited Print cards typically look identical, but are lacking this "1st Edition" stamp. See the example below.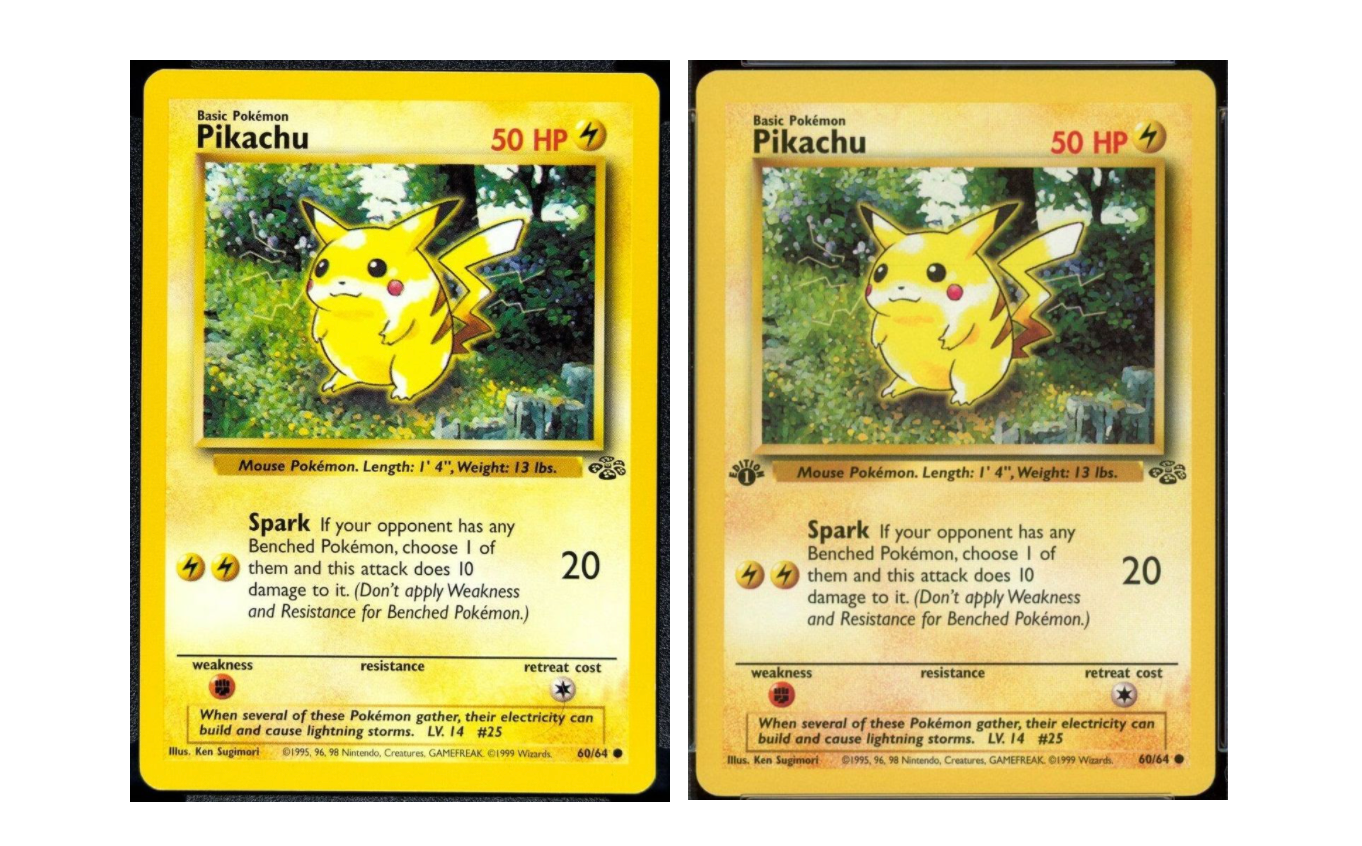 2. The card that was sent to StockX was a reprint of the original card. Trading Card manufacturers often reprint iconic cards and include them as inserts or within subsets in more recent products. While the reprints typically have the same frontside image as the original card, the backside of the card is often different and states that it is a reprint. You can see an example of this below with the 2011 Mike Trout Topps Update Rookie #US175.
3. If the card has experienced damage to its surface, corners, or edges that exceeds the standards of an S-tier card that were mentioned above, then the card will fail the verification process. Additionally, if the card does not have at least 60/40 centering on the front and 80/20 centering on the back, then it will fail the verification process.
4. If the card that is shipped to StockX comes already graded and slabbed by any trading card grading company, then it will not pass verification as it is not a Raw Card.