Since 1985, some of the most beloved and desired Air Jordans have arrived with the moniker "Bred." If you are new to the sneaker game, it's important to know that "Bred" isn't some misspelt reference to toast or sandwiches, or the amount of money a pair of Air Jordan 1 Shinedowns will cost you (although that's over a lot of bread). It's all about the colourway.
The term "Bred" is a nickname used for Air Jordan colourways where black and red are the dominant colours. "Black" + "Red" = "Bred". 
Much like the UNC and Cement colourways, the Bred colourway is one of the most valuable colourways in the Air Jordan line. The Bred lineage began with the original Air Jordan, which became instantly popular due to rumours of it being banned from the NBA for its black and red colour blocking. It was later discovered that the rumour ended up just being one of Nike's lucrative marketing tactics. Nevertheless, the Jordan line rose to stardom because of it – or, at least, in part. 
With at least one Bred Jordan releasing every two months over the past year, it's apparent Bred Jordans are here to stay. To prepare you for your next Bred purchase, we crunched the numbers to discover how impactful the Bred colourway is and how it influences the value of these sneakers every day. Whether you are planning on buying a pair to wear, or a pair to sell for extra bread, here are the insights you need before making your move.
Bred By The Numbers
Between hype collaborations, new colourways, and legacy retros, there are a lot of Jordans that can move the needle at any given moment. But, after further research, one renowned colourway stood out for its consistent high performance: the Bred.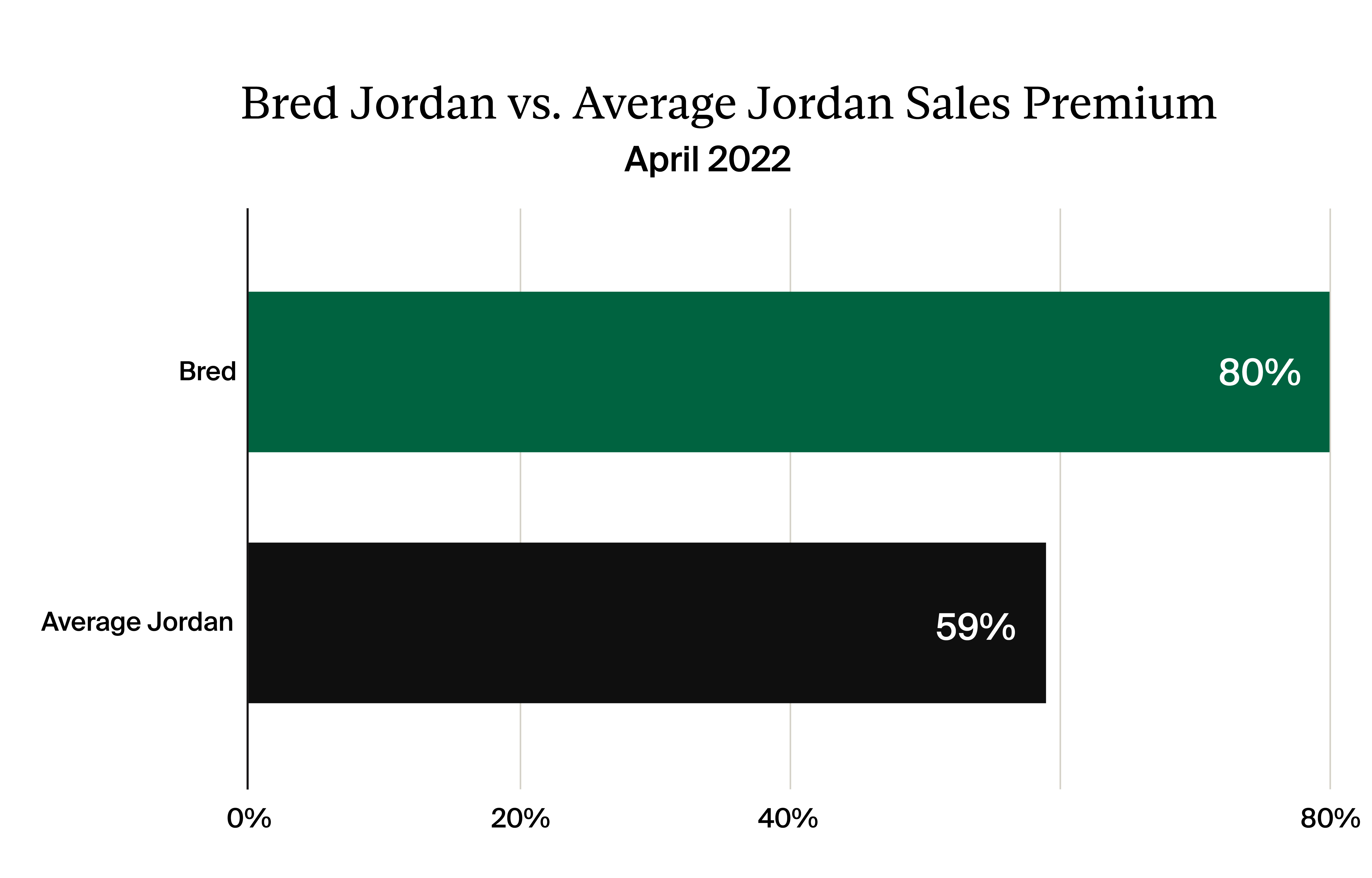 The chart above compares the average sales premiums of Air Jordans with a Bred colourway to those of the standard Air Jordan. On average, Jordans that release in a Bred colourway resell at an 80% premium, making them more valuable (and profitable) than the typical Air Jordan. Jordans are already among the most high-value sneakers, but simply adding a black and red colourway can boost premiums by 35%. No collabs needed, just history.
As we have seen in the past, Jordan Brand does not release all models with equal frequency. Silhouettes like the Jordan 1, 3, and recently the 4 have been the most prominent in Jordan's release line-up throughout the past year, while the Jordan 11 typically releases just once a year: during the holiday season. 
To get a clear picture of which silhouettes are truly driving resale value for the Bred colourway, we hand-coded every Bred Jordan by silhouette type and broke down each silhouette's Bred market share.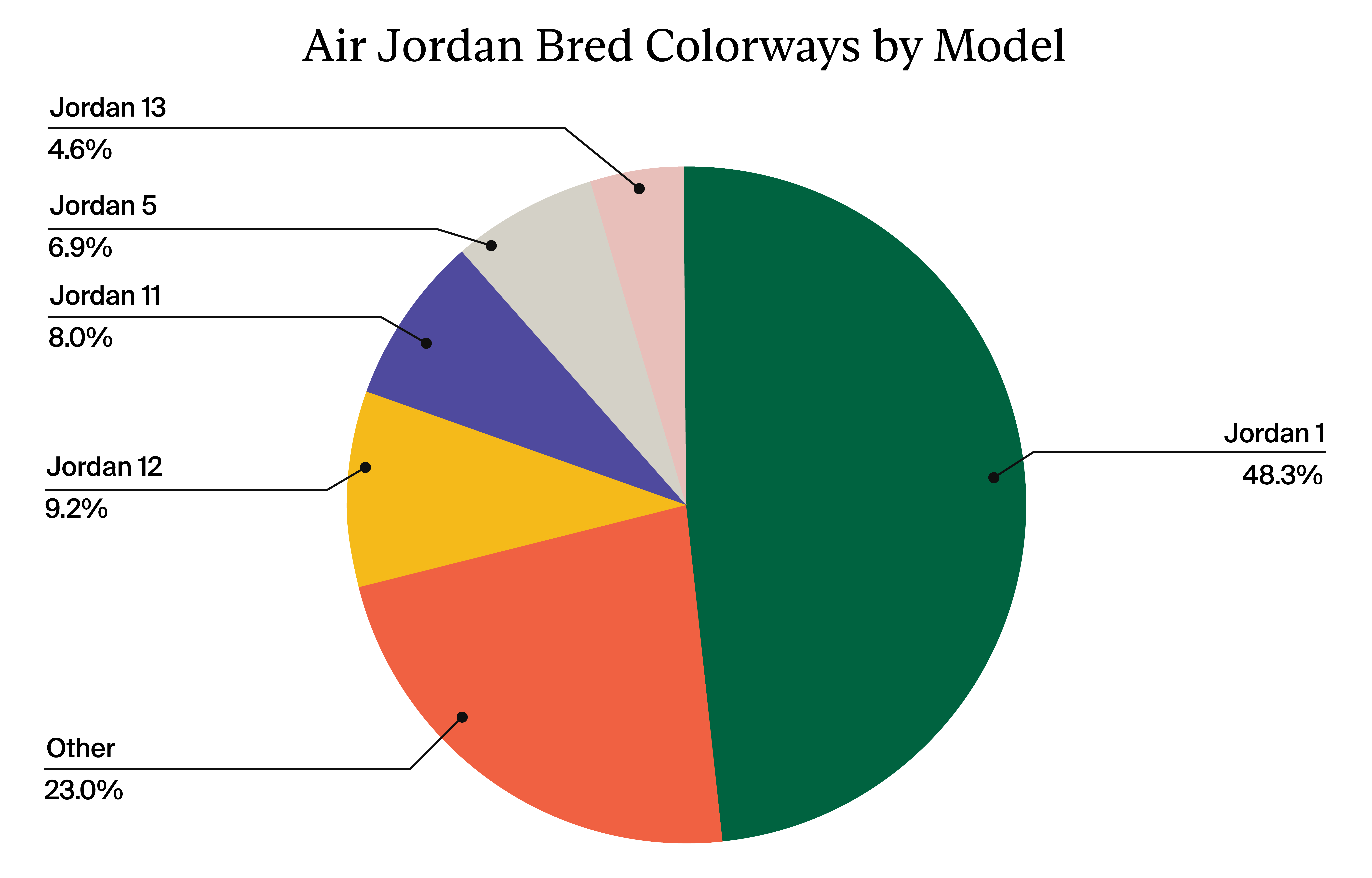 Out of every Air Jordan with a Bred colourway to trade in the last 90 days, almost 50% have come in the form of an Air Jordan 1. It's true that nearly every Jordan silhouette has featured a Bred colourway at least once, but after looking at our data, it's clear that Jordan Brand has kept to its roots and is still primarily using it on Air Jordan 1 releases.
It isn't like Jordan Brand is sticking with the Jordan 1 Bred combination solely out of respect for history. Rather, they are simply responding to market demand, and that demand is as high as ever. The Air Jordan 1 Patent Bred, which was released just three months ago, has already become one of the top ten most-traded sneakers on StockX in the past year. At its current rate, the Patent Bred could easily become one of the best-selling sneakers of all time. History in the making.
Air Jordan 1s have been the biggest contributor to the rise of Bred resale premiums. However, there are multiple Jordan 1 silhouettes that retail and resell at different price points. To discover which type of Jordan 1 Bred is the most valuable, we compared 90-day price premiums for Bred Jordan 1 Highs, Mids, and Lows, and the results were shocking.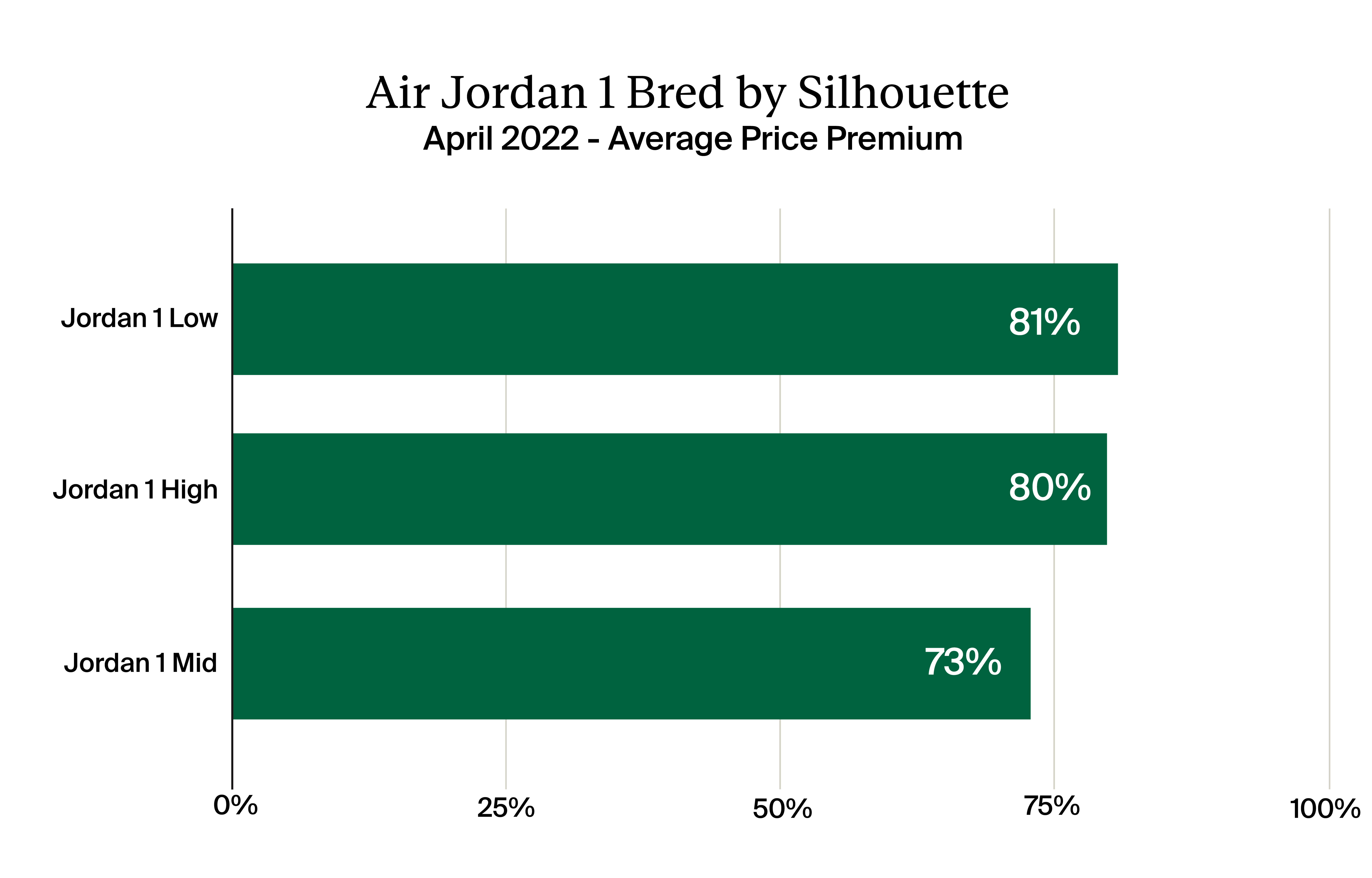 While they are neck in neck, Bred Jordan 1 Lows do resell at a slightly higher price premium than classic Air Jordan 1 Highs. Yes, a one per cent difference may not sound like anything to sound the alarms about, but it's noteworthy that the original silhouette that debuted the Bred colourway resells for less than a low-cut silhouette. Most casual observers won't clock the significance. But for OG sneaker watchers, any question of a Jordan 1 High supremacy – at least for the Bred colourway – will come as a startling surprise.
At a 73% average sales premium, Bred Jordan 1 Mids are the most affordable Bred Jordan 1s out of the group. One reason that these premiums are slightly lower than the Highs and Lows is that Mids release at a higher frequency: nearly three pairs Bred Jordan 1 Mids released for every one pair of Highs or Lows last year. And they have a slightly lower rating when it comes to cultural cache. Regardless, all three silhouettes carry their own weight and resell at higher premiums than the average Air Jordan. The power is in the Bred.
The Takeaway
The Bred colourway is one of the most sought-after colourways that the Jordan Brand has to offer. It's proven that regardless of the silhouette, Bred Jordans hold their value. But, if you want to maximize your profits, going for a Bred Jordan 1 High or Low is your most viable option – with a very slight edge belonging to the often underestimated Jordan 1 Low. We hope you use this data to your advantage and invest wisely.