Tell us a bit about your background
 I was born in Iraq but am currently living in Los Angeles. My family is very involved in art, with my dad, in particular, being an architect. So growing up I was surrounded by paintings and drawings which inspired me and that fused with the culture I grew up around. From early on I was doing a lot of breakdancing with my crew, which introduced me to hip-hop culture and sneakers. As they are so important to dancing – not just for movement but for looking good – they began to become more and more important to me. So from a young age, this mix of art, hip hop, and sneaker culture was in my blood as I was surrounded by it.
As I got older, I studied architecture like my dad and graduated. I'd spent a lot of time creating 3D art as part of my degree and was drawn to it – leading me to study at Gnomon school where I developed those skills further. This led to me working on full production for the entertainment industry (which was a big transition from architecture), as well as creating art that reflected my interests in fashion, sneakers, and music. It was these creations, and the technical and artistic skills I'd developed that resonated with people on social media and built me a base of incredible followers.
How would you describe your art?
All of my art, not just Sneakerheads, comes from one place: I do what I feel. What's popular at the moment or what the industry wants isn't important to me. I want to show the world that creativity still exists.
Nowadays there is a lot of repetition in art – whether that's film, music, NFTs, or otherwise. A big inspiration to me was the early days of hip-hop, how it was created, and the freshness it had, where new concepts were emerging. I want to bring that back – so whenever I create something, I'm motivated by this, and I want there to be a concept inside each piece of art I make. On top of this, I have other eclectic inspirations: I do different things, whatever I see that talks to me, whether that's sneakers all the way to oriental inspirations. If I feel something from it, I try to bring that to my art and communicate it through the filter of the street and urban culture that I love and grew up with.
For example, this photo is inspired by my culture. It is a Persian rug as his hair, as seen through the eyes of urban culture. I wanted to create something different. I wanted to change people's perspective of how people look at hair, and how hair reflects people's culture.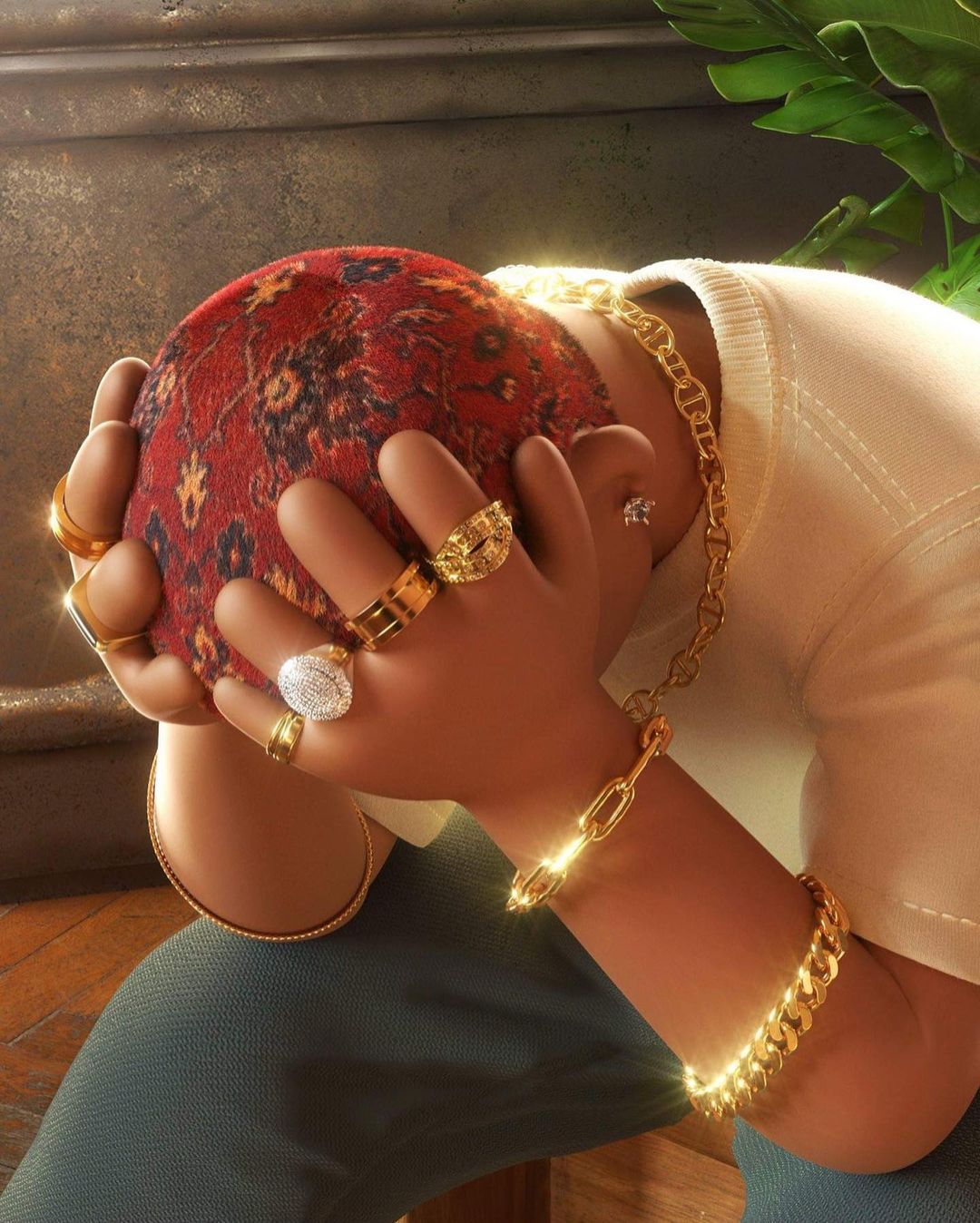 Tell us a bit about Sneakerheads
Sneakerheads was born out of a challenge to myself. During the global pandemic and lockdowns, I felt it was the perfect moment to invest my time in something new and difficult. It was my last year at Gnomon, and I was attempting to think of a concept for a graduation project, so I challenged myself to do a sketch every day – with my focus being on sketches of human heads.
In art, cubes help you learn to understand how lighting works. This was an example of the first baby step I took towards mastering what would eventually become Sneakerheads.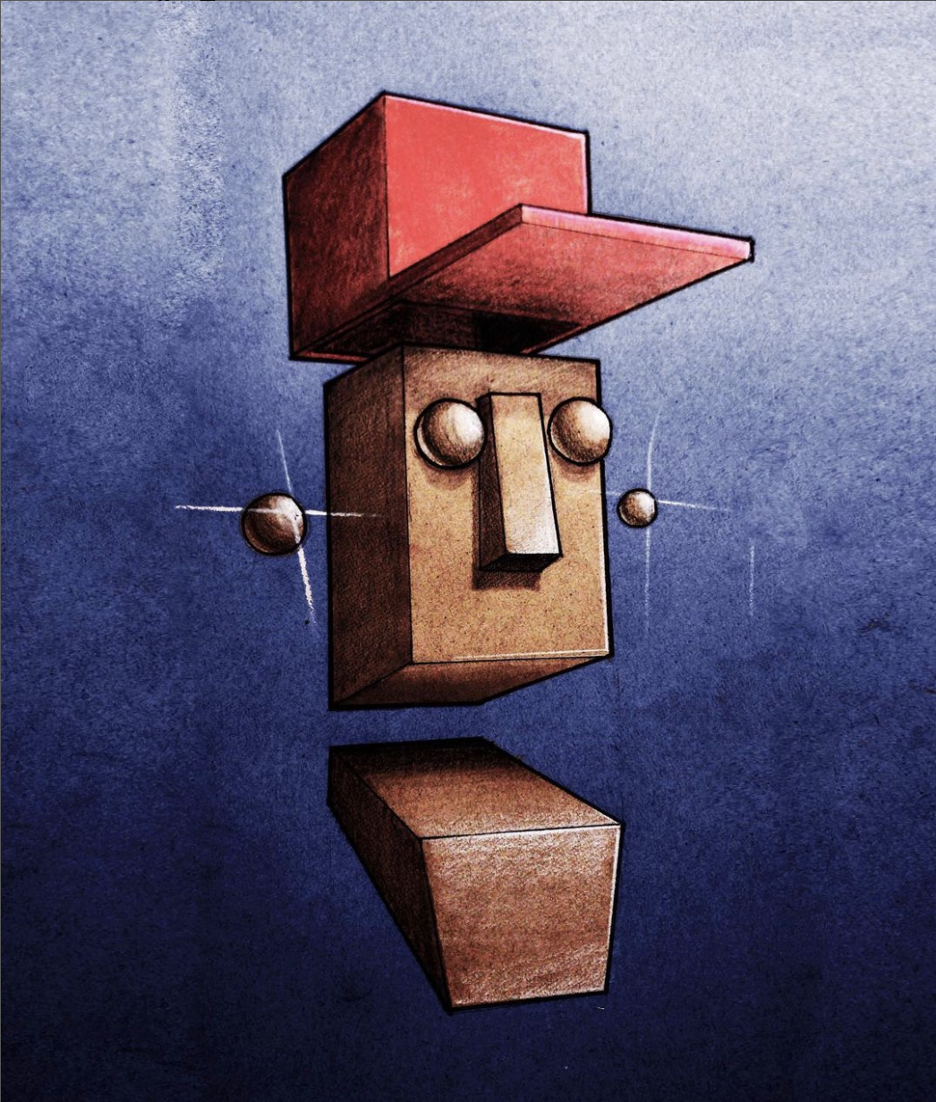 During this creative process, I was listening to Kanye West. Music is a huge inspiration for me – and Kanye inspired me directly. Listening to his words and music I thought I should make a Kanye-looking head but in the shape of a shoe.
That's how I got to the idea of Sneakerheads.
My first Sneakerheads creation became my graduation project. The school liked them a lot, but I never believed I'd get any jobs from it, as it wasn't doing industry-standard art. But this didn't bother me, as I felt art should be about what you love, not what the industry expects.
However, this all changed once I posted the first Sneakerhead on Instagram. It was shared by fashion pages like Complex and got all kinds of attention, and my name started to be spoken about in the industry. This was exciting for me as suddenly what I wanted to create was being received by the industry.
But today? Sneakerheads has evolved, it's all about the community. People are crazy about the design and hype around sneakers in the real world, and I wanted to capture this excitement in the digital world as well. The way I am representing sneakers in digital art offers a fresh way to look at something we've become familiar with.
The excitement this has received from the community gives me enormous motivation to work on this. We want to give sneaker collectors a solid ground in the digital world, one that represents who they are, and what their character is. This thinking comes from my background in architecture – when we create a building, it needs to have a character. So with our digital community, I wanted its character to reflect the heart of real sneaker collectors.
What first attracted you to work on an NFT project?
After I graduated from Gnomon, I worked as a freelancer doing commissioned NFT art. But as I saw the NFT space blow up, I thought it was a huge shot for any digital artist to showcase their art. Before NFTs, digital artists didn't have a lot of recognition. We were just hired to do a job and didn't have a lot of freedom to do our own thing. When I did start doing my own thing, people kept asking me to create NFTs of my creations – but I wanted to wait for the right moment when my instinct told me it was time.
Part of this was that I needed the right people to work with. People who were talented and skilled, but also who I could trust. After all, I knew I had limitations. I could handle the art side of things, but there is so much more to an NFT project than art. And if I wanted to make Sneakerheads into not just a collection, but into an incredible brand and community, I needed the kind of people who had the drive, passion, and ability to make this happen. Finding these people took time, but eventually, I did and here we are.
What made sneakers your canvas of choice?
I am a sneakerhead. I love sneakers. I love the stories they tell. From my days of Bboying (breakdancing) till now, sneakers have always been a passion for me. Since art is my other passion, I decided to merge both into this NFT project.
People's sneakers tell you a lot about their character – so Sneakerhead NFTs should be the same. Each one should have a character, the same way you do with your sneakers. This can come from the design, right down to the "materials" captured in the art. This grounds the design in its urban roots. People sometimes forget that sneakers come from hip-hop culture. I want people to remember how the urban culture smells and feels. I wanted to create a full experience so people could feel the urban culture in sneakers again, and connect to that through the digital medium.
What crossovers do you see between sneaker and art communities?
Design is art. And sneakers are all about design and making things practical and beautiful. So sneakers are art to me. One of the things about art is that good artists will often add their character to what they do. They let us see something from a different perspective. This is something I learned from hip-hop; you gather what you learned from life and show it to people in your dancing. I believe that also happens in sneakers; sneakers tell different stories, and in my case as an artist, I use sneakers as a tool to represent my experiences creatively. That's actually how my following on social media started, by connecting sneakers with the art community.
What would your dream sneaker be to collaborate on?
I love Nike or Adidas and I also love Louis Vuitton, but if I think of my strongest passion, I would say it is Off-White. This is partly because Virgil has an architectural background like me. And also because Off-White is a nice mix between urban and luxury, something I am trying to achieve with the Sneakerheads collection as well.
You're a big hip-hop fan. What are you listening to right now?
Nas. Specifically his album Illmatic. He showed me how to make Sneakerheads through that album because he tried to make people feel and understand urban culture. That's why it's one of his most famous albums. I thought I could do something similar with Sneakerheads, but instead of using music, make people understand urban culture through visual art.
What's underrated?
Originality. As an artist, I think taking inspiration from your own experiences, for example by interacting with nature, as opposed to taking inspiration from the internet, is underrated. Hip-hop used to be fresh, new, and original. These days, however, it's much less common to come by original hip-hop.
When I grew up, the internet was still very new, and there was much less content available. That's why in our art (including dancing) we were very inspired by a large range of different media and experiences such as videos, movies, music and just going outside and interacting with nature. We then also had to use our imagination to further build upon that inspiration.
I want to bring this originality back to urban culture.
What's next for you?
The next thing for me is to rest! I have been working 13 hours a day since I started Sneakerheads. This is because I really want to deliver the highest quality possible for the project. After that, I am looking forward to the next steps with Sneakerheads. There is so much more to come. With Sneakerheads, we are creating the foundation for an ecosystem where sneaker culture, urban culture, and NFT culture merge. I'm very excited about future drops for holders, branded merchandise, and collaborations with brands and artists. We've got some amazing things coming up. It's going to be huge.