Last week, StockX partnered with Malbon, one of the premiere clothing brands pioneering the new look of golf to host Mulligans In Miami, a one day golf invitational happening during Art Basel '22. The event played host to the sport's coolest brands, personalities, and participants including attendees like JR Smith,Drink Champs,  Victor Cruz, Chantel Jeffires, and Ben Baller. It's impossible to overstate the place that the sport of golf has taken in popular culture since the onset of the pandemic. Like a cigarette in a Dunder Mifflin trash can, the sport has quickly caught fire and as it continues to grow, so do the number of brands offering their flavor of community within the golf world.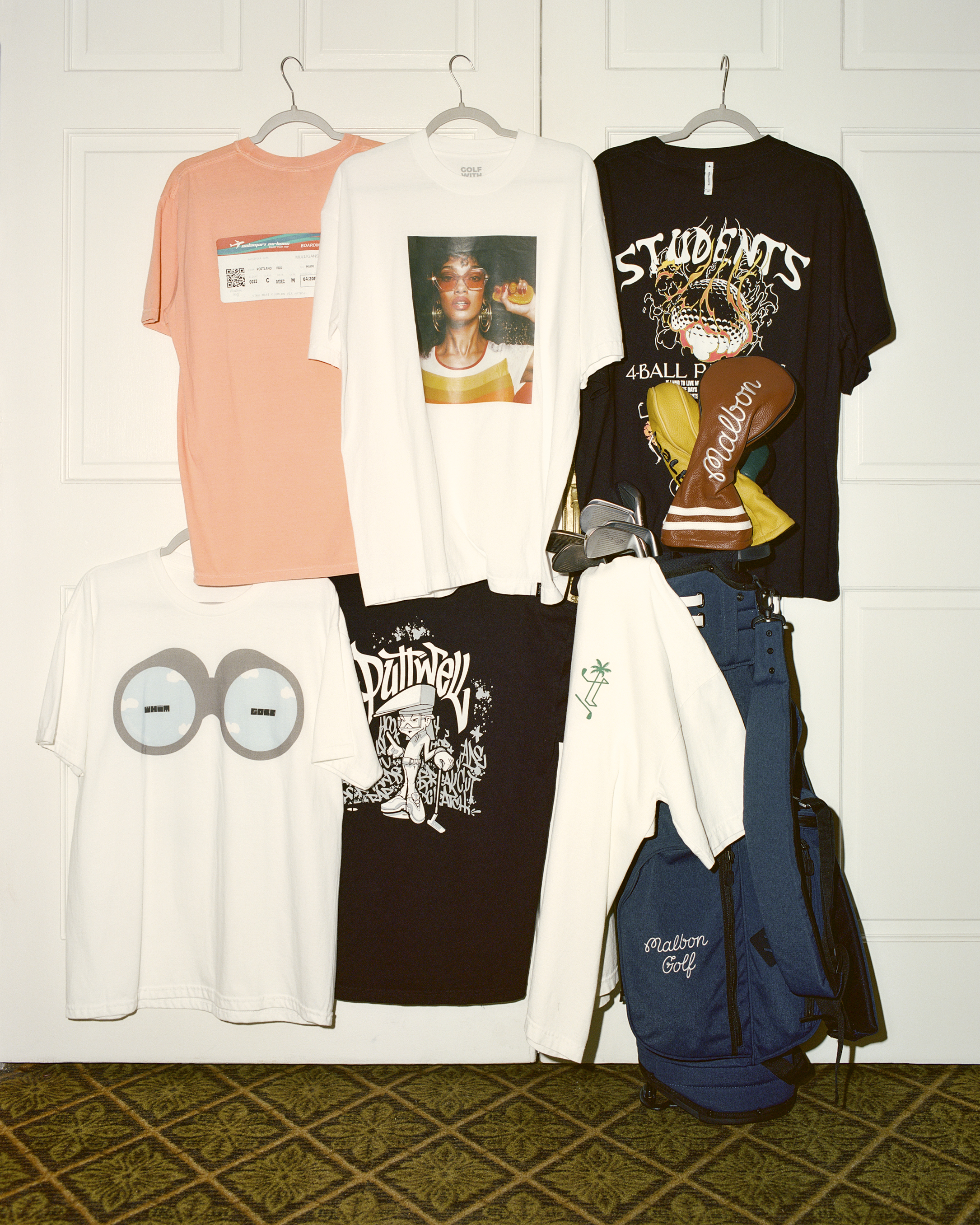 As a part of the larger Mulligans In Miami event, StockX has partnered with six of the golf world's most exciting apparel brands for an exclusive DropX featuring six collaborative t-shirts, curated by Stephen Malbon himself. Each designed by their respective brand, the shirts give an immediate impression of the label's ethos and approach to the sport. Learn more about each of our Mulligans DropX partners and shop their exclusive apparel release on StockX below.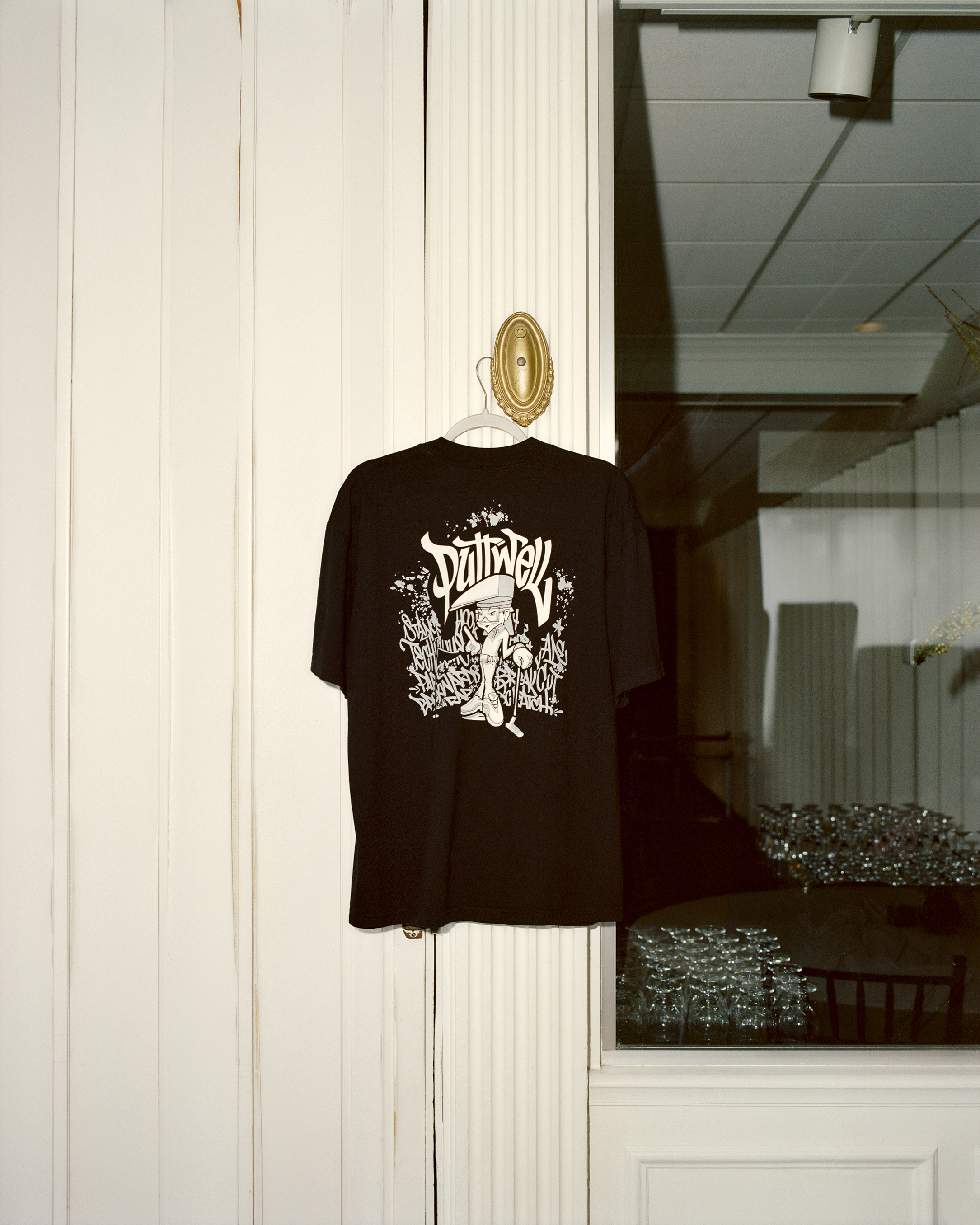 At the convergence of Instagram, streetwear, and the golf world, there are all kinds of upstart brands trying to vie for the attention of new golfers. For Puttwell, that means growing their favorite sport through the curation of an inclusive lifestyle brand and culture. Founded in 2021, the brand has wasted no time getting into the creation of golf gear you'd actually be interested in wearing on the course. Their releases, which feature coaches jackets, golf shirts, ball markers, and putter covers, deliver a refined yet slightly flamboyant energy and regularly sell out. For their DropX with StockX, Puttwell brought in another collaborator, artist East3, to deliver a hip-hop and graffiti inspired design. 
At first glance, Quiet Golf's Instagram account, which features aspirational concept photos for their own future golf course and clubhouse, gives off the impression that they're more of a moodboard than a brand. Aesthetically pleasing and incredibly refined, Quiet Golf delivers what their name suggests, a subtle yet highly appreciative view of the game of golf. Their product offering is thoughtful, playful, and simple, delivering t-shirts that feature a faux anatomy of a golf ball and buttonless golf polos in black or off-white colors. A trip to their website's Journal unveils the brand's deep appreciation for the beauty of golf courses, which are put on display through the medium of vivid film photography. Their t-shirt with StockX follows in the footsteps of their previous releases, featuring a design-heavy graphic of a golf club morphing into a palm tree with text playfully boxing it in.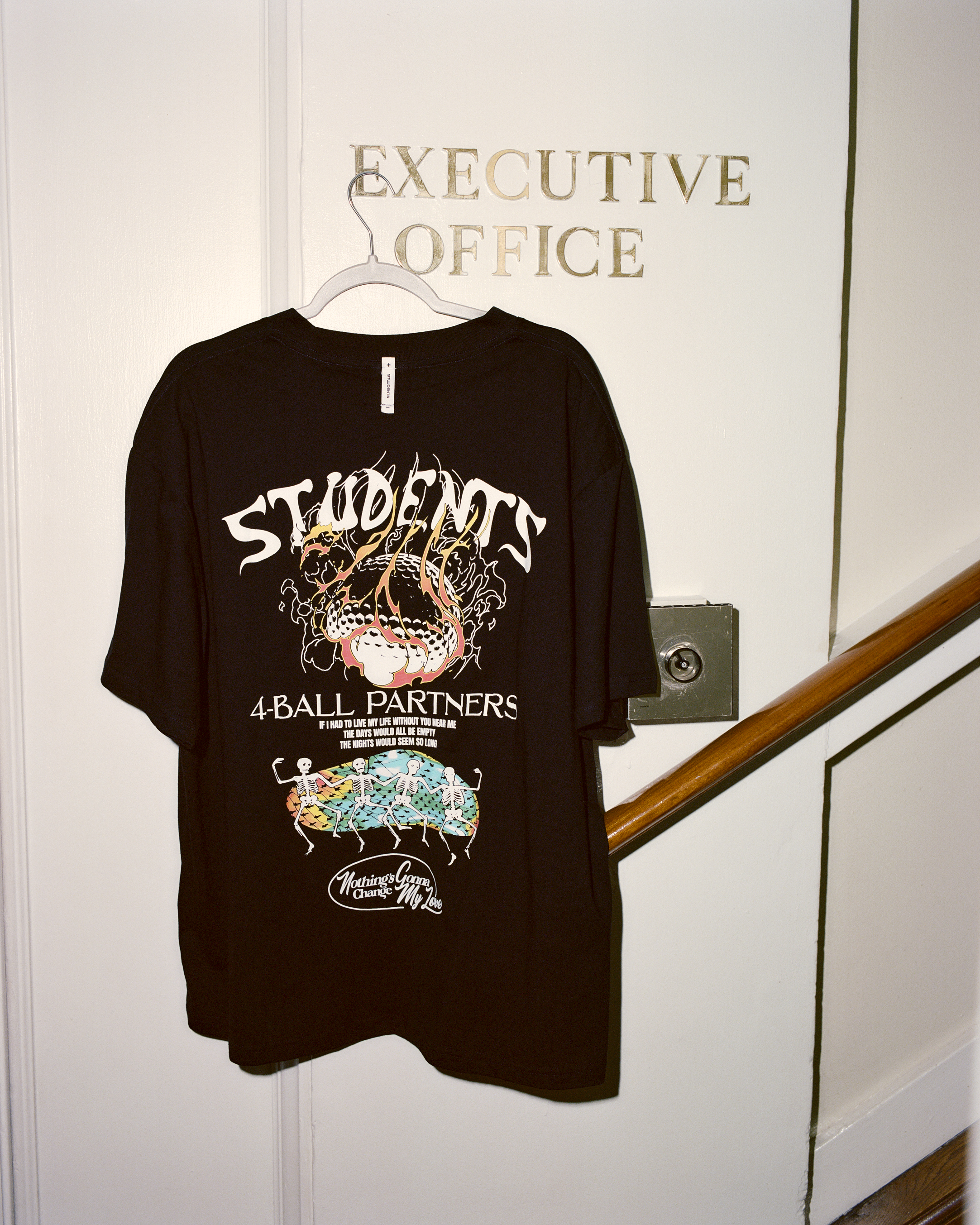 The hard and ungratifying truth of golf, especially when you first start, is that it takes a lot to be even decent. More than 75% of golfers will never break a score of 90, or 18 over par according to golfspan. Students Golf is a brand for those who can accept the fact that the game of golf is incredibly hard with humility and grace. Built and run out of Los Angeles, California, Students sets their focus on improvement, learning, and the ever-present object lessons that golf is often ready to teach. Delivering apparel, accessories, and home goods, Students Golf provides polos fit for the golf course and graphic pieces of a more streetwear inspired background that focus their artwork on the sport. For their DropX T-shirt, Students presented a colorful graphic on the front and back of their t-shirt that features their brand name as well as several sayings reflecting their love for the game.
Though most of our partners have taken the sport of golf and delivered it through the more relaxed and easy to relate to lens of apparel, The Number Thirty Three is a different kind of golf accessory brand. What started as a tweak to the traditional toothpick has become something different altogether. The Number ThirtyThree has created what they call "Tee Picks", which are flavored modified toothpicks that look like, and can be used as a golf tee. Made for use on and off the course, The Number ThirtyThree delivers their Tee Picks in flavors from Citrus to Wintergreen and even has a flavor that's CBD infused. As a part of the DropX partnership, The Number ThirtyThree has taken one of the graphics from their Citrus Tee Pick packaging and placed it on a t-shirt. The graphic features a vivid photograph of a woman squeezing an orange.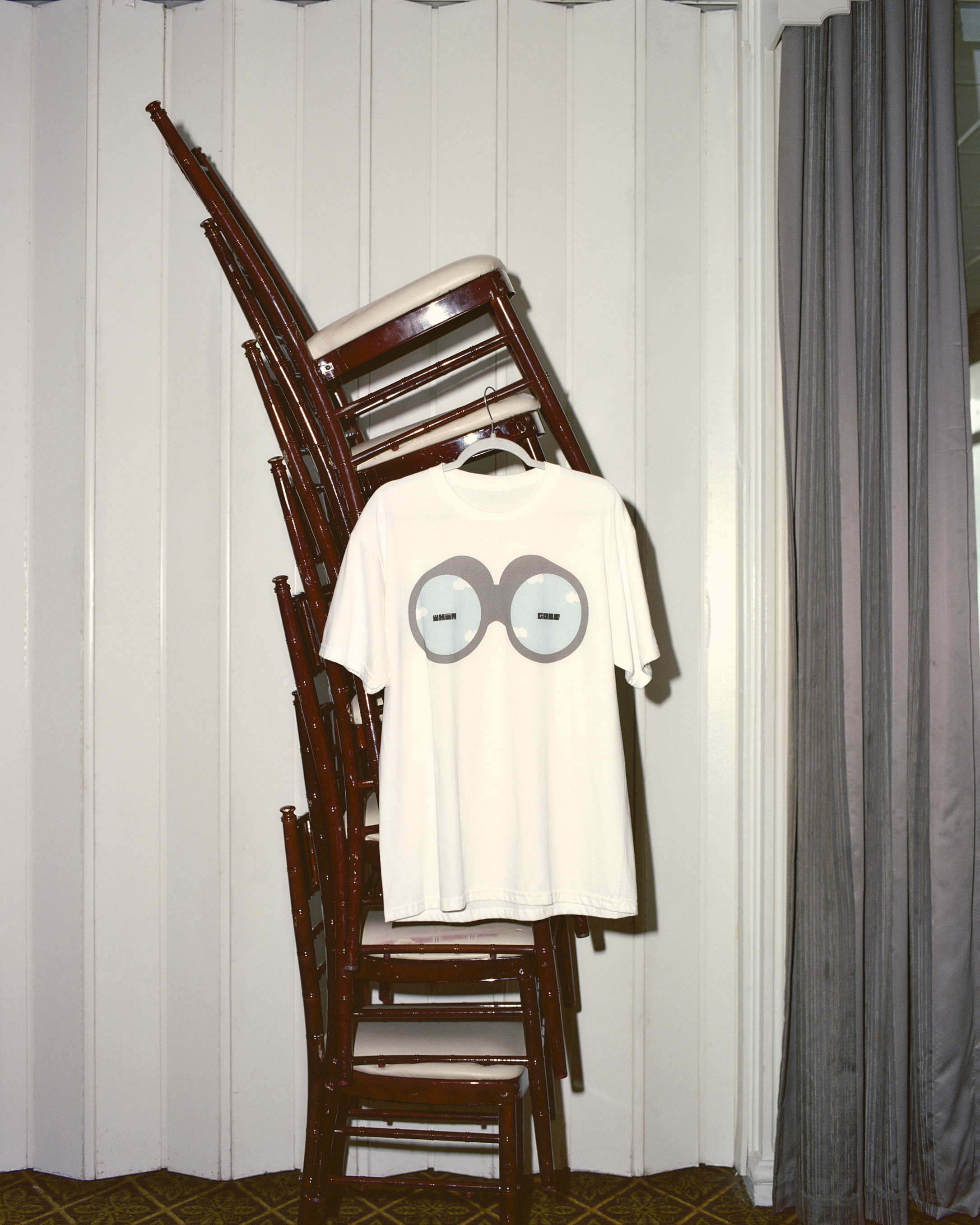 Whim Golf was founded in 2019 with a singular goal: to democratize golf by tying the sport together with art and fashion. As a brand, they deliver a community building experience through in-person activations, well-made apparel and accessories, and an aesthetically pleasing Instagram account that gives off a moodboard feel. Their product offering ranges from apparel that can be worn on or off the course, like golf shorts or light wash denim, and accessories like golf gloves, belts, custom Titleist Pro V1 Balls, Fiberglass Putting Goals, club head covers, and more. Whim's DropX T-shirt takes their playful ethos and makes it evident in the form of a graphic, delivering a reflective binocular image with the brand's name in each of the eye holes.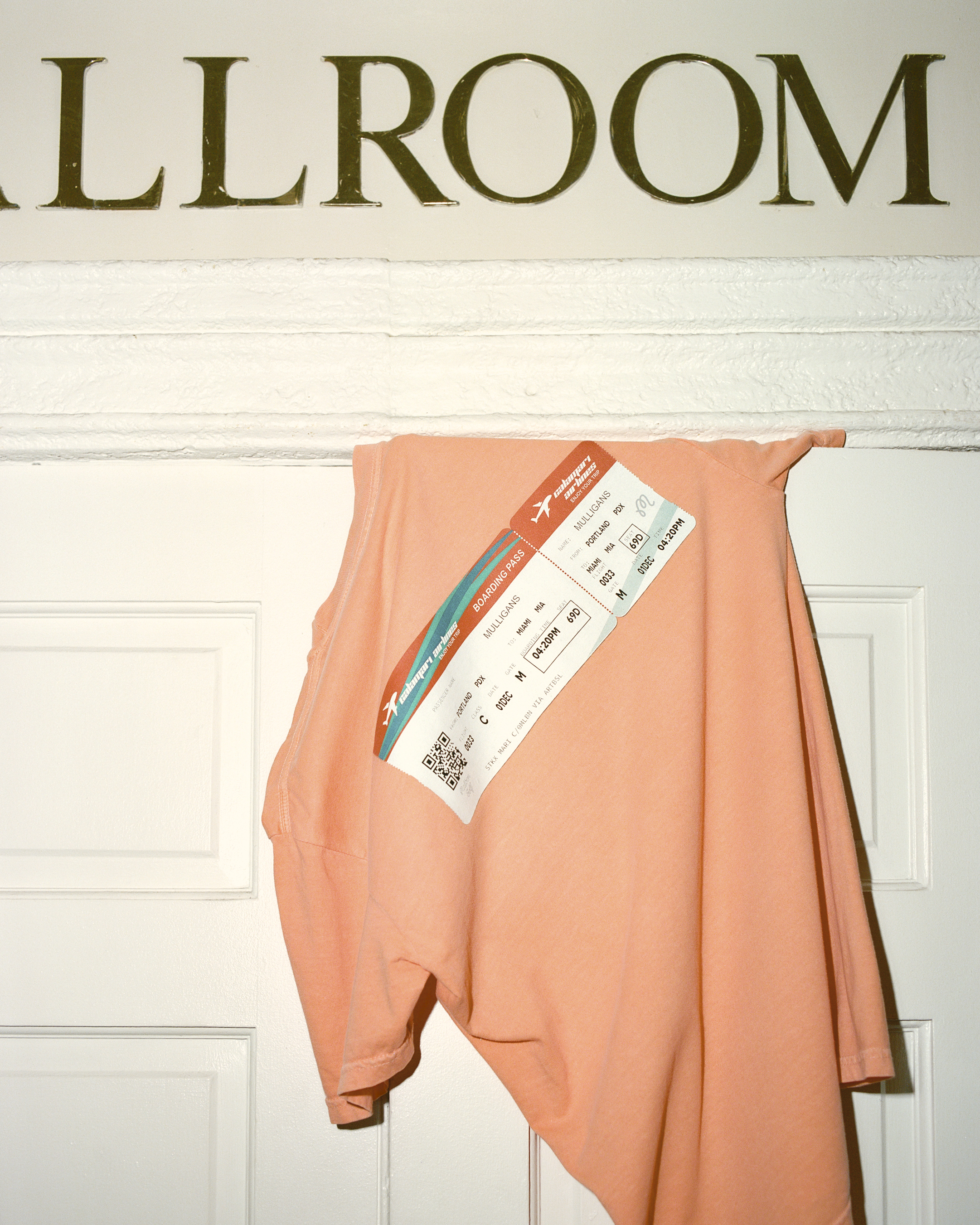 As the sport of golf expands so do the brands who represent it. Calamari Golf offers a slightly more subversive take on golf, delivering a brand ethos that isn't afraid of the fact that it's not totally buttoned up. Self-described as the "the world's horniest golf tee brand", Calamari delivers golf tees, t-shirts, towels and more with flipped graphics that often feature the number "69." Their Calamari logo features the same font as adidas' Calabasas line and the brand has flipped several classic Carhartt pieces as well. As a part of the DropX with StockX, the brand delivered a Calamari Airlines graphic that can be found on the front of a T-shirt, with a faux Calamari Airlines Plane ticket graphic on the back.
Buy & Sell all six t-shirts released as a part of the Mulligans in Miami DropX on StockX below.