When put in simplest terms, PHILLLLLTHY's custom designs can be described as distressed or reimagined and reconstructed through the processes of hand-cutting, patching, and sewing together materials to make one-of-a-kind pieces that are unmistakably his own. As a rising star within the contemporary creative community, and someone who's created a number of custom sneakers for Daniel Arsham's personal collection, it is no surprise that Phillip Leyesa, aka PHILLLLLTHY, is part of the inaugural Art & Residence program presented by Daniel Arsham and StockX that is taking place at Milan Design Week from June 7th-12th. This first iteration of the program asked some of the most exciting names across many different creative mediums to try their hand in the universe of interior design by challenging them to construct a chair that is uniquely their own. 
For his take, Leyesa reached beyond fashioning a functional seating surface to push the boundaries of what a chair can be. "Like fashion, I think furniture, in general, is a great way to express yourself," Leyesa said in an interview with StockX. "There are so many options and styles to pick and choose from. Chairs are a great way to make a space look more inviting and a cheat code to fill up random space."
The proverbial cheat code that Leyesa pieced together utilized his go-to playbook by searching to make the old new again. "My goal was to use at least one recycled object as part of the design. By doing this, the user could reuse old items and give them a new life." When looking at what he created, it's easy to follow the chair's stained curvature over its elongated seating surface, to the exact item to which Leyesa is referring, a bright yellow vintage World War II bomber oxygen tank that stabilizes the back half of the handcrafted piece. But that tank is not attached to the chair, it's another aspect of potential customizability. Aside from function, this design choice also offers a stark contrast to the organic feel brought about by the rest of the chair, and also allows Leyesa the chance to accomplish another goal that is close to him and his process, "Recycling old junk [because that] means less waste and better for the environment."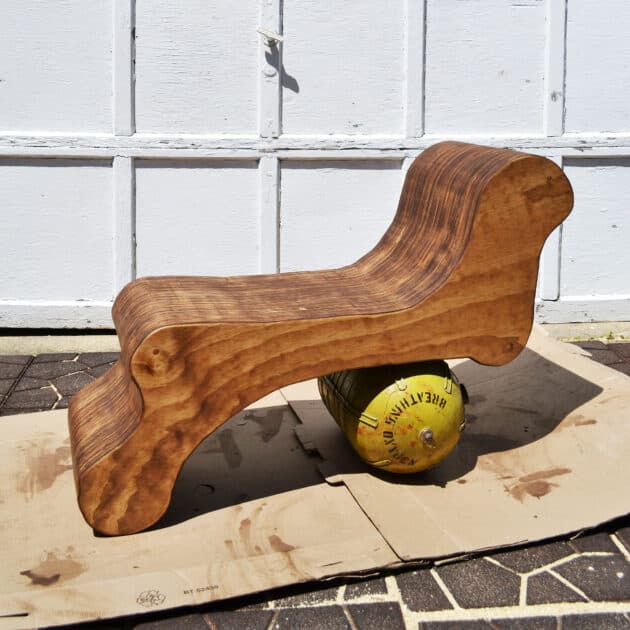 Leyesa says, himself, that his "process doesn't follow any specific plan", instead the philosophy behind each of his creations is striving to do the same thing. In his words, that philosophy is driven by, "Problem-solving, that's what my design philosophy would be. If I have a design in my head and I want it to come to life I need to figure out what's doable and what's not doable. If it's not doable I ask myself, 'Why?' and find a way to work around that problem." For the specific project he was tasked with for Art & Residence, Leyesa recognized what potential challenges stood in his way, which was the first step in finding the solution he was seeking while keeping his signature hand as a major part of that equation. "When designing this chair I knew I wouldn't have access to fancy machines or tools so I designed something that could be made with the basic woodworking tools that I have prior knowledge of using," he says. "This piece is also complimented with a patchwork pillow and a vintage militaria object which screams PHILLLLLTHY."
Even though the use of World War II memorabilia makes this edition unquestionably Leyesa, the oxygen tank is not actually necessary for the chair to still serve its fundamental function. The user has the option to swap in any object in the tank's place that may provide more meaning to them. "Customization is what I like to do, and I want the user to have that experience as well," he says. "Having this option builds more of a relationship with the user because their choice is part of the final design. The choice of using different objects is a great way to show what the user is interested in, for example, old books, deflated basketballs, or anything that fits under there." So it is in this sense, that the chair can easily be worked seamlessly into any space, and the user becomes a collaborator with Leyesa on the ultimate expression of the piece.
This ability for anyone to put their own touch on Leyesa's chair is something that is important to the designer. In his mind, the idea of creating a "home" has parallels to creating anything else, including the chair. "When putting together your version of a home, you start with an empty space and you add objects for aesthetic or for practical reasons," he says. "I've seen many homes where random objects and furniture are placed together in a space and it comes together as a whole. Sort of like a band, all of these instruments played together to make a beautiful sound." With the element of customization worked in, the process of bringing this into any user's space has been made easier. "Being a creative, I understand there's a market and audience for everything, literally everything," he says. "Once you find this audience people will catch on and enjoy your work, so I do believe this chair can fit into a home. What kind of home? I'm not too sure but I can imagine it in my living space. Chairs in general are sort of like an invitation to guests when they are in a home. If you see a chair, sit on it."
Of course, this is one of Leyesa's first real interior design items that he has on his resumé. While some may be intimidated by the idea of having one of their first experiences in the furniture space on the industry's largest stage, Milan Design Week, Leyesa's mindset had him well prepared. "A mantra of mine is, 'Craft with pride and display with purpose.' With every project I do I give it my 100% because at the end of the day it will have my name on it." To Leyesa, it is not about where the work will be displayed, it is the fact that he is the one making things happen. "This chair could have ended up in my Mom's living room and I would still have the same creative process and final outlook," he says. "I don't feel like there was more added pressure, I'm excited and super grateful to be part of this with other great artists."
Leyesa's work is on display during Milan Design Week along with the other creatives involved in the Art & Residence Program presented by Daniel Arsham and StockX. "Art & Residence" presented by Daniel Arsham & StockX explores this converging of worlds and taps non-traditional creatives to push the boundaries of what a chair can be. From fashion designers to architects, "Art & Residence" bridges creative communities – from the world of StockX, to the storied platform of Milan Design Week. For more information on the creatives involved in the program, you can click here.