Whether it's on Twitter, TikTok, your group chat, or at family Thanksgiving, a number of people have asked the question: Is StockX Legit? Well, we're here to fill in the blanks. The answer is an unequivocal YES.
Here are just a few of the reasons why: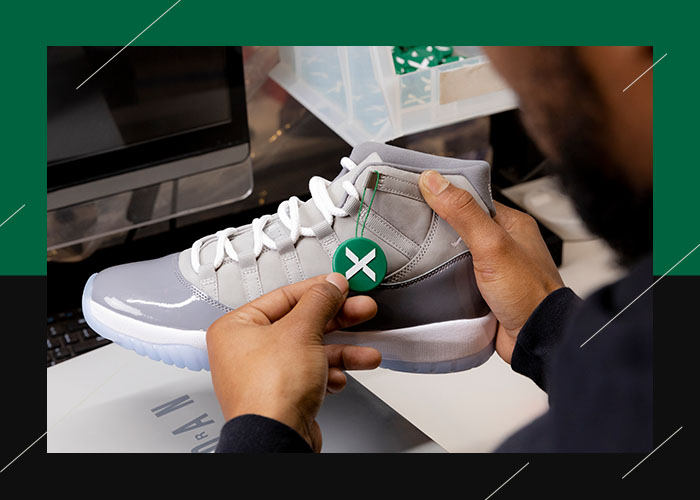 Is StockX Legit?
Let's start with the basics. One of the reasons StockX is a safe place to buy is also our claim to fame: our authentication process. At present, StockX employs a team of over 300 trained authenticators who work hand in hand with nearly 200 additional supporting team members – from knowledge managers to quality assurance specialists. Because of their joint efforts, StockX has an accuracy rating of 99.96%. 
Note that only a fraction of our review process involves fake shoes. It also includes more general errors, like when a product is the wrong size or an accessory is missing. Our authenticators make sure there are no manufacturing defects; they ensure that the packaging isn't damaged and all accessories are included; and they verify that the product is the right size. All this adds up to an incredibly high-quality control standard. And if you receive an item that doesn't meet our high standard of quality and accuracy, you needn't worry: we have your back. We stand behind every order, and if a mistake is made, our world-class customer service team will be there to resolve the issue and get you the right product. So whatever the circumstance, you can have peace of mind that StockX is safe.  
This is a massive improvement when you consider the broader context of sneaker-fraud history. StockX launched in 2016 with the goal of bringing trust and transparency to a chaotic and opaque sneaker resale market. Back then, buying sneakers was a risky proposition: scams were commonplace, fake shoes were ubiquitous, and buyers had little protection from fraudulent sales. In 2020, analysts estimated that the counterfeit sneaker market alone was worth $450 million. The proliferation of fake shoes has become commonplace and widespread. 
Outside of StockX, the sneaker resale market is far from safe, as evidenced by the half-billion dollars worth of fake shoes sold each year. But resale on StockX is different. By adding an authentication layer on top of the normal transactional relationship, StockX changed the game. And by standing between buyer and seller and authenticating every item sold on our marketplace, we moved past the old world where getting fake shoes was a common occurrence, and entered a new world where authenticity was central to the shopping experience. In short: we made buying exponentially safer than it ever was before.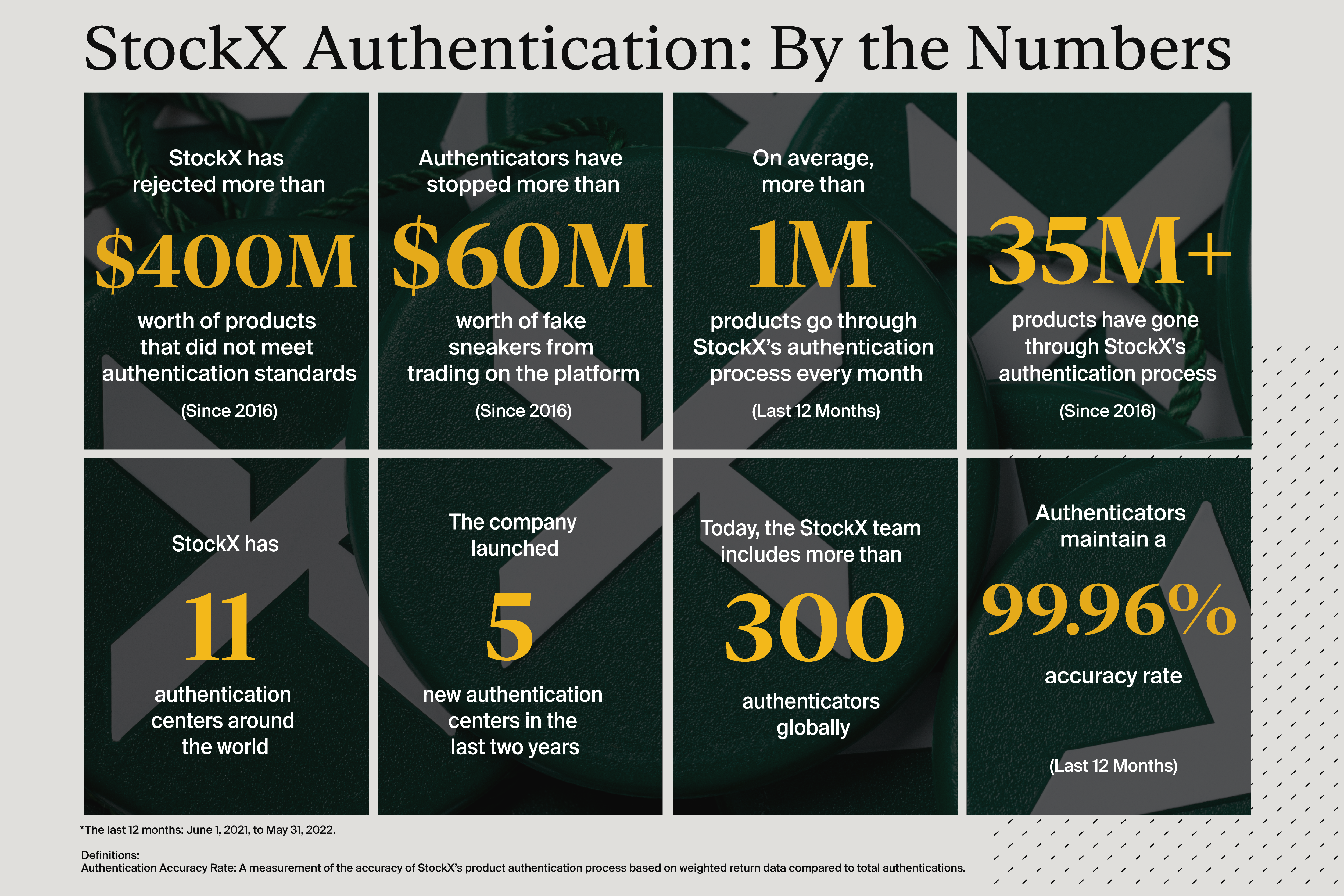 It's been over six years since StockX first launched as a sneaker-only marketplace. This means we've had over six years to perfect the science of authentication. In that time, over 35 million products have gone through StockX's authentication process, and we've learned from each and every one. Our knowledge and skills have also expanded way beyond sneakers. We've been authenticating apparel and accessories since 2017, collectibles and trading cards since 2019, and electronics since 2020. 
Our incredible team of trained authenticators uses a three-pronged approach that combines expert knowledge, high-touch human identification, and cutting-edge AI technology. They are armed with a robust database of proprietary information, gleaned from years of experience in the field. This database consists of over 1 billion data points and allows our authenticators to effectively assess the legitimacy of every product sold on StockX. By developing and perfecting the science of authentication, we've nearly eliminated the once-common risk to buyers of purchasing counterfeit goods. 
99.96%. It's a number we're incredibly proud of. And we will continue to grow our team, enhance our knowledge, and invest in new authentication technologies that allow us to improve, such that StockX remains the safest place to buy.
StockX Reviews
When it comes to trusting StockX and believing in our authentication process, you don't have to take our word for it. Millions of people around the world have put their faith in our platform and voted with their wallets. Today, StockX is one of the leading global marketplaces to access current culture. Over 30 million customers visit StockX each month, and people around the world are purchasing on StockX every minute of every day. 
This year, Andreessen Horowitz – one of the leading venture capital firms – ranked StockX as the #5 best consumer marketplace overall, and the highest-ranked marketplace for apparel, sneakers, and other current culture products. Surveys have shown that Gen Z shoppers rank StockX as their go-to secondary marketplace and one of their favourite websites overall. For these young people, StockX is more beloved than many of the biggest brands in the world. Among male Gen Z sneakerheads, more than half (60%) said they use StockX to buy or sell kicks.
StockX In The News
It's always nice to get good press, and over the years, we've been lucky to have lots of it. StockX has been profiled in many leading publications, both in the United States and around the world. In 2018, the New York Times dubbed StockX "The Nasdaq of Sneakerheads", devoting two extensive profiles that detail our authentication process, our global growth, and our brand philosophy. We've also been covered by TechCrunch, CNBC,  Quartz, Business Insider, Footwear News, Vogue Business, Business of Fashion, Cheddar News, and countless more. 

Outside of the United States, reporters have written hundreds of articles about our platform, showing how StockX has expanded access in regional markets, and created an easier, fairer, and more trustworthy method for securing hard-to-find products in their countries. Examples of this international coverage: Chosen Daily, A Current Affair, and Pen Online.
In writing these stories, many of these reporters have visited our facilities, observed our authentication team, spoken to our customers, and interviewed our leadership team. We urge you to read the coverage for yourself and learn more about our authentication process.
In addition, we're also a member of the INTA (International Trademark Association), a worldwide association of brands and professionals committed to protecting intellectual property and fostering consumer trust.
StockX Investors
Some of the biggest celebrities and most respected investment firms have invested in our business. Our earliest investors included A-list names like Eminem and Mark Wahlberg, along with global business leaders like Ted Leonsis, Tim Armstrong, and Scooter Braun. In 2018, they were joined by fashion and entertainment icons Karlie Kloss, Steve Aoki, and Don C, as well as Salesforce founder Marc Benioff.
In addition to these individuals, some of the most respected venture capital and investment firms are among our investors. In 2018, GV (formerly Google Ventures) and Battery Ventures invested in StockX. More recently, they were joined by Tiger Global Management, LLC, Altimeter Capital, Sands Capital, and Whale Rock Capital Management. Our board of directors includes representatives from these firms along with business leaders from some of the most successful and respected companies in the world (see here for a full list of our leadership team).
StockX Is A Global Marketplace
When StockX started in 2016, we were a humble sneaker marketplace in a single office building in downtown Detroit. Over the last six years, we've grown into one of the biggest secondary marketplaces in the world, with a catalogue of over 150,000 items spanning multiple product categories. As our platform matured, and our buyer and seller communities multiplied, we expanded far beyond our origin city. StockX now has 11 different authentication centres in four different continents. And this expansion of our authentication network means we now safely and securely connect buyers and sellers in more than 200 countries and territories around the world.
The numbers agree. The surveys agree. The media agree. And the world agrees: StockX is legit. 
And we're just getting started. We're going to continue to improve and innovate; to listen and build trust with our customers; to expand with new products, new categories, and new markets; and pursue our mission of making StockX the easiest, fairest, and safest place to access current culture. 
To learn more, check out the following resources:
-Our detailed Authentication page
–Our How It Works pages
–Our FAQ page