Part fashion designer and sneaker collector. Full-time mom and content creator. Aude-Julie is a true multi-hyphenate.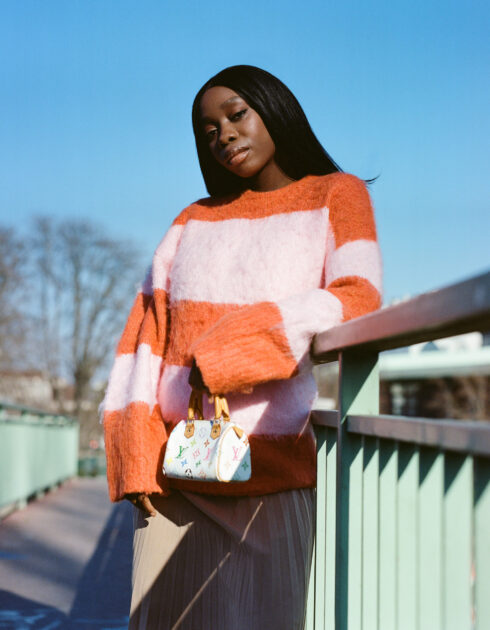 Aude first got into the sneaker game when she launched her blog Basic Is The Mood back in 2015 while attending fashion school in Paris. Her weekly posts would show off her personal style and her favorite sneakers based upon her personal experiences. She has since parlayed her passion project into a full-time career, collaborating and creating content with a number of big brands (now including us). If that's not impressive enough, she's also currently working on creating an upcoming online school of sorts, entitled BIM SCHOOL, which features classes designed by Aude about fashion, sustainability, and second-hand shopping.
We caught up with Aude and her boyfriend at their apartment outside of Paris for a day of sunshine, baby sneakers, and self-reflection.
StockX: When did sneakers first capture your attention? Was there a specific moment or person in your life that jump-started your passion? 
When I was younger, I really looked up to my big brother, and I saw him wearing really cool sneakers and baggies and stuff like that and I was like, "Okay, that's cool." I really wanted to be like him, and so that's how I started to really like sneakers.
Do you remember what kind of sneakers your brother was wearing?
I think they were just Air Force Ones. Those are actually the sneakers that I wear the most now. But the first sneakers I wore to school that were cool were Prestos, and I remember all the boys being like, "Whoa, your sneakers!" It was considered so weird if a girl was interested in sneakers, and I was only 10 years old at the time.
Were there any other girls in your friend group who were into them too? Or were you always standing out from everyone else with your love of sneakers?
In France, I feel like sneakers are really a cultural thing through music videos and stuff like that. Lots of girls actually wore sneakers, but it's so weird because when we were younger, we felt, as girls, we had to dress like boys to wear sneakers. I remember forcing myself to be a bit boyish to wear them. And then when I got a bit older, I started to just dress more feminine because I understood that sneakers weren't just for the boys.
Is there a specific sneaker or bag where the storytelling really captured your attention?
The first sneaker that really made me fall in love was the Cardinal Air Jordan 7s. I remember I couldn't get them right when they came out, so I saved money for months. When I finally got them, I was just obsessed. I love the gold and red colorway and the shape and quality of the pair. And then I just started to become broke after that because I bought so many sneakers.
How many pairs of sneakers did you have at the height of your collection?
At my height, I think 200, but mostly secondhand and vintage sneakers. I think 70% of my collection is secondhand and vintage.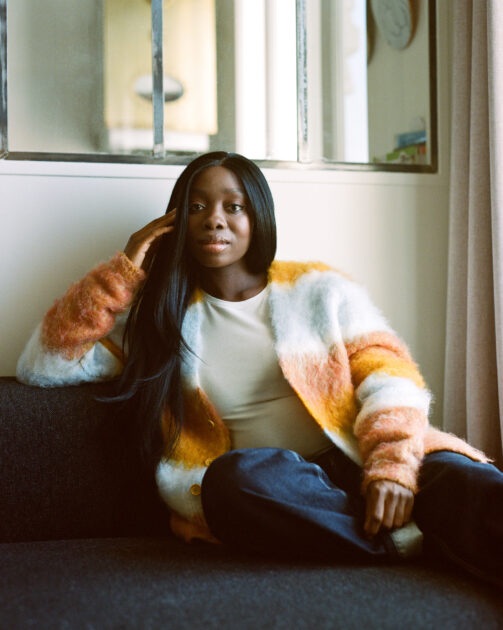 When did you start getting into secondhand and vintage sneakers?
It was when I got my first apartment in Paris. It was so expensive that I just couldn't buy new sneakers. So I really started searching and thrifting and stuff like that. I also got interested in sustainability and not just running to always buy the brand new sneakers. I used to want a sneaker right away, and now I'm more like, "Okay, I can wait a year, two years. Don't worry, you'll have it."
Do you think thrifting is a skill?
Thrifting is a skill. It takes a lot of patience. People ask me all the time, how do you find this? It takes hours, days, months — sometimes every five minutes I'm on my phone just searching. I try to thrift a lot in Japan, especially for my bags. I buy a lot of bags in Japan.
Why do you think sneakers and luxury go together so well? 
What I like about luxury bags is the craftsmanship. I love the details. I love the materials, the fabrics and colors. I see the same level of craftsmanship in sneakers. So I like finding details in my sneakers that I also find in my bags. I find it fun to blend these two cultures together and just having a different vision and trying to show my personality because I love high fashion, but I'm also really into music and street art and stuff like that. To me, the combination of sneakers and luxury just feels so comfortable.
And now you're trying to educate people on the scale of thrifting and just design in general with BIM School. Talk a little bit about the inspiration behind that.
I've always been passionate about education. I'm originally from Chad, and I saw how important education is, especially for young girls. I always wanted to be a teacher and so I created BIM School, a source for free online fashion courses around sustainability, thrifting, and stuff like that.
That's so exciting. Talk more about Basic Is the Mood (BIM). How did that come about? 
I started Basic Is the Mood in 2015 while I was still attending fashion school in Paris. Back then, not a lot of Parisian girls wore sneakers or associated sneakers with fashion. I've always liked being comfortable in my shoes so I started showing how you can create effortless, yet fashionable looks with sneakers. I really wanted to start building storytelling around my sneakers and my personal fashion. Again, there weren't lots of girls in Paris wearing sneakers and also not a lot of black bloggers. I feel like I was kind of an inspiration for women, and for young black girls especially. It was really great.
How do you juggle your career and brand while being a mom?
Being a mom has taught me to just organize myself a lot. I used to be a little bit like, "No, I have the time," but now I'm like, "No, I have to get up early. I have to get my shit done." It also helped me to limit how much time I was spending in the digital world. Before my son was born, I felt like I had to post, I had to be on social media. But now I'm focused on appreciating more moments with my son.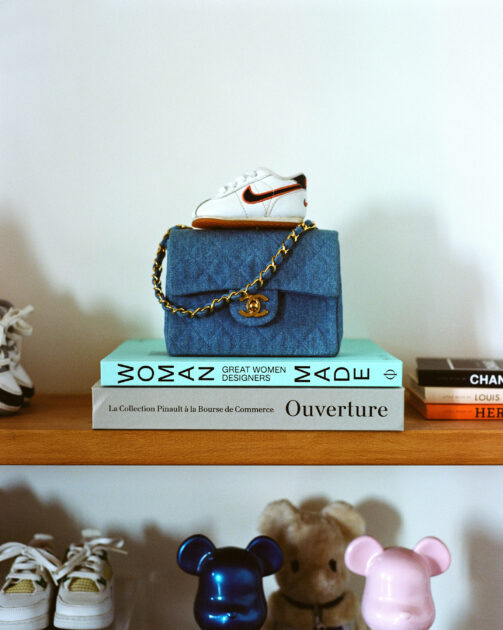 What's it been like starting your son's sneaker collection? I see he's got a lot of good heat around here. 
What's funny is I actually started collecting baby sneakers like 10 years ago. When I couldn't get a sneaker in my size, I was like, "Oh, I'll just get a baby sneaker." And then when my son was born, we already had loads of sneakers for him. I'm trying to slow down because he literally only wore five out of, I don't know, 60 pairs of sneakers that I bought him. (laughs) And his feet are so little that you don't even want to snug them in sneakers.
The pictures you've shared on your feed of you and him, it sends a really cool message of how you can still be creative and into fashion as a parent. What type of feedback have you received from followers and people who follow your work? 
I always tell people that becoming a mom didn't really change me. I just feel like I'm a better version of myself. Becoming a mom has not changed the way I dress or the things I like or dislike. I just like lots of baby things now. People just ask me all the time, "Oh, can you also do baby looks and looks for your son." And I try to not post my son that much on Instagram, but it's hard because he's so cute. I just love styling him.
Who's encouraged you? Who's been your biggest supporter in your journey?
My biggest supporter has been my boyfriend. We don't talk a lot about how social media affects your mood. Sometimes you feel like you're not worthy of things because people don't really respond in a positive way to what you're doing, or you don't have lots of people to encourage you. And he's helped me to keep perspective on everything I create — how even if out of 50,000 people, only 10 people like what you do, that's great. Keep doing what you do because at the end of the day, you're the one who should be happy with what you're doing and not others.
Are there any other women in creative industries that you're inspired by? Whether it is in sneakers, fashion, or design?
A woman I'm really inspired by is Aleali May. I've always seen male collaborations on sneakers. But when I saw her sneaker collaboration with Jumpman, it gave us all hope. I was like, "Okay, women are really pushing forward and being given a voice to really show how they can create things for everyone." I feel like in the past when a woman created something immediately, it's like, "Oh, it's a women's release though." We can create for everyone. We're not just about pink and sparkles and stuff like that. I'm always happy when I see a women's collab. It just makes me so proud to see women accomplish their goals and break boundaries.
When was your first experience with StockX? 
I think I bought a pair of sneakers that I couldn't get when they first released. I usually try to buy the first day because I'm so scared that the prices are going to go up. My boyfriend sells a lot on StockX. I'm really happy to be working with StockX to just show people what my vision is for fashion and the culture in general.
What is your vision?
My vision for fashion has changed a lot, and right now I'm really focused on sustainability. I feel like there's too much production of clothing, sneakers, and everything in general. I want to encourage people to think twice before buying. I feel like what is cool with StockX is that my boyfriend sometimes buys sneakers and he loves them. But when he doesn't wear them as much for whatever reason, he is still able to sell them. It creates this loop and people who didn't get sneakers can now get them. I feel like StockX also has an impact on sustainability by allowing people the opportunity to get rid of things they don't wear anymore without throwing it out.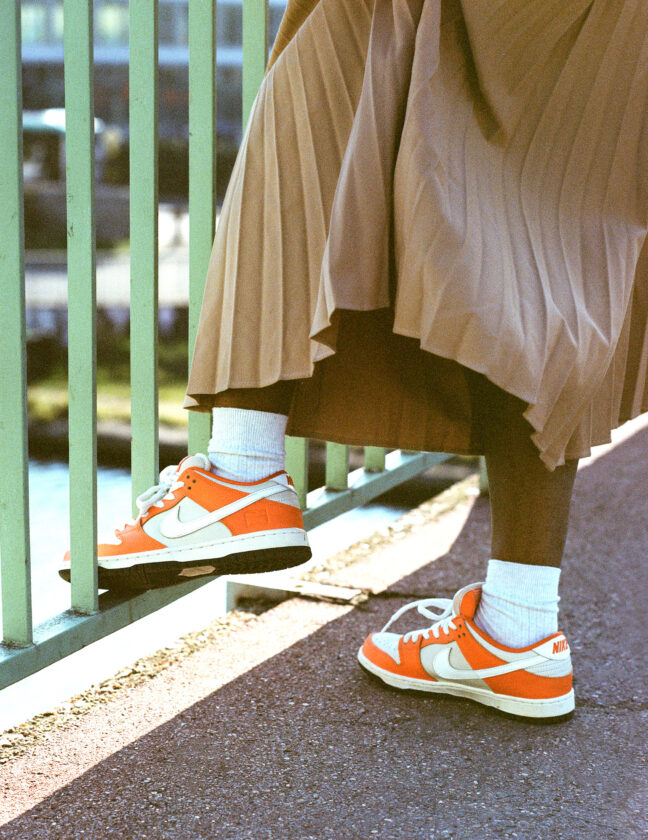 What else is next for you? What's coming up?
I'm actually expecting a second baby in June. It's motivating me to get a lot of things done before. I'm organizing photoshoots for all my vintage bags that I'm going to sell. I'm excited to show a different vision in these photos because most of the models are going to wear sneakers with the bags, and it will be a little bit more casual than what we usually see mixed with luxury fashion.
In terms of community and support, how do you feel having male allies impacts your experience as a woman of color in the creative industry and sneaker space? 
When I started posting about my love of sneakers, it was a time where as a woman you had to get nothing wrong. Not a release date. Not a name. Not a colorway. Otherwise, people would easily get on you and be like, "Oh, you're an amateur," and stuff like that. I feel really lucky I had lots of friends in the sneaker community in Paris that were encouraging me and sharing what I did. It's important to have that kind of backup as a woman. Today, I feel like it's much different.
How is it different?
Today there are way more girls in the community, and now we're in a wave where sneakers are for everyone. There are more women collaborations and more women creative directors now. The game has changed, and I love where we're heading.

We're doing this video as part of a series we started last year called Built Different. It's a celebration of women paving their own lane in sneakers, fashion, and creative industries.. So I have to ask: what does the phrase built different mean to you?
For me, built different means staying true to yourself. I feel like you can easily be influenced by everything around you. Instagram, social media — there's so much information, and sometimes you try to be like others or please everyone. For me, I've really worked on just focusing on what I want to do, what my values are, and what the most important things are to me. At the end of the day, I try to be proud of myself. I don't really care if people don't like what I like or what I do. I feel like we're in a society of likes and numbers, and I've tried to tell myself– even if one person encourages you, that's enough.