Though they may not be the first brand to pop into your head when thinking about collaborative footwear, sneaker juggernaut Puma has been exceptionally busy the last few years linking up some of the biggest names in current culture. The nearly 100-year-old company boasts a roster of partners that ranges from top NBA talent, like the 2021 Rookie of the Year LaMelo Ball, to some of fashion's biggest names, like JJJJound or Ronnie Fieg. As the sneaker landscape continues to ebb and flow, Puma is a brand poised for a big time comeback, and should be up next. So join us as we take a look at the top Puma collaborations on StockX.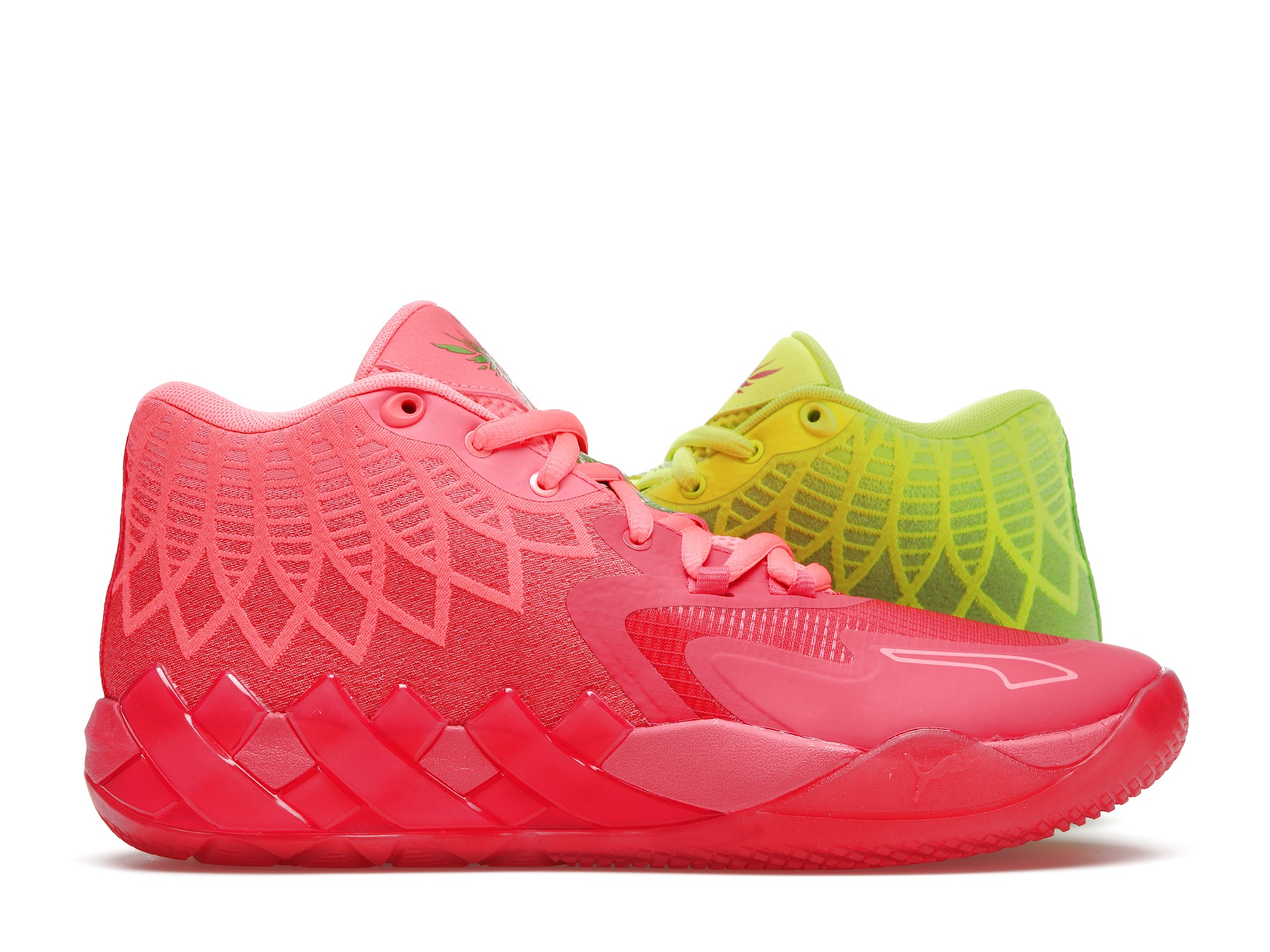 As one of the most electric players to enter the league over the last five years, the Charlotte Hornets' LaMelo Ball is easily Puma's biggest NBA signing. His MB.01 basketball shoe has been the best-selling Puma sneaker on StockX by a landslide for well over a year. This domination has been led by a three-way partnership between LaMelo Ball, Puma, and Ball's favorite Adult Swim show, Rick and Morty. The pair of shoes feature asymmetrical coloring, one is slime green and the other a neon red color, and the inside of each tongue features an illustration of the cartoon characters. A second Rick and Morty colorway was released just a few weeks ago, signaling that a longer-term partnership could be something to expect.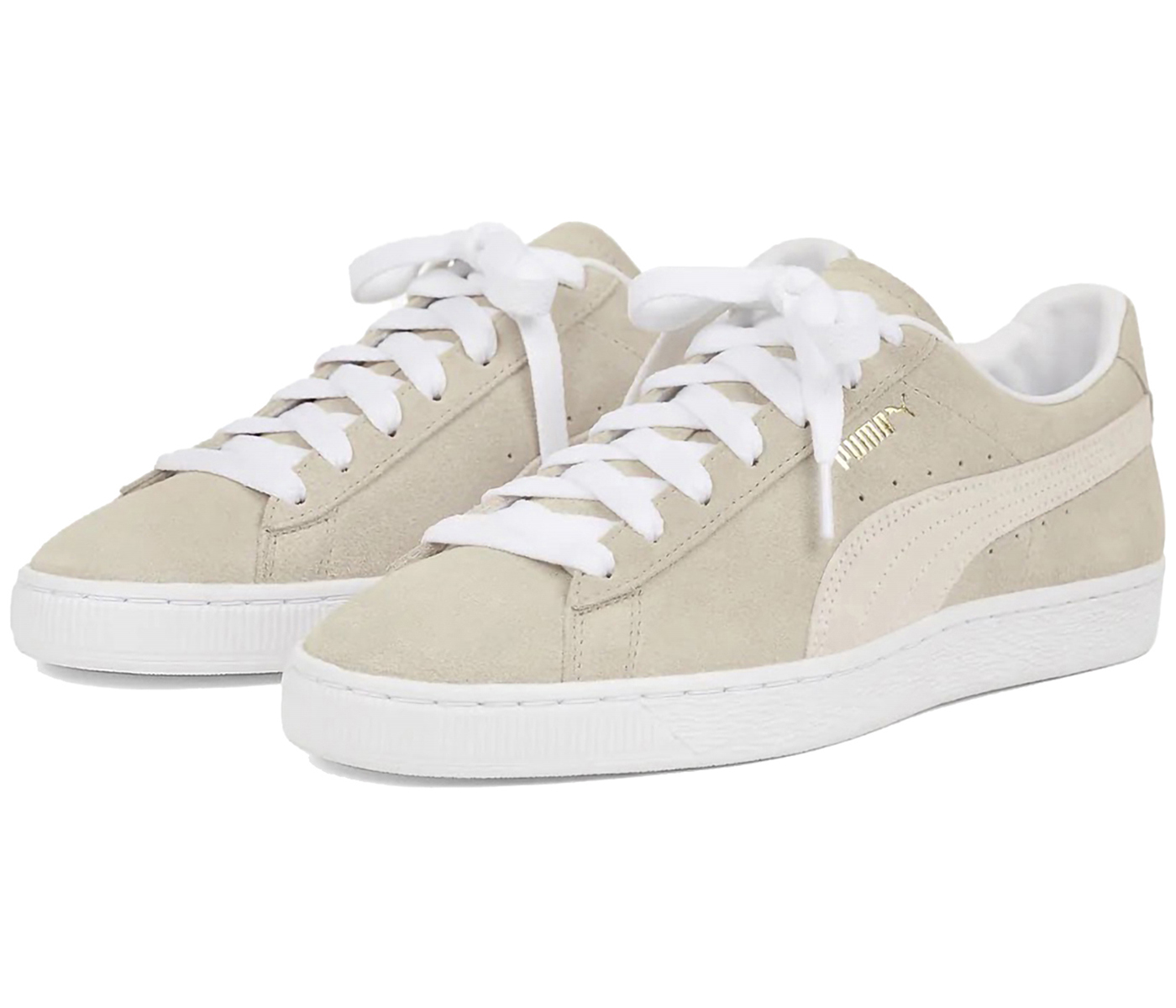 The Montreal-based designer JJJJound actually kicked off his career as a moodboard curator and DJ but has since dialed in on well-made, minimalist creations and collaborations. The designer's recent partnership with Puma turned out four effortlessly palatable colorways of the brand's most recognizable silhouette, the Suede. Available in easy-to-wear colors like burgundy, limestone, green, and the putty colorway shown above, this JJJJound collaboration will fit into any well thought out outfit seamlessly.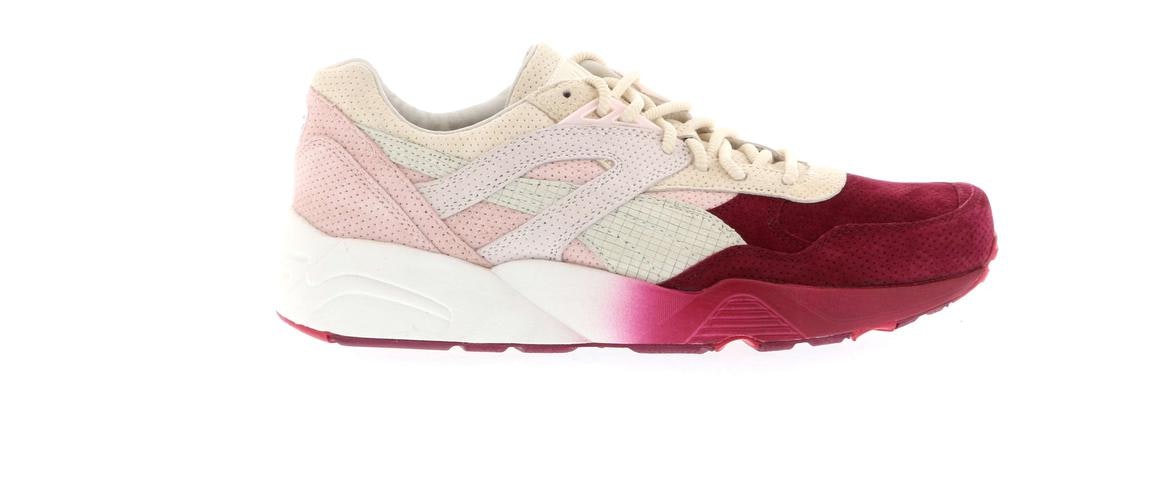 Ronnie Fieg is a living legend when it comes to sneaker collaborations. Before his Kith label was consistently selling out every week, Fieg was collaborating with sneaker brands on hit colorways and silhouettes at an unprecedented level. The Puma R698 Low Ronnie Fieg TSP Sakura serves as an example of Fieg's dedication and attention to detail when it comes to his collaborations. Meant to personify the early stages of the cherry blossoms in Japan, the shoes start out white and progress to pink from back to front. The sneakers are made with premium materials, utilizing a microperforated pigskin suede and a gradient midsole, marking the first time Fieg would use a gradient midsole on one of his projects. The highly coveted collaborative Puma sneaker is available on StockX in only a few sizes and a price premiums of more than double the original retail price.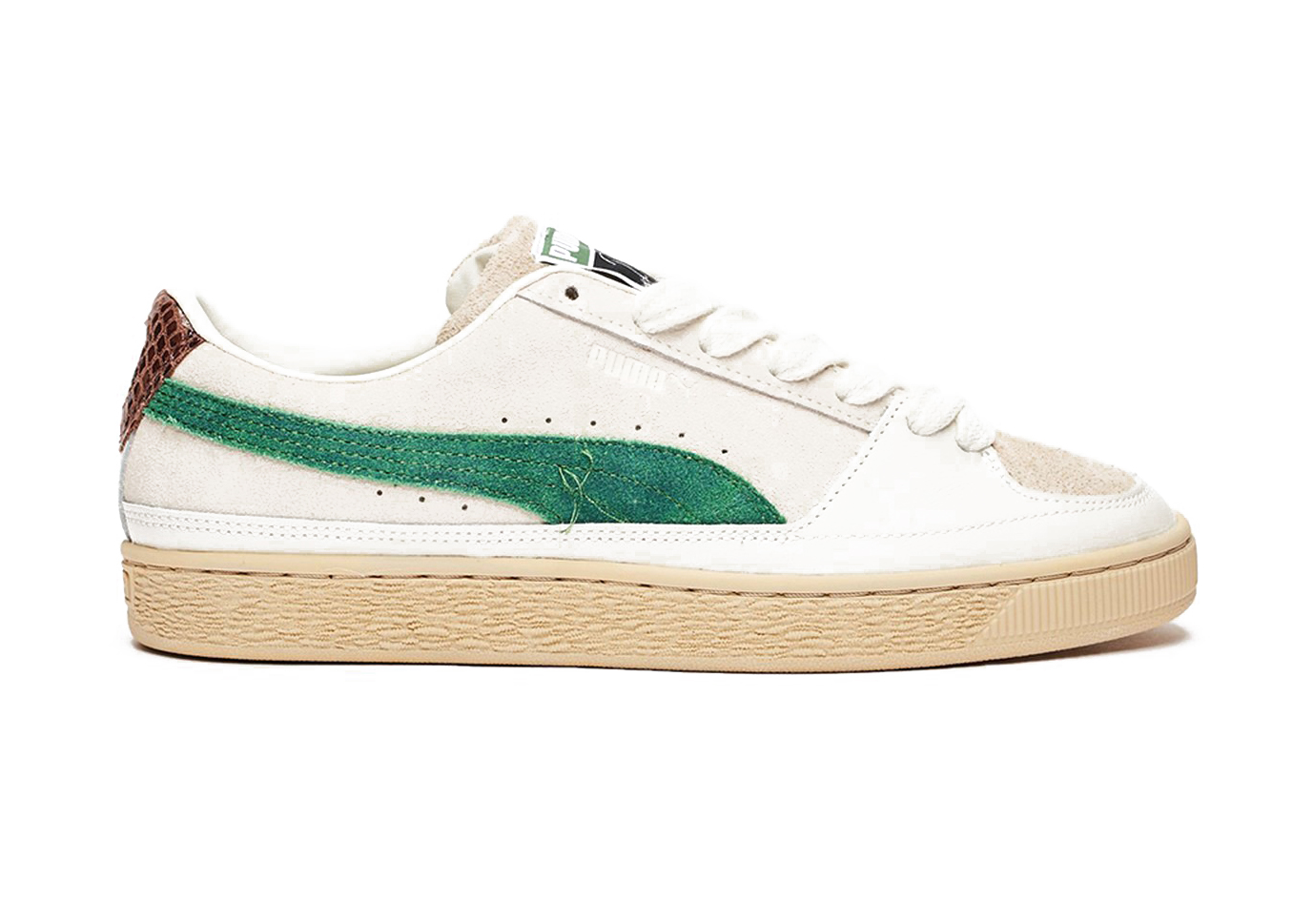 One of Puma's most influential partnerships of the last few years has come with luxury designer and now Creative Director of Bally, Rhuigi Villasenor. Villasenor carved out his own lane in the space between streetwear and luxury in the late 2010's with his Los Angeles-based brand, Rhude, establishing himself as a culturally influential voice by the end of the decade. Villasenor's partnership with Puma delivered its first sneaker in 2019 and the partnership has been going strong since then. This pair of collaborative Puma Suedes was released during the summer of 2021 and fetches an average price premium of more than 143% in some sizes. If you're looking to grab a more recent piece from this collaborative partnership, Puma and Rhuigi Villasenor released their latest offering just last week on February 18th.
Over the last year or so, a pre-distressed or pre-worn patinated looking sneaker trend has made itself manifest. Jordan has slated two pre-patinated shoes for upcoming releases in iconic throwback colorways and other brands have taken to intentionally yellowing soles or fading archival sneakers' most iconic details. This Puma Suede Crepe AMI Pristine colorway gives off a similar vibe. Made available as a part of Puma's recent collaborative effort with Parisian fashion brand, AMI, this shoe brings out the best in the Suede. Though not distinctly labeled by the brand as pre-distressed, worn, or patinated, something about this collaborative shoe makes it feel like it's traveled here from a past decade.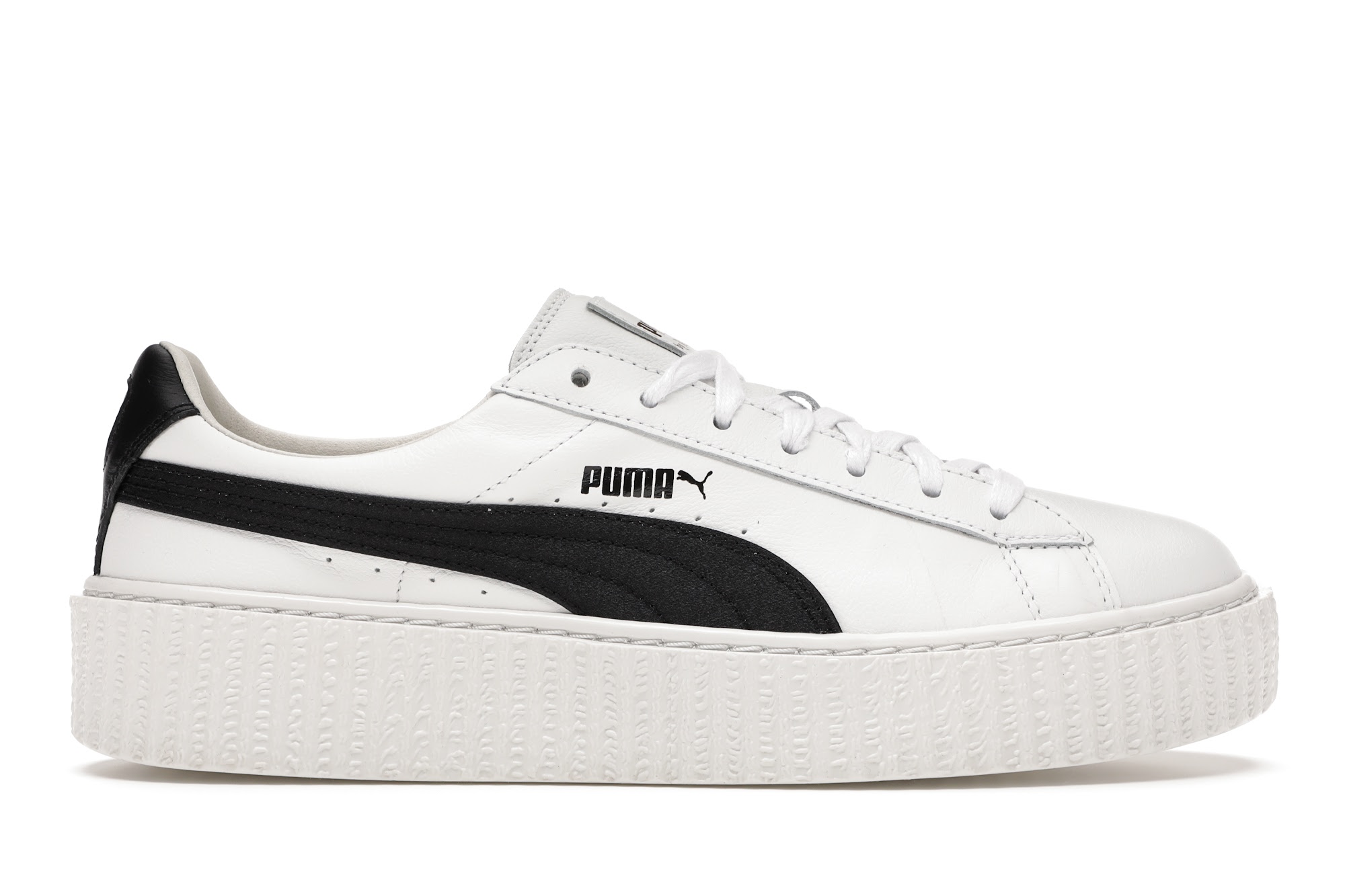 Though it's been almost five years since the last Puma x Rihanna Fenty sneaker, it would be a crime not to include the iconic partnership as a part of this piece. Debuting in 2016, Rihanna's collaborative footwear collection felt like Puma's answer to the major cultural partnerships taking place at adidas and Nike. Although the relationship only lasted two years and didn't quite bring Puma the recognition experienced by the likes of their peers, the Puma Creeper sneaker that was released as a part of the partnership was an icon in its own right.