I have a good friend in the StockX office that reads up on fashion like it's his hobby. I'm talking Popeye Magazine collections, reading books by fashion historian W. David Marx (in which he even gifted me Ametora), and being a frequent observer of fashion meme pages on Instagram like Nolita Dirtbag and Meme Saint Laurent. He lives the lifestyle through and through. But for the past 2 years, his typical go-to look has been centered around tactical pants from And Wander, puffer jackets from Snow Peak and Arc'Teryx, and to top it all off, trail running sneakers from Salomon. All of these pieces would lead anyone outside of the current landscape of fashion to think that he was perpetually preparing for a weekend full of long hikes. But these pieces, and the larger look they're a part of, have become one of the most desirable within high fashion, and Salomon is one of the primary brands to define this trend dubbed gorpcore.
Salomon's brand identity is far from founded on fashion. Its backbone is sporting goods, specifically skiing and trail running. It dates back to 1947 in Annecy, France, where Georges Salomon joined his family's ski equipment company and introduced the business to a more casual approach to the then-burgeoning winter sports scene. Salomon saw an opportunity for the family business to go after a larger skiing market, outside of their usual ski edge production. The company would soon introduce a wide variety of skiing equipment, ranging from their first ski boot in 1979 to their first line of skis in 1990. Each product they introduced to the market featured some of the time period's most advanced technological features. Salomon was soon considered a household name within winter sports, as the essence of the brand is founded on the creation of advanced and durable goods.
Skis? Ski boots? Ski edges? Salomon's history seems to steer more along the lines of a utilitarian crafter than a runway staple. But things become a bit more familiar when the brand leaped into mountaineering and introduced their first hiking boot in 1992. The boot was called the Adventure and could be considered a precursor for the trail sneakers Salomon is known for today. The Adventure was lightweight, didn't feature any laces, and was water-repellent, three qualities also found in Salomon's current catalog of popular silhouettes. The boot's success came thanks to its high-end features and futuristic look, something new to the hiking space. Salomon had a knack for making new and unusual footwear and in 2002 expanded their footwear collection even more with the introduction of their first trail running sneaker: The XA-Pro.   
The 2002 XA Pro, just like the Adventure boot, was built with lightness in mind. The sneaker featured mesh uppers, a bungee-cord drawstring lacing system, and other technological advancements that helped propel Salomon's stock within the trailing running space. Continuing their footwear development, Salomon would produce the Speedcross sneaker in 2006, which became an instant hit. Much to Salomon's delight, the Speedcross experienced continued success, selling more than one million pairs across Europe annually. Salomon would build up their trail running catalog based on the success of the Speedcross and introduced newer silhouettes such as the XT-4 in 2012 and the XT-6 in 2013.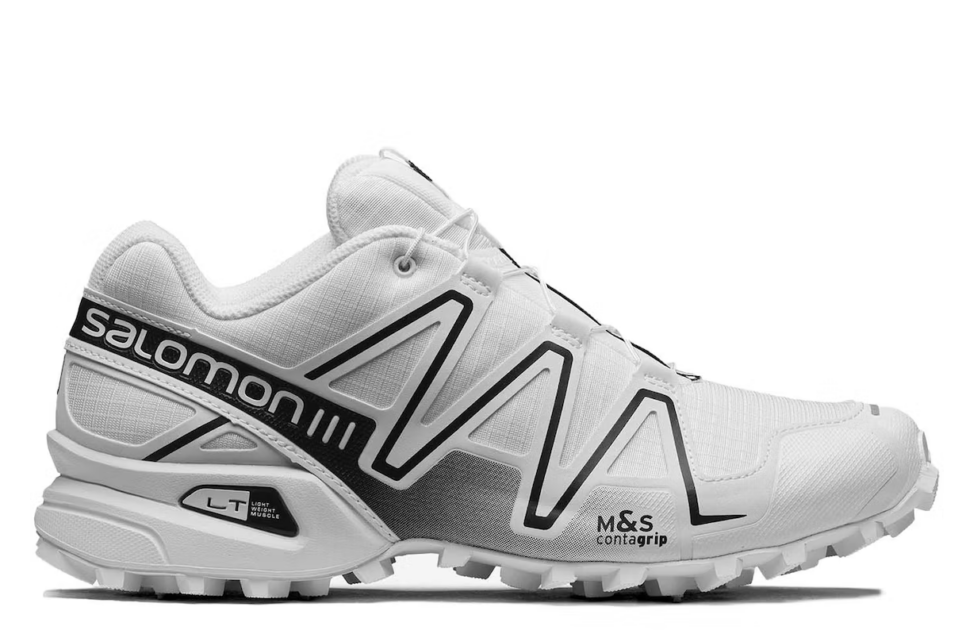 Despite models like the XT-4 and XT-6 being two of the most consistently displayed sneakers within streetwear and hype culture over the last few years, it's the successful design of the Speedcross that helped propel Salomon into the fashion space. In 2013, The Broken Arm, a popular Paris boutique known for its obscure and avant-garde brand selection, added the Salomon Speedcross to their shelves. It was unusual for a shoe like the Speedcross to pop up at a shop that specialized in selling  luxury brands like Maison Margiela and Comme des Garçons Homme Plus. But to the founders, Anaïs Lafarge, Romain Joste, and Guillaume Steinmetz, each trail runner themselves, the Salomon sneaker nicely fit into their offerings of brands. To them, the functionality of Salomon's work, is a characteristic that The Broken Arm thrives on. In an interview with GQ, Joste and Steinmetz talked about their appreciation for Salomon not "trying to be fashion" and how Salomon "first think about function and materials, which sometimes creates something stronger in terms of aesthetic than if you try to think of aesthetic first."
A shop like The Broken Arm equating Salomon, a brand founded on snow and dirt, to the artisan brands it carried, brought attention to the public that Salomon might be a compelling brand fit for high-end looks. Salomon eventually collaborated with The Broken Arm, adding an urban aesthetic to their XT-4 silhouette, which instantly sold out. The reception that this project got, a first for Salomon at the time, helped the brand realize that the fashion space could be the subject of their next adventure.
Not too long after, Salomon would dive deeper into fashion, collaborating with designer Boris Bidjan Saberi on a collection of exclusive sneakers. This partnership would find Salomon models like the Speedcross and Bamba 2 going across the runway, alongside newly debuted pieces and associating itself further within fashion. Salomon later went on to collaborate with other popular fashion labels such as KITH, Palace, Dover Street Market, and most recently Maison Margiela. In addition to the brand gaining popularity through their strong collabs, the emergence of the gorpcore trend, which is centered around hiking equipment and apparel, helped catapult Salomon into the mainstream of fashion. The trend has helped elevate the brand's hype, pairing it alongside other sportswear heavyweights such as ASICS, Hoka, and New Balance. Now, when scrolling through GRWM vids and fit-check images on Instagram and TikTok, seeing Salomon pop up in an outfit isn't as farfetched of a product spotting today as it might have been pre-2010s.
Much like the other brands that occupy the gorpcore trend, Salomon will likely remain true to its outdoor, wilderness, and snowsport identity. To this day, the brand produces a mix of trail-running sneakers, snow boots, and athletic apparel fit for any activity. Their fashion crossover is still a strong force within sneaker culture, especially as the gorpcore trend's ongoing prevalence within streetwear isn't showing signs of wearing down.