In the early 2010s, fashion transitioned towards Athleisure, which consisted of skinny sweatpants and knitted running shoes like Nike Flyknit Racers. In 2018, another apparent trend was Normcore, a type of understated style featuring baggy jeans like 501 Levi's and chunky dad shoes. Today's seasonal interest by high fashion brands and collaborators is onto a new uncharted path, quite literally. That path is Gorpcore. The trend has appeared on the backs of hype culture's favorite figures like A$AP Rocky and Travis Scott, and has been posted on mood board pages like @hidden.ny and @yungwatergun. With Gorpcore being completely different from past trends, as it focuses more on camping clothing, the transition from the fashion-forward crowd dressing like they're Seinfeld to Bear Grylls is unusual. To understand Gorpcore's move from niche enthusiasts to fashion influencers, it's important to understand its history, its potential impact on the secondary market, and its staying power within fashion.
The Meaning of Gorpcore
Gorpcore, a phrase originally coined by a 2017 The Cut article, is a trend that focuses on outdoor hiking, tactical gear, and apparel worn off the mountain. An example of a Gorpcore outfit could be wearing a The North Face fleece with Patagonia Baggy nylon shorts and a pair of Nike's outdoor gear ACG sneakers just for a dog walk. And the name for the trend is fitting in itself, as the term G.O.R.P. is a common acronym that stands for Good Ol' fashioned Raisins and Peanuts, a name for the snacks taken on hikes. Brands such as Arc'Teryx, Patagonia, and Montbell have established a core following within this subsection of apparel. Windbreakers, multi-pocketed cargo pants, trail running sneakers and boots, and anything else one can find at a local REI are common examples that fit within the realm of Gorpcore.
Gorpcore's Sudden Popularity
Despite the trend blowing up recently, Gorpcore clothing has always been available. To say these brands are just now becoming popular would be to ignore their well-established histories. For example, Snow Peak, a Japanese brand that makes hiking gear, outdoor cookware, and camping equipment, has been around since 1958, and The North Face, well known for their weatherproof down jackets, was founded in 1968. These brands have spent years developing a loyal customer base that fits the outdoorsy demographic that have a desire to find durable garments that withstand a gamut of terrains and climates. The difference now is that high fashion and streetwear have taken notice of this subculture, its aesthetic, and its high-quality construction.
"The tastemakers in fashion and entertainment recognize that technical outdoor product is of a higher quality, and high quality is a value that translates across industries," says Chase Anderson, curator for Outdoor Recreation Archives, during an exclusive interview with StockX. Anderson's Outdoor Recreation Archives Instagram account showcases an assortment of vintage hiking ads and booklets held in archive at Utah State University. As a hiking historian and avid trailblazer himself, Anderson has noticed the merging worlds of fashion and outdoor gear and argues it is attention to quality and functionality that helps link the two. "A focus on performance, features, and the technical nature of outdoor products, whether they are used for their intended use or not, is translating into a more high-quality product, and thus, more desirable and perceived as luxury," continues Anderson during our interview.
As high fashion has established a reputation for premium quality, it is quick to act on associating itself with products that represent that same quality, making an easy path for Gorpcore to enter into luxury brands. Off-White founder and Louis Vuitton menswear artistic director Virgil Abloh incorporated Arc'Teryx jackets into his 2020 Fall/Winter Off-White show without any official collaboration with the Canadian brand. Fleeces, once clothing worn mainly for campfires and corporate retreats have become more mainstream with streetwear brands like Supreme and Fear Of God including them in their lines on a seasonal basis. Although the everyday streetwear lover isn't hiking the Appalachian Trail, "the definition of outdoor activity is broadening," continues Anderson in our interview, thus opening up the clothing to newer demographics. As the definition of outdoor expands, so too do the contexts where it's appropriate to rock Gorpcore. From coffee runs to dog walks, Gorpcore clothes can withstand any condition and are simply warm and comfortable, making them staple pieces in anyone's clothing rotation.
Exploring the outdoors, even if it's just around the neighborhood, has become increasingly more common since the COVID-19 pandemic began. Now more than ever, people want to escape their stuffy rooms, get outside, and be more active after intense confinement. With many gyms and watering holes shut down, or at reduced capacity, to further enforce safety protocols, more people are flocking to the great outdoors to get some fresh air. And exploring the woods is nothing without the proper gear. It's possible that the rising popularity of Gorpcore has something to do with everyone's desperate need to be outside. As the current pandemic limits the number of activities one can participate in, exploring the outdoors is becoming a viable option, which may have fueled the current gorpcore trend.
"I don't know how sales are going in the retail market for outdoor [gear], but I sure know if there's ever a revival of everyone wanting a piece of nature, now is the time," says Tracey Cottingham, a former Nike and Columbia Clothing Architect, in Chase Anderson's hiking podcast for Utah State University.
With an increased interest in the great outdoors comes an increased interest in preserving the great outdoors. In a Pew Research survey from February of 2020, Americans' concerns over climate change have increased at a higher rate than concerns about the economy. In 2017, "68% [of Americans] said jobs were a top priority, compared with just 38% who named climate change (as the most important)." Fast-forward to 2020, the amount of Americans concerned about the environment sees an increase, with "64% saying it's a top priority" compared to "67% [saying] this about strengthening the economy".
With a rise in support for a greener earth, customers want to play their part to reduce their carbon footprint by changing their habits and spending their dollars with businesses that share their values. A 2015 Nielsen report showed that, out of 30,000 polled, 73% of Millennials are willing to spend more on sustainable goods. Patagonia, one of the more popular gorpcore brands, is upfront with their acts to preserve the earth, stating some of their initiatives on their website. Efforts such as their self-imposed Earth tax, 1% for the Planet, is an initiative by Patagonia to donate 1% of sales to "the preservation and restoration of the natural environment". Arc'Teryx is well known for their Used Gear shop which allows customers to upcycle their used Arc'Teryx products by returning them for store credit. The products are then resold on their website at discounted prices, or used to make new jackets, hats, shirts, or other apparel. These initiatives are some of the many pursued by the gorpcore scene's favorite brands, which only makes them more appealing to environmentally conscious shoppers, strengthening the trend.
Gorpcore's Staying Power
Trends fade, and the time will come when down jackets and insulated vests are no longer the "it" clothes. But that doesn't mean that Gorpcore will disappear anytime soon. StockX has seen a surge in demand for outdoor-friendly pieces. For example, sales for Nike ACG increased five-fold in 2020. Last year's Supreme and The North Face collab was StockX's best-selling streetwear collection. Arc'Teryx, a relative newcomer to the hype streetwear space, recently partnered with London skateboard brand Palace on a set of outerwear, and Snow Peak and New Balance came together for a collection of trail-ready footwear. Each partnership has sold thousands of units well above their original MSRP. With high profits from reselling gorpcore pieces, the value, and demand, of these products continue to grow, extending its lifeline even longer.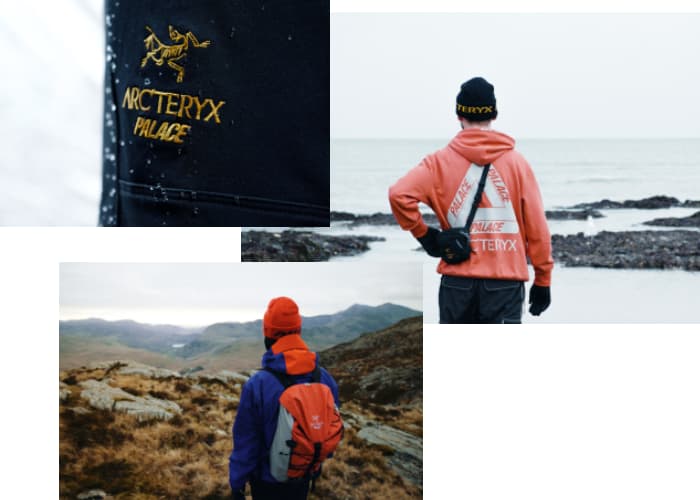 Even though Gorpcore is getting recognition from the streetwear and high-end fashion worlds, popular brands within the category are not afraid of the hype's eventual expiration date. These brands existed and thrived way before hypebeasts learned about them. On the "Goth Gorp with Arc'teryx Creative Director Cooper Gill" episode of fashion podcast Throwing Fits, Gill explained his lack of fear in the hype affecting the brand's sustainability. "For the core brands like us, if the trend ends, that's fine. We still have the true outdoor people and we'll make stuff for them," says Gill. "We exist because we're so purpose-driven with the stuff we make."
Gorpcore has not reached its peak yet. From the increased interest in preserving the environment to hiking brands embracing streetwear label favorites, Gorpcore is looking towards a brighter future. And as people continue to embrace the outdoors as a safe option for social interaction due to the Coronavirus pandemic, Gorpcore clothing will likely be around for some time.