As one of the most visible members of Griselda, a part of the Black Soprano Family, and a recent signee of Def Jam record, Benny the Butcher has got a lot of eyes on him. All for good reason. His frequency of new releases is only heating up with greater and greater response each time, and that was before he took the stage at Coachella two weeks in a row. Playing to the massive crowds in the desert, alongside label-mates and frequent collaborators like Westside Gunn, Conway the Machine, and Armani Caesar. We were able to catch up with him backstage where he was flexing the recent Bricks & Wood x Benny the Butcher x Coachella merch, gave us a full rundown of his outfit, and let us all know what's coming next.
Can you tell the people where we are?
We at Coachella and I'm known as the Butcher. Big Griselda, Black Soprano Family, and we rocking out. It's Easter too. Happy Easter.
You guys crushed the performance. How'd it feel?
Man, it was dope to be on stage with them dudes at the same time and The Game standing behind me, and there's fans out there with shirts on. It's Coachella. It's a big moment for us, you know what I mean?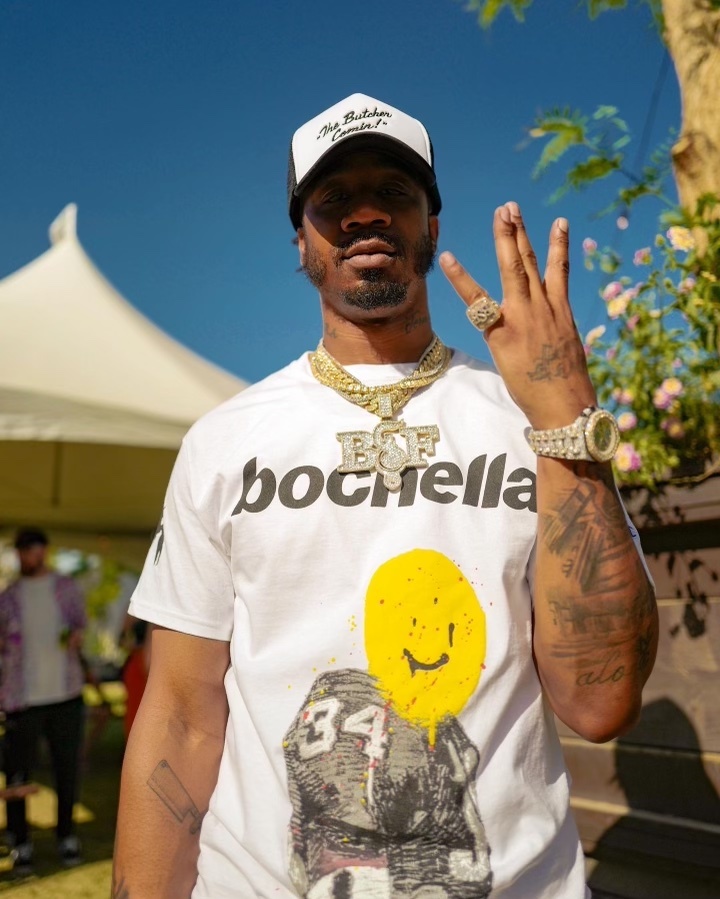 What's your style inspo? You're looking very casual, very comfortable today.
My style inspo is dope boy, you know what I'm saying? Regular, but not regular. Westside Gunn just dropped this [Brocella t-shirt] on Fairfax, Apt. 4B yesterday. I got mine. I ain't have to stand in the line. Classic Ksubis, B22 Diors.
You got the Benny the Butcher x Bricks & Wood x Coachella hat.
StockX, Benny the Butcher, Coachella type of shit. The Butcher Comin! hat, trucker, you heard?
What do you got up next? What's up for Griselda?
Man, we got everything. We need that, what [Conway the] Machine, [Westside] Gunn dropping, too. We need the Benny and Conway shit dropping. Of course, I'm trying to do Burden of Proof too, with Hit-Boy. I just went to Def Jam. We about to tear this shit up. All type of shit going on.
Shop the Bricks & Wood x Benny the Butcher x Coachella merch, plus the merch from all the other artist and designer collaborations exclusive to StockX here.