Starting with the Air Jordan 1 in 1985, the Jordan line set a new bar for signature sneakers and almost single-handedly gave rise to sneaker culture as we know it. This silhouette caught the public eye early on when the NBA banned the Bred colorway from the hardwood due to dress code violations. The "Banned" 1 embodied a monumental shift in the NBA and is now considered one of the most valuable Jordans in history.
Another unforgettable moment is when Michael Jordan played his legendary "Flu Game" and dropped 38 points on the Utah Jazz in Game 5 of the 1997 NBA Finals. The pair of Air Jordan 12s that he wore became a symbol of his incredible feat and were later auctioned off for $104,000. Every Jordan sneaker has a story behind and each story creates a value that colorway and material cannot. 
These days, Jordans have expanded their significance far beyond the hardcourt, becoming much more than just a basketball shoe; they're a fashion statement, a status symbol, and, some have proven to be savvy financial investments. 
To prove that last point, we put together a list of the 10 most expensive Air Jordans on StockX. For this list, we looked at the entire sales history of every Jordan on our platform – including PEs and samples – and identified those with the highest all-time average resale price. 
Here are the most expensive Air Jordans in StockX history:
Top 10 Most Expensive Jordans on StockX

10. Air Jordan 5 Oregon Ducks Duckman | $13,000
The University of Oregon has been getting Player Exclusive colorways since Nike started making shoes. Both of Nike's founders, Phil Knight and Bill Bowerman, are Oregon Ducks alumni, so it makes sense that the company would look out for a university so deeply ingrained in Nike's history. 
Continuing this tradition in 2014, the Oregon men's basketball team was given the Air Jordan 5 Oregon Ducks Duckman, a special iteration of the design that featured the Oregon Duck mascot striking Michael Jordan's renowned Jumpman pose. This pair has skyrocketed in value over time and now resells at an average price of $13,000, cracking the top 10 most expensive Jordans on StockX.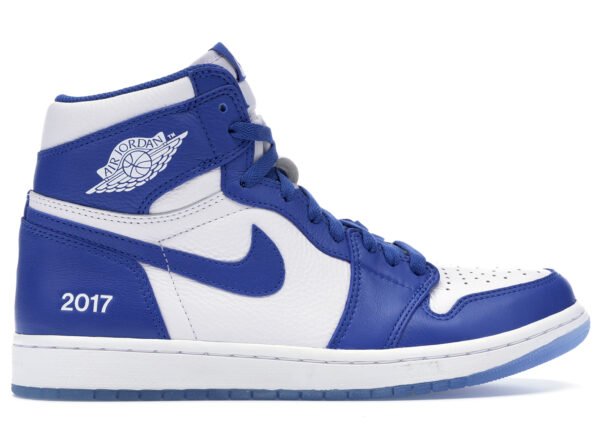 9. Air Jordan 1 colette F&F | $13,449
In 2017, Jordan Brand gifted the Parisian concept store colette with its own Air Jordan 1 in honor of their 20th Anniversary and store closing. The Air Jordan 1 colette took the colette's signature blue and white color scheme and decorated the design with insignias symbolizing the store's incredible 20 year run. Pairs were exclusively distributed to friends and family of the store, but a few pairs made their way to StockX where they have averaged a price above $13,000, becoming one of the most expensive Jordans on the market.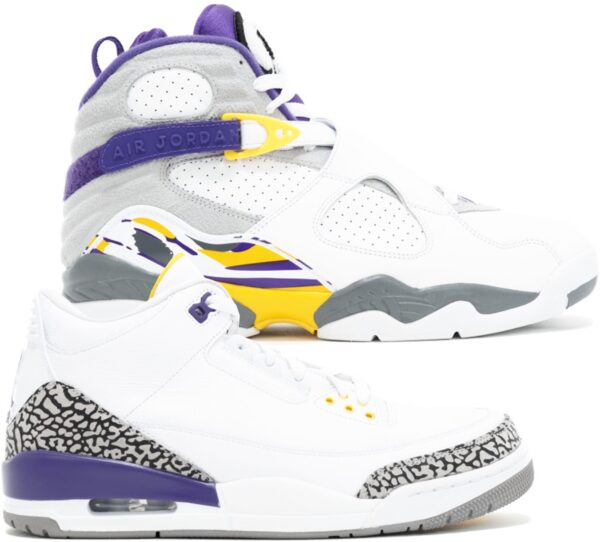 8. Air Jordan Kobe PE Pack 3/8 | $15,790
During Kobe Bryant's sneaker free agency from 2002-2003, he played in many notable silhouettes ranging from Reebok Questions to Air Force 1s. But the shoes that caused the greatest commotion were his exclusive Air Jordan 3s and 8s. Watching Kobe wear the shoes that MJ once took flight in was a moment of greatness come full circle. Greatness acknowledging greatness.
More than a decade after last being seen on the hardwood, Jordan Brand reissued arguably the rarest shoes in their archive. The Jordan Kobe PE Pack 3/8 was gifted to friends and family to celebrate Kobe's unforgettable 20-year career in the NBA. It is very unlikely that these colorways will ever see an official release, and today they stand as a monument to Kobe's legacy.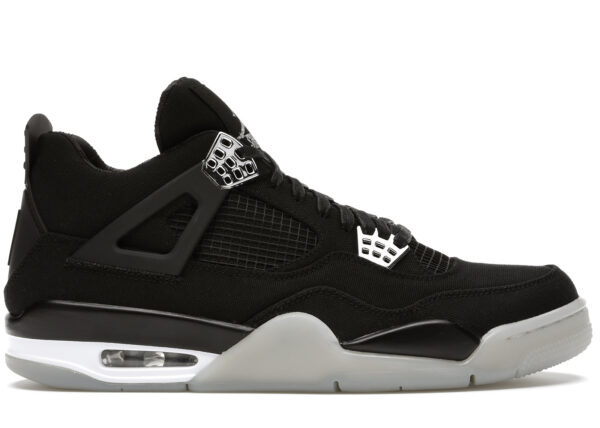 7. Air Jordan 4 Eminem Carhartt | $16,200
In November of 2015, Eminem teamed up with Jordan Brand and Carhartt to release an exclusive Air Jordan 4 in celebration of the 15th Anniversary of Shady Records. These limited sneakers were only available for purchase through a series of eBay auctions with all proceeds going to the Marshall Mathers Foundation. These Jordan 4s have continued to increase in value, with their most recent sale reaching a high of $23,000.  Being released directly into the secondary market, the Jordan 4 Eminem Carhartt has recorded the most sales on StockX for a sneaker of its value with 50 sales.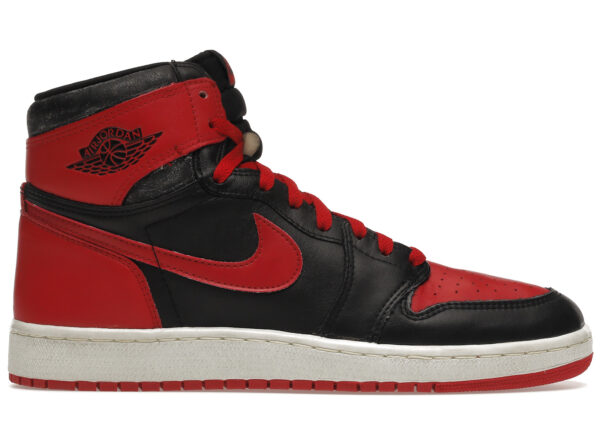 6. Air Jordan 1 Bred (1985) | $17,000
The shoe that started it all. It shouldn't be a surprise that the original Air Jordan 1 Bred is one of the most expensive Air Jordans on StockX with an average resale value of $17,000. It kicked off the Air Jordan phenomenon with its rumor of being "banned" from the NBA, pioneered the future of bold basketball shoe colorways, and bridged the gap between athletic and fashion worlds with its timeless design.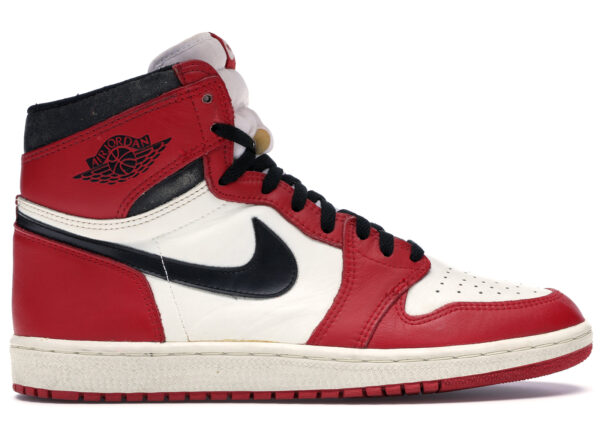 5. Air Jordan 1 Chicago (1985) | $18,000
Alongside the Bred colorway, the original 1985 Air Jordan 1 Chicago is another vintage Air Jordan that has become one of the most expensive sneakers on StockX. Michael Jordan famously wore the Chicago colorway for the majority of his first season on the Chicago Bulls, making the design synonymous with his introduction as a star in the NBA. 
While the Chicago 1 originally retailed for $64.99 in 1985, and has hit the sale rack in decades past, it is valued at much more in today's market given its level of rarity. Now, at an average price of $18,000, you can own the same Chicago 1s that Michael Jordan wore in his rookie season.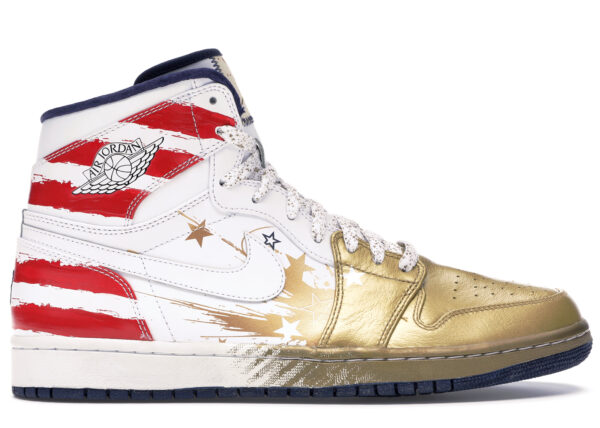 4. Air Jordan 1 Dave White Wings For The Future Gold | $18,888
In February of 2011, Jordan Brand connected with UK artist Dave White for a limited edition Air Jordan 1 to benefit their WINGS for the Future program. Only 23 pairs of the Jordan 1 Dave White Wings For The Future Gold were made and auctioned off for charity. The entire lot was auctioned off for $23,000 (each pair valued at $1,000). Looking back at these initial winning bids, those who went home with a pair got these Jordan 1s for a steal because they have appreciated tremendously since. In the last year, a pair of these Jordan 1s sold for a resale price of $18,888 on StockX, making them one of the most expensive Jordans of all-time.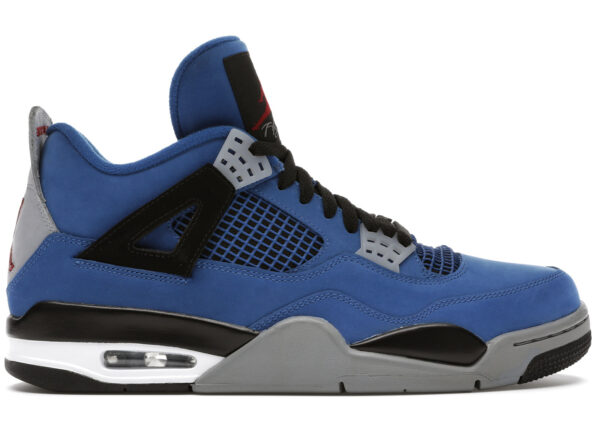 3. Air Jordan 4 Eminem Encore | $22,567
In 2017, Eminem partnered with StockX to raffle off pairs of the Air Jordan 4 Retro Eminem Encore 2017 to raise money for the Marshall Mathers Foundation. These sneakers are said to be even more exclusive than the original pair from 2005, insofar as the updated Encore 4 has only 23 pairs in existence. The Jordan 4 Eminem Encore 2017 has gained value since the charity campaign concluded; while the average price is $22,567, its highest sale reached the whopping sum of $24,200. With two sneakers in the Top 10, it's clear that any Jordan model Eminem touches turns into secondary market gold.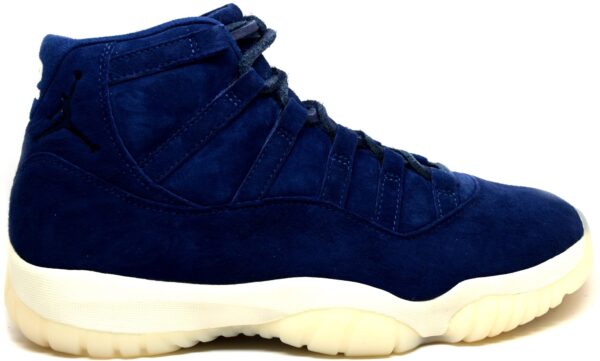 2. Jordan 11 Premium Derek Jeter | $23,000
To celebrate Derek Jeter's Hall of Fame career in the MLB, Jordan Brand created the special edition Air Jordan 11 Retro Premium Derek Jeter. Only five pairs of these sneakers were available to the public by way of scratch-off raffle tickets distributed at a pop-up shop near Yankee Stadium. This ultra-luxe Jordan 11 features premium materials with custom detailing, all tributes to Jeter himself. Out of the original five pairs, one of them found its way to StockX and sold for a market high of $23,000, making it the most expensive Air Jordan 11 in the history of our marketplace (in average price terms). With this colossal figure as the base price, it seems that resale value should only go up from here.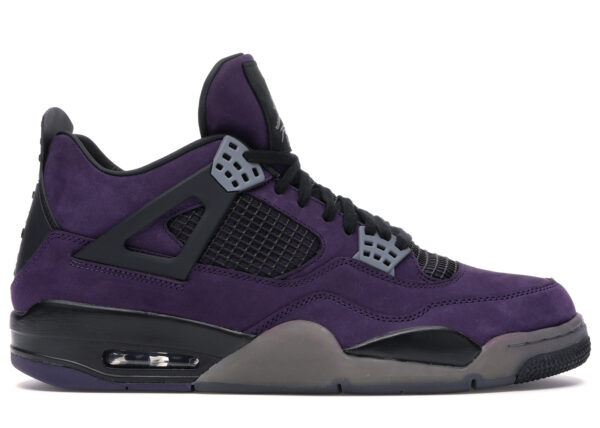 1. Air Jordan 4 Travis Scott Purple | $25,000
Upon the release of the Jordan 4 Retro Travis Scott Cactus Jack, a limited number of Jordan 4 Retro Travis Scott Purple F&F were gifted to La Flame's friends and family. For a while, many fans believed that this new colorway would eventually release to the public. It was later confirmed by Travis' DJ, Chase B, that these shoes would never see mass production. This confirmation of exclusivity has made the Purple Travis Jordan one of the rarest shoes in Travis' journey with Jordan Brand and the most expensive Air Jordan in StockX history.
While the preceding list reflects Jordans that resell on StockX, there are other pairs that have sold at auction elsewhere, at prices that are even higher.
Here are the five most expensive Jordans to sell at auction:
Non-StockX Auction Sales
5. Air Jordan 11 Space Jam Sample | $176,400
Ahead of the release of Space Jam: A New Legacy, an unworn and Michael Jordan- autographed Air Jordan 11 Space Jam Sample that was made for the original Space Jam was auctioned off at an astronomical price of $176,400. This historic Jordan 11 sale speaks volumes as to how impactful the animated film is today amongst Jordan and Looney Tunes fans alike.
4. Air Jordan 1 Chicago Broken Foot | $422,000
It isn't just moments of glory that add value to Jordans. Value can also come from tragedy. In October of 1985, Michael Jordan suffered his first major injury while playing against the Golden State Warriors. In a series of unfortunate events, MJ fractured a bone in his left foot, causing him to miss a majority of the season. The Air Jordan 1 Chicagos that Jordan wore in his final game of 1985 made their way to the auction block earlier this year and went for a pretty penny, closing at $422K.
3. Air Jordan 1 Chicago Game Worn & Autographed | $560,000
When the original Air Jordan surfaced in 1984, Michael Jordan transitioned from being known only as a professional basketball player to a cultural icon. The design introduced MJ's celebrity to audiences outside of basketball, as the shoes inhabited spaces across the world.
In 2020, the design's historical value was validated when a game-worn pair of Air Jordan 1s auctioned off at Sotheby's for over half a million dollars, breaking the Nike Waffle Moon Shoes' record for most expensive sneaker in history at that point.
2. Air Jordan 1 Chicago Shattered Backboard – $610,000
It's true that the 2015 Air Jordan 1 Shattered Backboard has skyrocketed in price and is now selling upwards of $1,500 on StockX, but the actual pair of Air Jordan 1s that MJ wore in his iconic Shattered Backboard game are going for much more. Last year, it resurfaced and auctioned off for $610K, shattering the record held by yet another pair of Jordan 1 Chicagos. It has been said that the pair even has bits of glass embedded in it – a physical reminder of that momentous event.
1. Air Jordan 1 Chicago Dunk Sole – $1,012,500
In addition to the ankle strap modifications Nike made to the Air Jordan 1 following Michael Jordan's foot injury in the fall of 1985, they also began experimenting with different soles on the Air Jordan 1 to see what MJ performed best in. One of those modifications resulted in an Air Jordan 1 with the sole of a Nike Dunk. Only a few prototypes were made, and one of them was auctioned off in February of 2022 for a whopping price of $1,012,500, becoming the most expensive Air Jordan in history and the first Air Jordan to break the million-dollar mark.