Since 1987, Nike's Air Max line has galvanized worldwide devotion, collaboration, and inspiration. From artists, designers, urban planners, creatives, brands of all stripes, and the food-obsessed, the Air Max continues to be a potent cultural force. Out of all this creative flux, the world's great cities remain one of the most favored sources of creativity for brands and individual creatives alike. From burgeoning boroughs to world-class partners, these are some of the most unique Air Maxes around.  
New York City
The Big Apple has been home to generations of creatives. These are some of the Air Maxes and related products inspired by the city that never sleeps.
Inspired by New York's culinary prowess and the legendary NYC sneakerhead boutique Dave's Quality Meats (DQM), the Bacon colorway remains one of the most influential Air Max 90 releases of all time. After eating a bacon, egg, and cheese sandwich, New York artist David Ortiz purchased multiple packs of bacon, cooked each to different states of doneness, and took note of each strip's color. This provided the dark red, pink, and creme color palette on the tumbled leather and suede. Today, the original pair goes for over $1,000 on StockX. Not bad for a sneaker inspired by the mighty BEC. 
If you're putting together a list of the most influential New York-centric brands of all time, Supreme would be at the top. Since 1998, The Nike Air Max Plus has been a popular silhouette in cities worldwide, including New York. It felt inevitable that the two would link up; the only surprising thing is that it didn't happen till 2020. Released as part of a three-pack that included a Green and Black colorway, the Nike Air Max Plus Supreme White is the most subdued colorway. Despite its subtle color blocking, the upper is more complex, utilizing the sneaker's TPU tech as a key element to the design. The TPU has been altered to spell out the words "SUPREME," adding a mysterious addition of branding to the collaboration. From there, a University Red jeweled Swoosh adds a pop of color while referencing Supreme's classic red and white logo. 
Eric Emanuel is the undisputed king of mesh shorts. His elevated take on the sportswear staple is a testament to New York's gritty grandiosity. Wholly manufactured in Manhattan's Garment District, the EE Basic Short is becoming every bit as NYC-iconic as King Kong. So it only makes sense that the New York skyline would serve as the inspiration and final design for one of Emanuel's most lauded pairs of shorts to date. 
Hidden.NY is New York's unofficial / official streetwear moodboard. Inspired by, and celebrating, all things New York street fashion, the Instagram account has become a must-follow for the culture. It boasts heavy-hitter followers, including John Elliott, Don C, Takashi Murakami, Drake, Virgil Abloh, and Ronnie Fieg. Hidden.NY has released a variety of clothing and accessories, including the Hidden NY Crew Sock featuring Hidden's "H" logo on the leg and motto "Past, Present, Future" on the toe. A true New York original.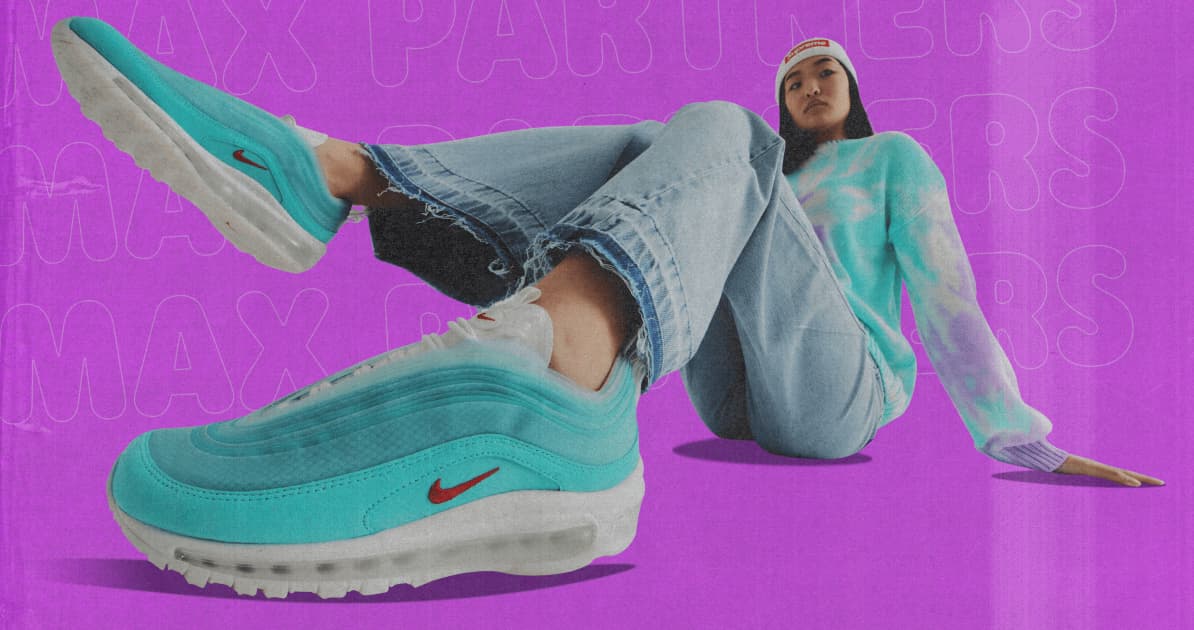 Surf's Up
From Los Angeles to Miami's South Beach, all the sun, sand, and surf continue to spark a unique creative vibe.  
Round Two's Sean Wotherspoon couldn't stick to one silhouette while creating his collaboration with Nike for Air Max Day 2017. His shoe is a mashup of two classics, combining an Air Max 97 upper with an Air Max 1 sole. Reflecting LA's eclecticism and world-famous weather, Wotherspoon made the upper from corduroy with a sunshine-bright color scheme. Featuring colors like light yellow, light blue, red, and more across its upper and sole, the Sean Wotherspoon 1/97s have you feeling like you're walking somewhere between Melrose and Rainbow Road.

LA-based sneaker mainstay Undefeated paid homage to the hometown university with the Nike Air Max 97 Undefeated UCLA. Dressed in white mesh, the Bruins-inspired silhouette also includes white, yellow, and blue leather piping wrapping from the toe box to the heel. Undefeated branding repeats throughout the blue detailing. If you're looking to flex some LA and Bruin pride, these AM97 sneakers will put any Trojan on notice.   
It's always sunny in South Florida, and Nike channels the unique South Beach vibe with this pair of Air Max 97 sneakers sporting the unmistakable Miami combo of turquoise, pink, and black.  The world-famous art deco architecture and neon colorscapes have inspired countless creations, including Miami Vice, Scarface, and Lebron's Miami Heat. The South Beach AM97 is the perfect pair to see and be seen while you're strolling down Ocean Drive or walking into the Fountainbleau.   
Supreme dropped the perfect chair for your next socially-distanced beach kickback. The SS20 release features a Surpeme-branded woven webbing and a foldable aluminum frame. Even if you're not at the beach, this chair will make you feel like you're at a Lū'au every time you relax.  
If you're going to spend the day at the beach, you're going to need a towel. Grab the BAPE 1st Camo Beach Towel and turn the functional into the extraordinary. Own the beach with the instantly recognizable 1st Camo pattern and the giant, printed "BAPE" logo. 
Since the 1980s, the humble tote has become a medium for designers to create an "It" bag. It's no longer about finding a bag for all your stuff but about finding the right stuff to put in the perfect bag. Virgil Abloh's yellow OFF-WHITE Arrows tote combines Haute design with everyday utility to make any day at the beach, or mundane errand, look luxe. 
Designer Air
These are the Air Maxes, and products, that great designs from talented designers have elevated. 
When it comes to reimagining sneaker design, it's Virgil Abloh's world, and we are just living in it. The Nike Air Max 90 OFF-WHITE Desert Ore added some different design elements from his original "The Ten" project. This Nike AM 90 features the shoe's standard silhouette while bringing the desert heat to your kicks. It boasts a beige upper, midsole, and sole, as it was rumored that Ablohl wanted to keep the shoe monochrome like the original "Ten," but adding a burst of color with a mango Swoosh outlined by exposed stitching.
In 2019, Nike celebrated Air Max Day with the "On Air" program, offering local creatives in New York City, London, Paris, Seoul, Shanghai, and Tokyo the opportunity to design their own Nike Air Max inspired by their city. Six winners were eventually selected, including Shanghai's Cash Ru. Ru's design became the Nike Air Max 97 Shanghai Kaleidoscope. The layered upper and bright blue colorway of the design was inspired by the buoyancy and disappearance of clouds over Shanghai's futuristic cityscape. The Shanghai Kaleidoscope is one of the more unique additions to the Air Max 97 archive.
Anything KAWS releases, from his art to figures and brand collaborations, brings tremendous amounts of hype. As his purported final line of tees with Uniqlo began to drop, his site experienced multiple crashes, and riots were reported in some malls in China. One of the most popular tees from the collection was the Flayed Tee featuring KAWS's Flayed Companion figure illustrated on the chest. The shirt retailed for $15 USD, and it now has a price premium of 273% on StockX. All of this testament to an artist creating at the height of his fame and powers. 
Great design is timeless. And what the Air Max is to sneaker design, the classic Louis Vuitton Monogram is to high fashion – instantly recognizable. This elegant little pouch lets simple design and luxe detailing proclaim the rich design history that produced this must-have. The Key Pouch would pair well with Virgil Abloh's AM90 OFF-WHITE Desert Ore – no surprise since Abloh is LV's current Men's Artistic Director.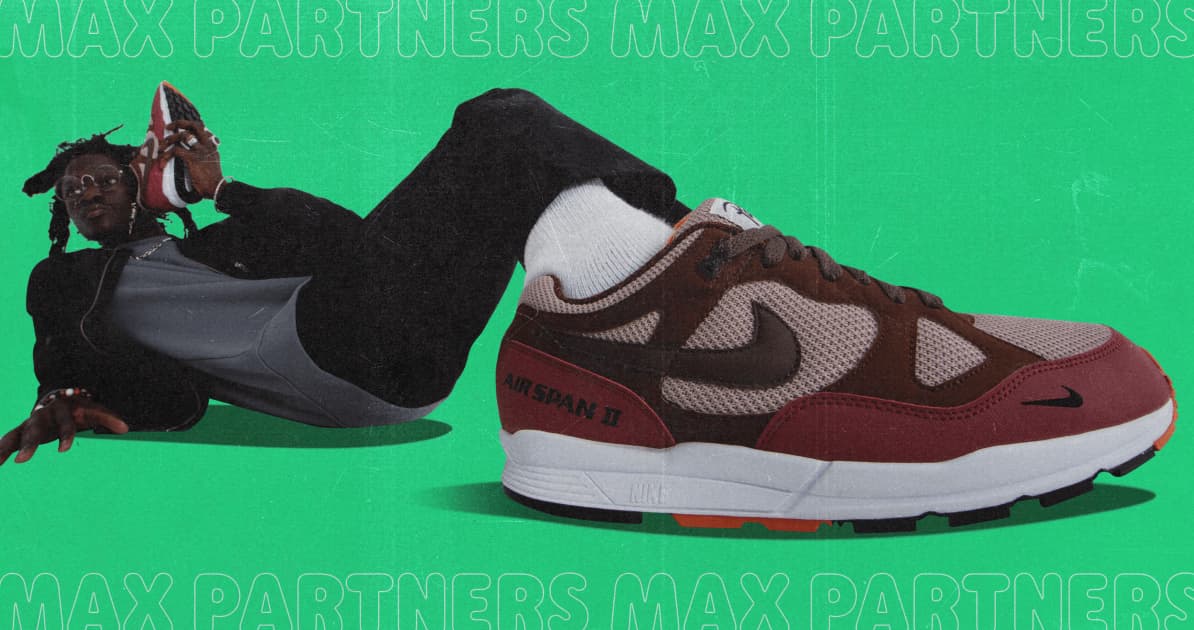 Global Number 1s
A look at city-inspired Air Max 1s, and other global icons, that are beloved the world over. 
Inspired by London's urban landscape and nonstop energy, the Air Max 1 London uses shades of grey, a variety of textures, and materials referencing life in this global city. Honoring England's love affair with the Air Max, this AM1 retains the original mesh in the upper, collar, and tongue. The overall design includes abstract interpretations of two of the city's most iconic landmarks – the London Eye and the Shard – on each of the shoe's side panels. Finishing the design, The River Thames is embroidered on the logo at the heel.
Ever since the CO.JP line debuted in the late 90s, Nike has been celebrating cities worldwide. These City Pack releases show appreciation for the global communities that have contributed to Nike's success. In 2020, Nike paid homage to  Amsterdam with the Nike Air Max 1 Amsterdam. Throughout the shoe's design, the Air Max 1 Amsterdam references some of the city's most notable features, including the Amsterdam Coat of Arms and its canal system. With special attention paid to Amsterdam's unique culture and geography, this Air Max 1 stands as one of the most detailed city-dedicated releases in Air Max history.
Speaking of Amsterdam and the Netherlands' love of Air Max, we had to include one of the legendary Dutch brand Patta's sneaker collabs. Even though it's not an Air Max, the Nike Air Span II Patta Team Red pairs well with AM1 Amsterdam, with both sneakers' colorways including red, gray, and brown. And don't worry about straying too far from the Air Max line, the Air Span II includes Max Air technology in the midsole.
As part of Nike's "On Air" program instituted for creatives to honor their city in sneaker form, Yuta Takuman turned to Tokyo's subway system for inspiration. The Air Max 1 Tokyo Maze celebrates the subway's brightly-colored labyrinth with an embossed, black-and-white monochromatic upper, white midfoot Swooshes, red Nike Air logo on the heel, and rainbow laces. Takuman's design translates the fast-paced feel of one of the world's premier cities onto one of Nike's premier silhouettes. 
When Jordan Brand and Patta team up, it's going to result in something special. This was the case in 2019 when the number one name in sneakers, Jordan Brand, and the number one name in Amsterdam cool collaborated on a capsule collection featuring the Jordan x Patta tee made up of a geometric design and color scheme straight out of the early 90s. When it comes to Air Max, you have to go with 90s' vibes.   
Takashi Murakami is one of the most important innovators in the interconnected worlds of contemporary art, fashion, and sneakers. In early 2021, the artist released a Flower Pancake Maker. The Takashi Murakami x Smart Magazine Flower Pancake Maker was included as a gift with Smart Magazine's release in Japan. This custom pancake maker has Murakami's famous flower design engraved in the base so that each pancake will carry his classic design.