The "Big Four" of fashion month may have showcased upcoming winter wear, but the streets were ablaze with hot new trends for spring. After sifting through our favorite fashion week photographers, we definitely noticed similarities that you can start incorporating into your shopping ASAP.
As a quick TLDR recap, New York Fashion Week kicked us off with street style making an impact with see-through statements, oversized rosettes, and exposed thongs. In London, the fashion crowd paid homage to the late Vivienne Westwood, embracing her rebellious twist on classics including grungy trench coats and whimsical color blocking. Milan packed a punch with newsworthy runway shows – Prada, Bottega Veneta, Gucci to name a few – and even more attention-grabbing street style, including motocross biker jackets, oversized denim, and metallic accessories. Wrapping up in Paris, fashion insiders took a more subtle approach by riffing on timeless staples like modern tailoring and classic suiting. A much needed breath of fresh air after weeks of micro-trends. 
Here are the top five trends from the streets of A/W 2023 Fashion Week that you can actually wear right now.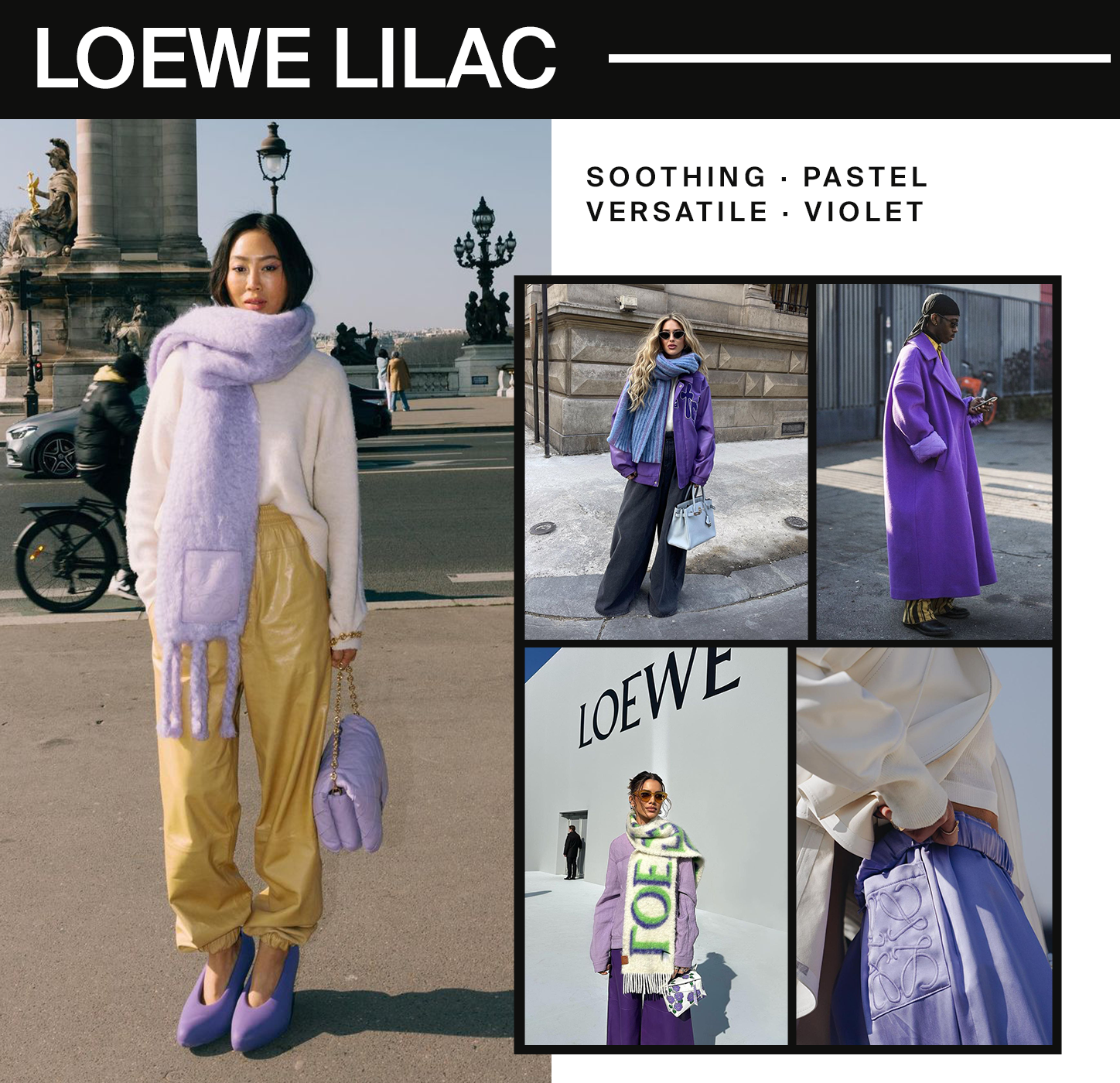 The Spanish luxury house's runway shows always create a lot of buzz, but their Paris presentation in particular brought a trending new color to the street style scene. Worn by many attendees – from Camila Coelho to Aimee Song – violet brought a soothing presence to the chaos of Fashion Week. 
You don't have to attend a Loewe show to wear this soft violet shade either (although, we gladly would accept an invitation anytime). Fashion week goers proved the lavender hue can be easily incorporated into spring wardrobes through go-to accessories, including oversized scarves and favorite footwear. The Nike Dunk Low in Next Nature Lilac is the right step into this color trend, incorporating the soft shade in a classic sneaker silhouette. For more of a statement, try the Supreme 2-Tone Faux Fur Shop Coat in Lilac. The faux-fur lining over the lilac base creates a subdued yet memorable impact, glazing this jacket with a metallic effect that makes the glimpses of lilac in the light feel like a treat.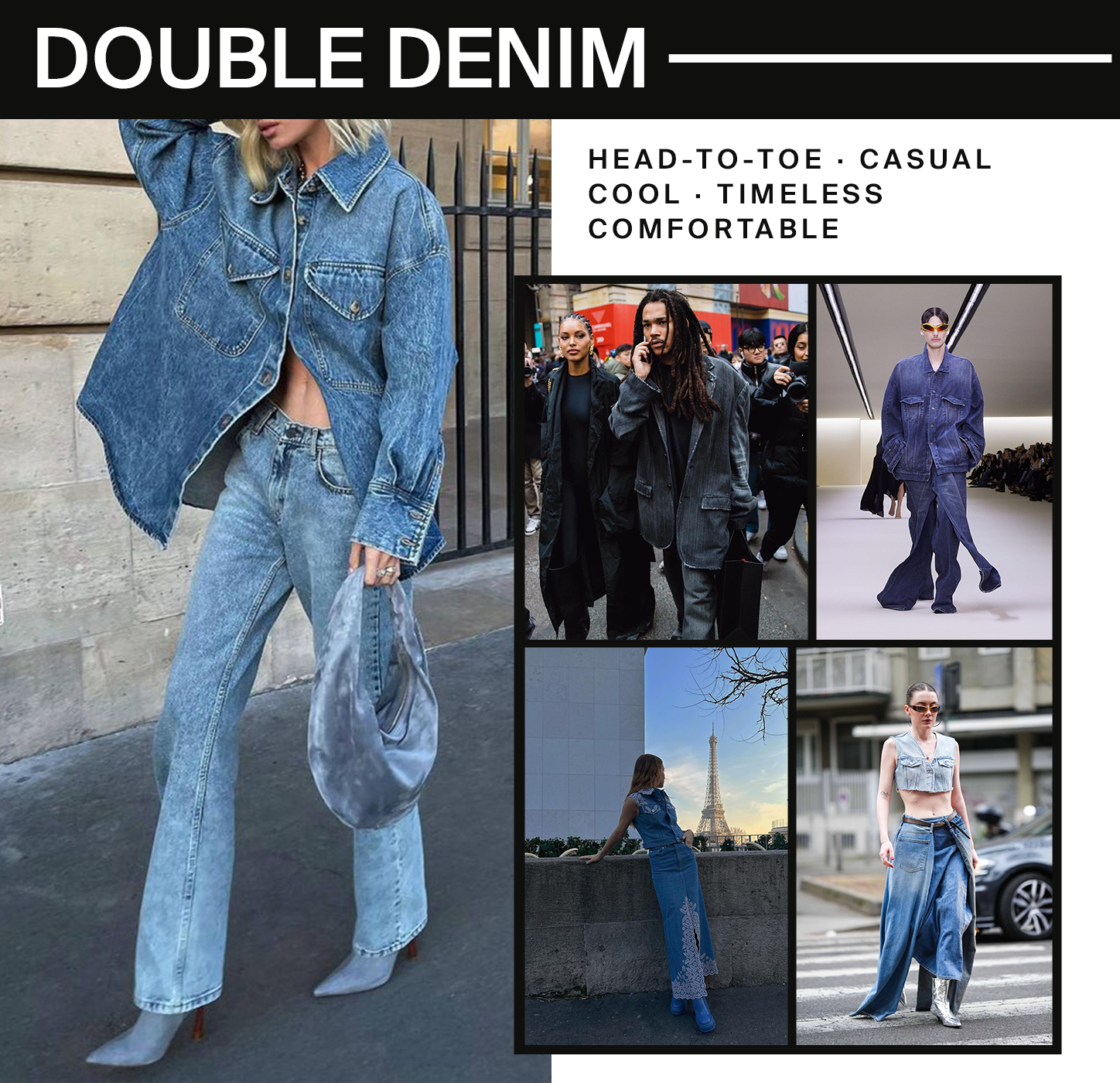 While we've been talking about quality over quantity for spring by returning to elevated basics, when it comes to denim trends, fashion week was all about the more, the merrier. And like Paris, denim is always a good idea. Showgoers at Paris Fashion Week took on a revived spin of a Y2K classic: denim on denim. This doubled up denim trend doesn't just have to just be a nostalgic viral moment of red carpet lore (yes, we're looking at you Britney and Justin). You can still turn heads in a full blue-jean look, but for all the right reasons. Just look at Luka Sabbat, who donned an oversized denim blazer and baggy jeans in a darker wash while at Paris Fashion Week for an updated take on the Timberlake Y2K moment. 
The key to styling denim on denim is sticking to similar washes – whether you're going dark or light. To make it modern, mix in fashion-forward styles like a maxi skirt, deconstructed silhouettes, or cropped outerwear. The Lanvin x Gallery Dept. Jeans are the ideal base for a double denim look. The subtle mix of washes towards the hemline gives you more options to play with in an all-tonal look. If you really want to go head-to-toe, incorporate the fabric all the way to your sneaker choice with the Jordan 1 High OG in Denim.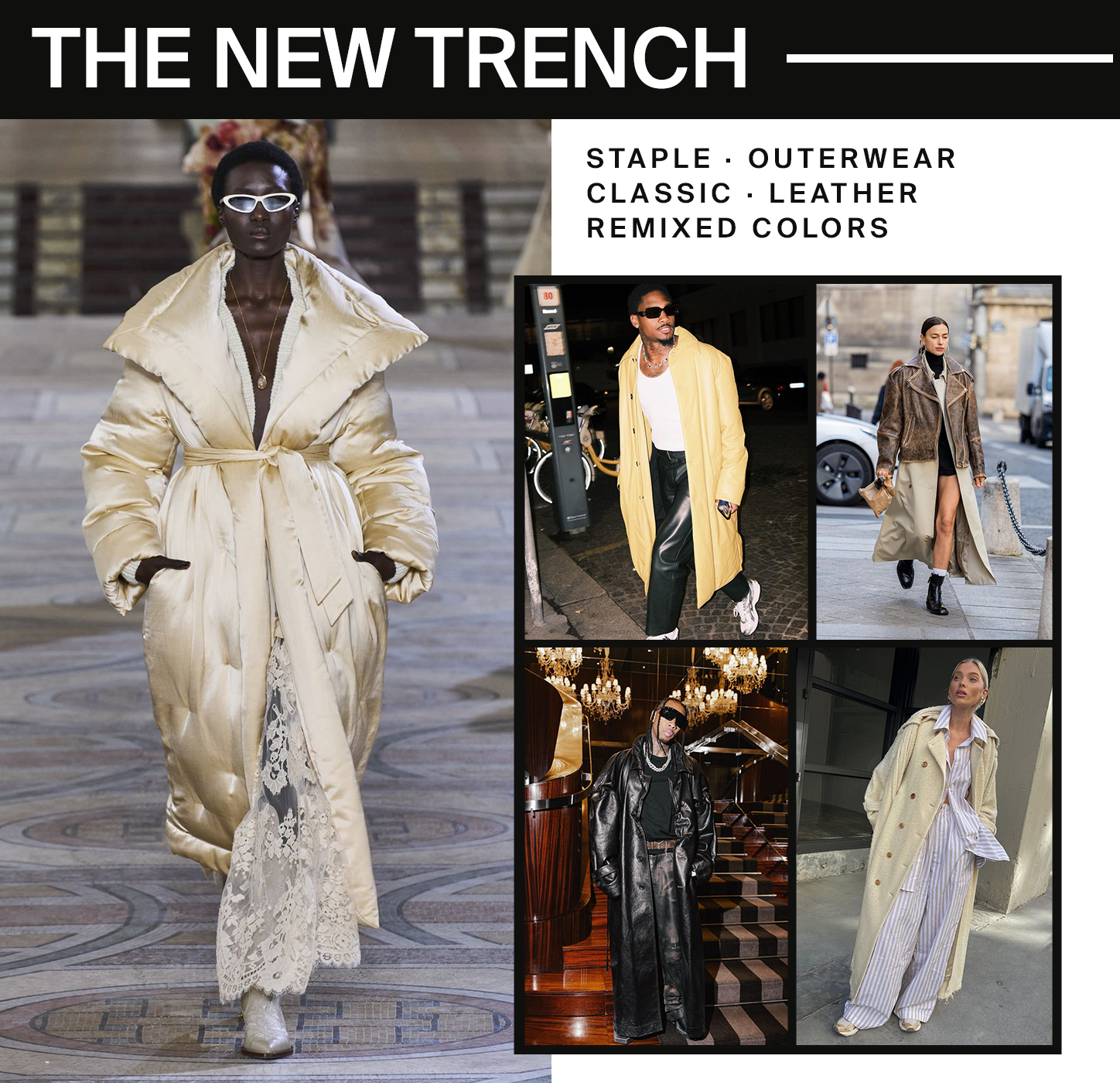 When it comes to trench coats, London is the city that comes to mind. The origins of the outerwear staple trace back to British fashion house Burberry's invention of the trench in the early 1900s.  Although the trench hasn't technically gone out of style (and probably never will), it hasn't been as center stage in fashion over the past few years.
But that's all about to change. From Milan to Paris, the trench coat stole the show(s), both on the runway and in the streets. At Burberry, new Creative Director Daniel Lee opened his debut show with none other than a trench, signifying just how important the style is to London and fashion around the world. While classic styles are always here to stay, Lee presented a new version on the classic piece, taking on a grungier look than the usual beige color scheme. The fashion scene took note, as street stylers were seen running from show to show in edgy interpretations of the iconic trench. This "new trench" is all about embracing the classic silhouette but with a unique flair or detail, including oversized fits, faux fur-trimmed lapels, or leather constructions. The Supreme Schott Leather Trench Coat gives you the timeless silhouette of a trench but just enough edge in the leather choice to set you apart from the crowd. Another can't-miss is the Louis Vuitton x Yayoi Kusama Painted Dots Trench Coat. While we could write a whole story on this collaboration, we'll just leave this jacket here and let it speak for itself.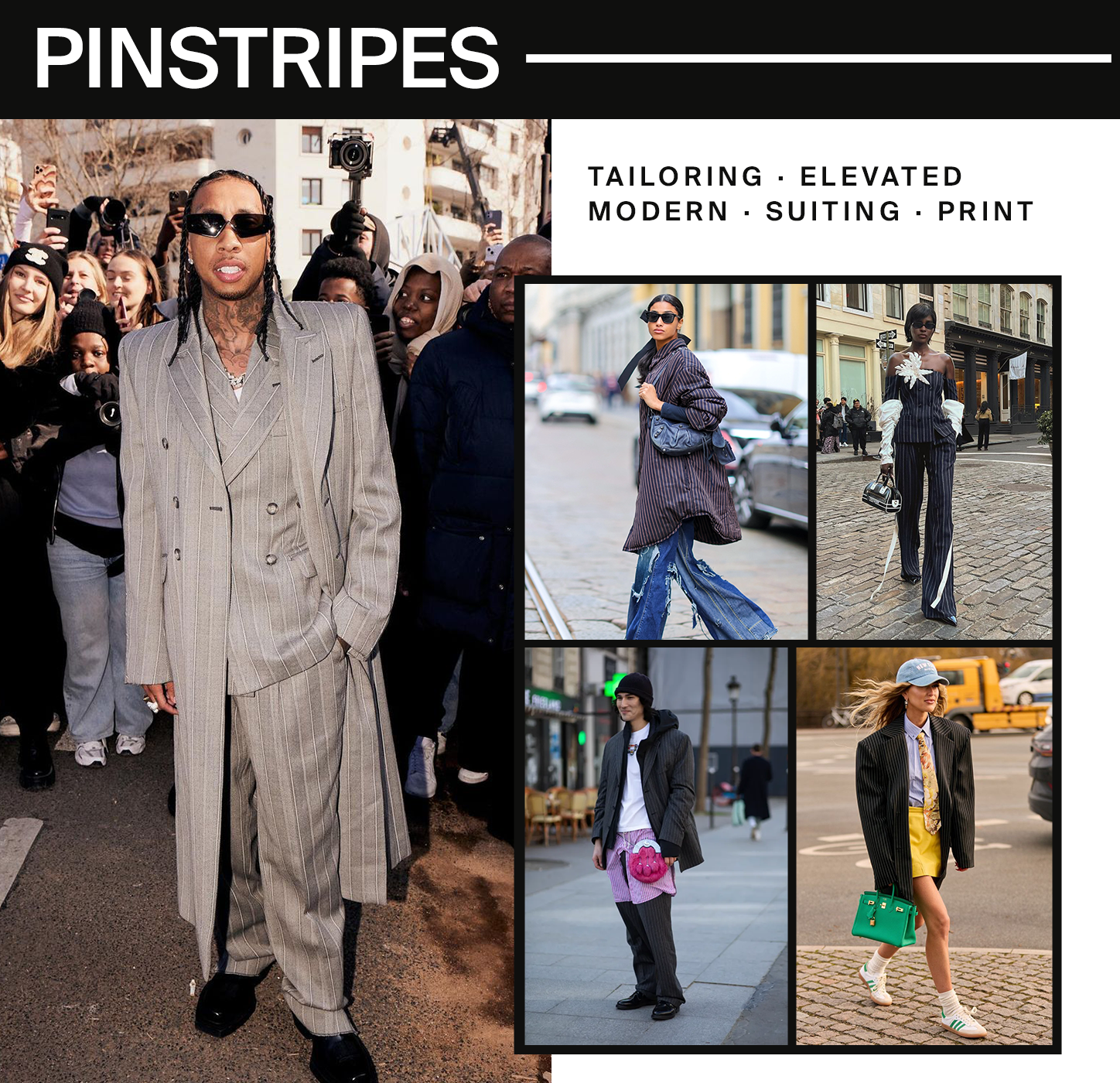 The street style scene during New York and London electrified us with flashy colors and daring cuts. So by the time Milan and Paris rolled around, showgoers and fashion insiders were ready to strip it all back (or cover up) with simplified, yet elevated styles. While the cut-outs and sheer fabrics in New York and London woke up social media conversation, Milan and Paris streetwear trends focused more on styles making a lasting impression than a short-lived infatuation. Love over lust.
Modern suiting and elegant tailoring really set the scene for a new wave of fashion on the streets of Milan and Paris. And what did these suits all have in common? The classic pinstripe. Dating back to the early 19th century, pinstripes started when British bankers used different shades and widths of the stripes to signify the specific banks they worked for. Now, the classic pattern is just a tell-tale sign you know your fashion.
But you don't have to look like Gomez Addams to wear this timeless suiting pattern. The streets of fashion month proved that pinstripes can be modern once again. While Tyga took a more classic approach with a three piece pinstripe suiting look, you can also mix and match your pinstripes with denim or your favorite sneakers for a fashion-forward yet casual vibe. Stylist Emili Sindlev showed us how it's done, styling an oversized pinstripe blazer with more of-the-moment pieces, including a mini skirt and adidas Sambas. Try the Kith Pinstripe Double Knit Coaches Jacket for spring. It's sleek, simple, and sophisticated – the ultimate trifecta for a suiting trend.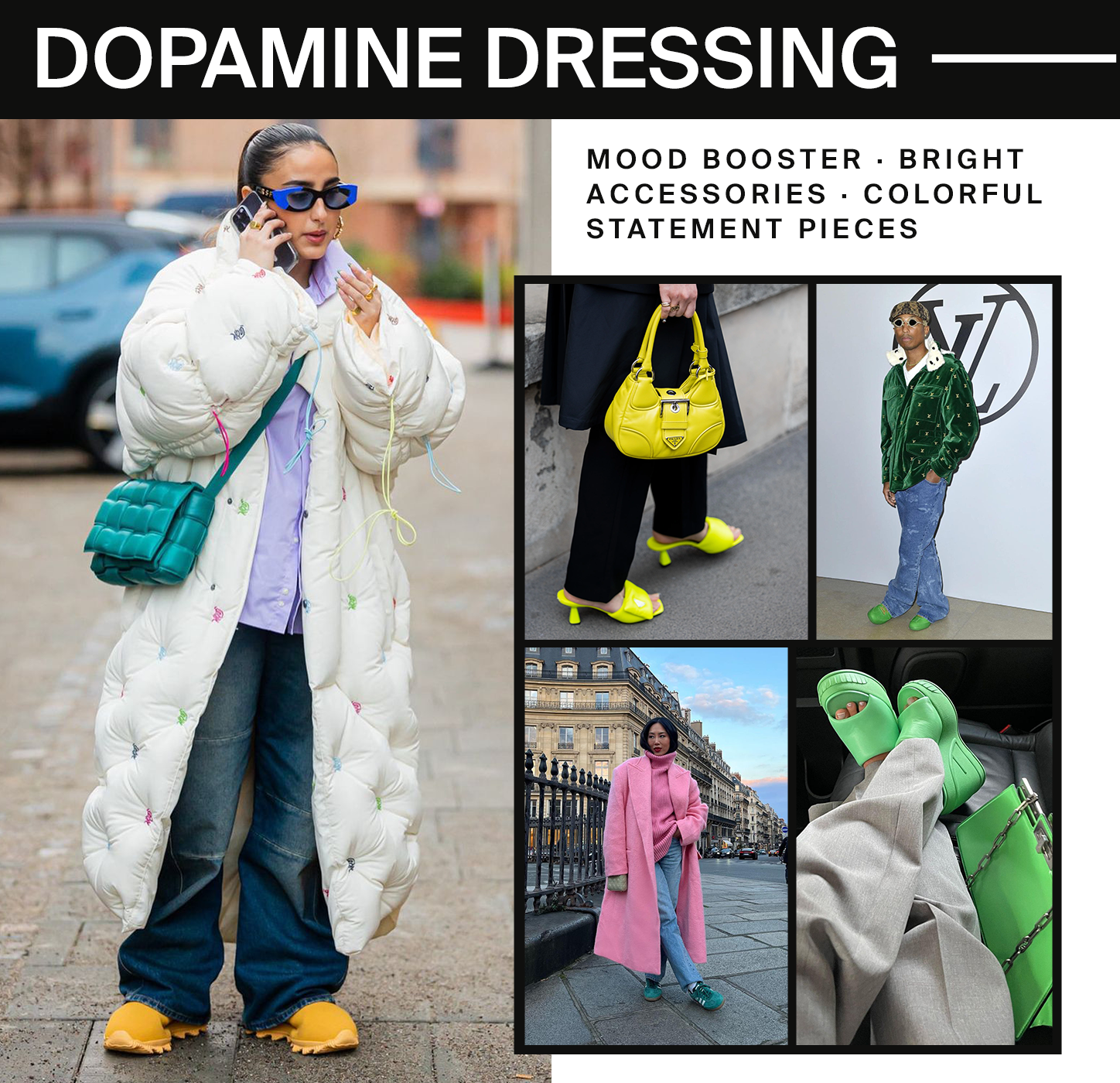 Come spring, there always seems to be this feeling of hope in the air. Maybe it's the fact we have longer days. Or the anticipation for summer that makes us feel like anything is possible. Whatever the case, the fashion week crowd was picking up on this optimistic energy, as the streets were brimming with an array of bold color pairings. This feel-good trend centers around hitting the streets in looks that boost your mood. When you wear a certain color, style, or texture you love, it activates a release of dopamine making you happier in the process. So why wouldn't you want to partake in a trend that not only makes you look good but feel good too? 
In New York, people embraced the confidence and sultriness of bold colors like red and hot pink. While in Paris, influencers and stylists wanted to embrace a calmer color scheme after a month of chaos with tones of lilac and muted green. So how do you color your wardrobe without dousing it in too much dopamine (is that even possible?). We noticed mood-boosting colors weren't needed for a full fitted storm, but just the perfect pop in footwear choices and accessories. Colorful sneakers will be the focus this spring, with adidas Gazelles looking to overtake the adidas Samba as the new fashion girl go-to choice because of its extensive list of palette options. Favorite colorways include the Orange Peel White and Blue Fusion Gum.
Photo Credit: @aimeesong, @emilisindlev, @camilacoelho, Vogue, Zimmermann, @elsahosk, @tyga, @stefondiggs, @thestyleograph, @lefevrediary, Getty Images via Footwear News, Fashionista,