Everything about artist Sanford Greene is unapologetically Black. Through his illustrative work highlighting Black main characters in his comic book series Bitter Root, to his alma mater being the HBCU Benedict College in South Carolina — even his headshot of choice being him rocking an adidas Tracksuit reminiscent of RUN D.M.C.— Greene's ongoing vibe speaks Black culture. Even though he has worked on many illustrative pieces for Marvel's extensive superhero catalog, it's his work on the Black Panther hero that continues to uphold those same Black values authentically.
"The Black Panther is one of the first characters that I identified with when I was reading as a young kid," says Greene during our interview for StockX. "That whole nostalgia factor and what he represented for my upbringing is what motivates me to draw the hero."
For Black History Month, StockX has collaborated with Marvel to launch an exclusive Black Panther variant cover drawn entirely by Sanford Greene. Variant covers often allow illustrators to put their own spin on the hero while still staying true to the protagonist's essence. For this cover, Greene made sure to add his signature rugged and unfiltered style to the cover, one that was hugely impacted by his love of hip-hop culture. "All I saw was polished growing up, so I wanted to go against the grain. Hip-hop, graffiti, all connected with me so I wanted to have a similar engagement with my craft. Till this day, I use my early memories of hip-hop and graffiti culture for my drawings," says Greene.
When you hear a few of his favorite artists, you instantly see the style inspiration. When asked to name his top three rappers, he replied with "I can only pick three? I'm gonna give you five." Public Enemy, A Tribe Called Quest, Wu-Tang Clan, Nas, and Mobb Deep. And to those unfamiliar with each artists' sound, with the exception of ATCQ, each has very hard hitting lyrics and imaginative visuals, almost identical descriptors of Greene's illustrative work.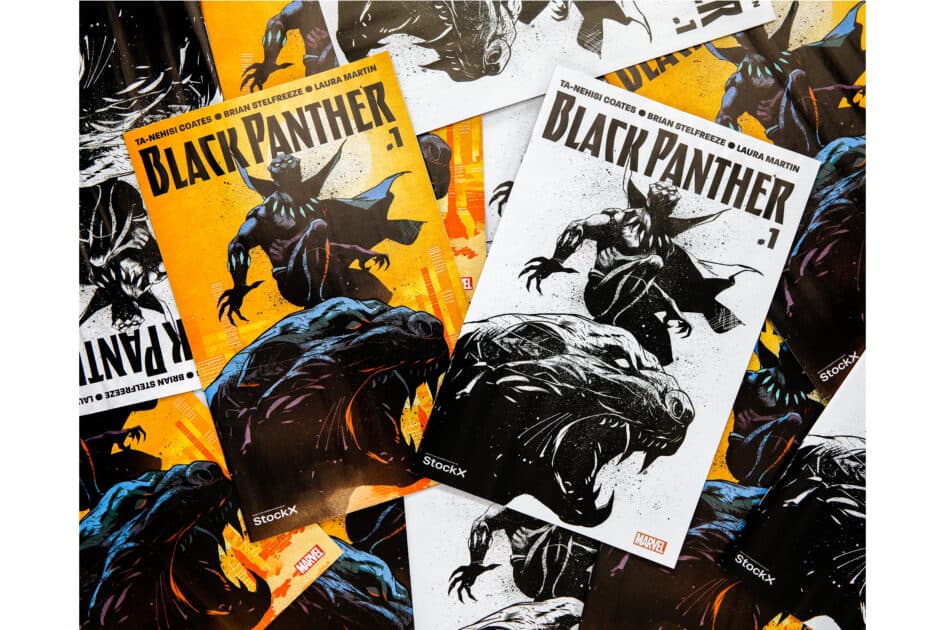 This isn't the first time that Greene has drawn the Black Panther hero, with work dating back to 2017. Each time he's worked on the character, he makes sure to go back to his younger self as a source of inspiration. "When you play into that young 7-8-year-old self, you use that emotion and channel it to a place where you can put it on paper. You put yourself in a place emotionally and mentally to get the results that are desired to draw Black Panther," said Greene.
Not only does the hero play a personal role in Greene's life, but every time he works on the Wakandan leader, he understands the weight of the project. When asked if he felt any pressure to draw this hero, especially after the premier of the latest Black Panther movie, he said "fortunately no and that's because I've been able to understand the level of responsibility for these characters through working so often on them and knowing the importance they play in people's lives." With over 20 years of experience as a visual artist, his work speaks for itself.
The special variant cover of Black Panther is extremely limited and exclusively available on StockX through our DropX program tomorrow (2/2) at 12 PM EST. Make sure to secure your copy, as this is a one-of-a-kind collectible item.