HBO Max's brand new Streetwear design competition show, The Hype, is full of huge characters with big dreams and some even bigger egos. Ten designers from across the country come together in LA for the chance to pursue their biggest dreams and get the co-sign from the show's judges and guests. While all those personalities converge to compete for success and airtime, you might have to look out for Justin Mensinger, a designer from Chicago who sticks out in early episodes only because of his highlighter lime-green hair. Other than that sharply coiffed statement, Mensinger mostly keeps to himself and stays quiet about his intentions. But while he's a man of few words during the competition, he knew what the stakes were. "I came in there so prepared and I think my whole life was on the line," he said in an interview with StockX before the show premiered.
Three episodes dropped this week, with a bunch more on the way, and for a competition with a grand prize of $150,000 it has the opportunity to change lives. But it's not just the money. Each winning look features a piece that will release on StockX, plus the relationships formed with guests like A$AP Ferg, Bobby Hundreds, Cardi B, and Dapper Dan, as well as with the cosigners Offset, Bephie Birkett, and Marni Senofonte, could prove to be everything these young designers need to get to the next level in the industry.
Mensinger's aesthetic is identifiable from the start. His work is recognizable for its upcycled, patchwork aesthetic that has garnered him fans across the country. But it's not just an aesthetic choice, it's rooted in ecology and his own familial heritage:
I guess my design philosophy is summarized by, "From the past, for the future." And what that means to me is primarily reusing materials or doing things sustainably as much as I can. The root of that, I think, comes from my grandparents. Living in the country when I was a kid, my grandpa would save everything, because he had two big barns. And they were always working on motorcycles and lawnmowers or trucks, and then they would just make things themselves. And I saw that as a kid and it was normal to me. Just being really resourceful, working with your hands, and creating things.
After moving to Chicago and being exposed to skateboarding culture, Mensinger leveraged his interest in sneakers into apparel, teaching himself construction and printing techniques, and ultimately landed himself a job at RSVP Gallery. It was then that he realized the potential market demand for his upcycled pieces. "I started to see brands like Readymade from Japan," he says. "They were taking army tents and making them into jackets and selling them for five grand. The detail was immaculate. But the idea of taking something like an army tent and making it into a jacket was mind-blowing to me."
In the first episode of The Hype, contestants were asked to create a look for guest co-signer A$AP Ferg, and despite few questions from the designers, confidence was high. For this challenge, called HELLO, MY NAME IS…, Mensinger jumped right in, fashioning a long hanten from flannels, a whole pair of pants, and more. Ferg ultimately chose a different look (which can be shopped here), but Mensinger was safe for the episode. While he is quiet for most of these three episodes, what's immediately apparent is that he knows what he is doing. He's pattern making, sewing, and executing his vision in ways that the other designers are still struggling with or learning new skills on the fly that early in the competition. Mensigner, on the other hand, has it down because… he learned it on YouTube:
[While learning these skills] I would scour the internet for hours, trying to find any information I could. And the one thing that helped a lot was somehow I got down this rabbit hole of finding videos on YouTube that weren't accessible by looking them up,you had to see it in the suggested videos. It was a lot of videos with titles that were Indian and Chinese, because they were from factories overseas.
So it would be like someone who works at a factory, they would post a video, and I started to just watch for hours how they produce garments, in scale, overseas, what machines they use. And then I would see a machine in the video and I'd be like, "What the hell is that?" And then I would try to Google it, because I didn't even know what these machines are called. So I'd be like, "Okay, there's a machine that does this. Has this many needles," and then I would look it up and then I would find it. And then I'd be like, "Okay, I need to buy that."
The jacket that Mensinger made for Ferg was solid, and that would pay off in the second challenge, WEST COAST CLASSIC, where the designers were tasked with creating jackets inspired by Los Angeles while also representing their own communities. Mensinger set to work deconstructing a collection of denim and flannels to make a parka in the style of his hometown culture. And he won. "I feel like it set the tone of what was expected," he says. "And I think, it set the bar a little bit higher than the first round to have to complete that."
Despite the fact that designers all had a few days to complete the early challenges, creating a full look, or even a properly constructed jacket, still takes more time than that. But Mensinger is used to working under these kinds of time constraints and figuring out how to make things work on the fly. "This is what I do day in and day out, so for me, as soon as they said to make a jacket, I knew once I went in that room to find the material and I saw the jeans, I was like, 'I have to do something like a parka and I have to go as crazy as I can.' Normally that would take me even longer to finish. That's one of the most expensive pieces I've made, those parkas; I've done those commissioned before. And I'm like this is my most expensive thing I've ever sold. So I feel like I just knew I had to bring my highest quality work." The pressure was on.
And it paid off.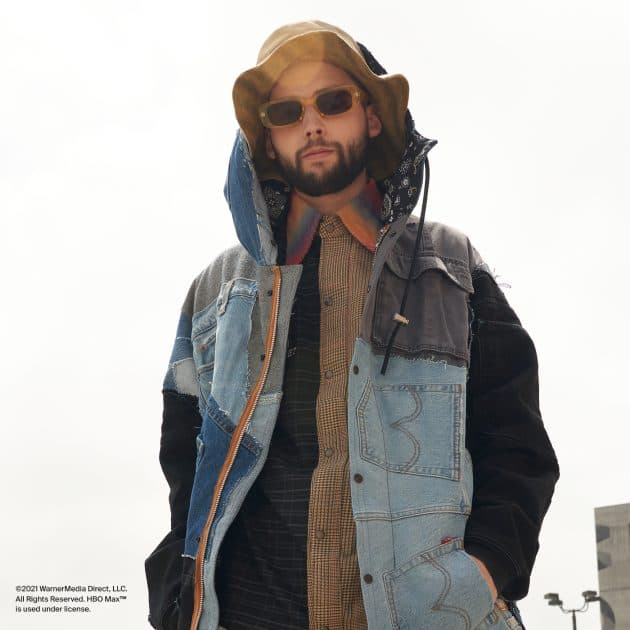 It's that reference to his past growing up in the Midwest that connected his community to the heritage of LA that was central to the challenge. "I like a lot of work jackets and military jackets. I feel like they're very functional and timeless, and they've never gone out of style, really. It just feels very true to the Midwest, especially," he explains.
In the last episode of this first drop, YOUNG HEARTS RUN FREE, Mensinger had the power to assign design teams to make looks for an "It Couple" and build a story in three photos. Mensigner chose Kai and Blu to be his partners, becoming the only trio, and some creative tensions in the group prevented them from winning. Mensigner didn't throw the challenge, but there was more strategy at work than he's eager to explain. "I picked my team strategically," he says, and the strategy didn't fail.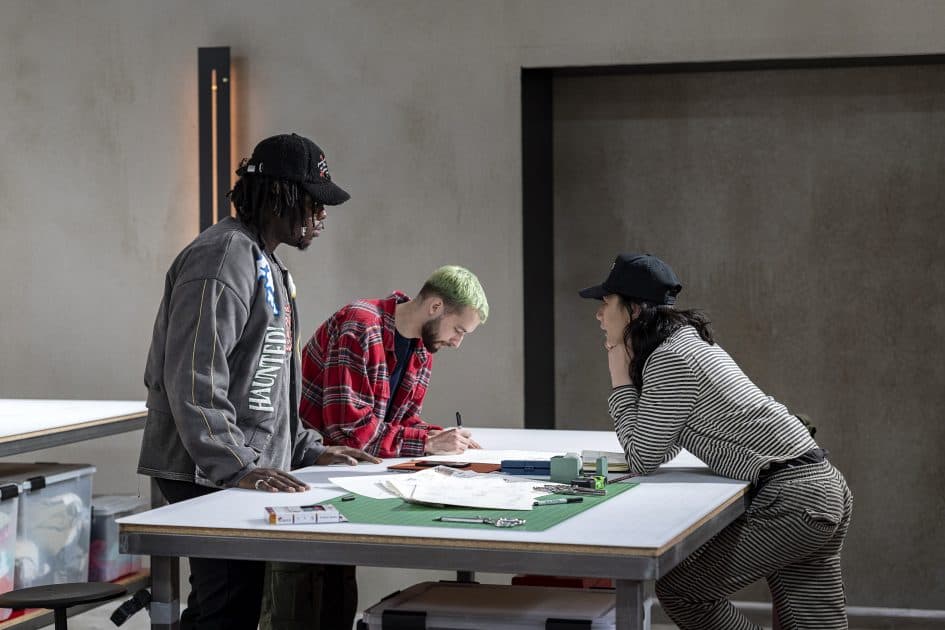 At the end of the third episode, Mensinger had one win under his belt and was still fighting as the remaining designers face the rest of the competition. But, there's always room for growth as the challenges went on. "I think getting critical feedback is something that can help motivate you to improve your designs. And I think if you hear the same thing a few times from different people who are credible, it will help you push your design process forward," he explains. "Because I think, as a designer, you are always innovating and creating more, but there might be some aspects of what you're creating that becomes stagnant or that you don't realize could be improved because you're so used to doing something a certain way." In the first batch of episodes, we've already seen the danger of rejecting feedback and refusing to evolve, with a promise of more of that on the way.
Since filming wrapped, Mensinger has moved from his home base of Chicago to LA, and in that short time has found a lot of differences that have already given him a step up, regardless of how the show pans out. "In the Midwest, there seems to be so many limiting beliefs about what you can do with your life in all respects. And I think there's a lot of also just natural, environmental factors, they really influence how you feel there," he says. "But as a creative, or a designer, or artist, you can just feel yourself in L.A. And that's the beautiful thing about it. The best part about my transition so far is this feeling of being at home and not feeling like I have to really explain myself to every person or that people don't really understand what I'm doing." Plus the access to resources, materials, and peers is a huge help.
The major drawback to LA? Vintage and materials is much more expensive. "I used to be able to go into a random neighborhood back home and get garbage bags of stuff for a $1 or $2 per item. And in LA it's gold. So people charge $20 for some old pants and I'm like, 'But I need seven pairs to make one jacket. That's $140!'" That's a lot for raw materials, but if Mensinger wins it'll suddenly become a lot more affordable.
Watch Justin Mensigner and the rest of the contestants on The Hype via HBO Max, and bid on Mensigner's winning look from WEST COAST CLASSIC here.