Flashback Friday: Michael Jordan's Shrug Game
June 3, 1992. Game 1 of the NBA Finals. Michael Jordan was on fire. Like Chef Curry with the shot, boy, kinda fire.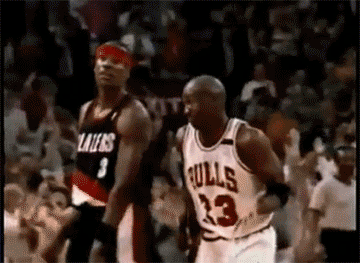 Many of Jordan's greatest moments came from his passionate reaction to the outcome of the game mixed with his unparalleled swagger. The dunk contest in 1988 after dunking from the free throw line and walking toward the bench as if it was no big deal. The shot in 1989, where his fist-pumping had Craig Ehlo diving for cover. But today we're looking back at "The Shrug Game" in '92. Apologies in advance, Portland fans.
After Michael Jordan knocked down his sixth 3-pointer of the first half, MJ turns to the broadcast table and shrugs, as if to say, "I can't explain it either." Jordan finished with 35 points…IN THE FIRST HALF, which still holds as an NBA Finals record. He also tied Isiah Thomas with 14 field goals made in a half (MJ then tied the same record for a second time against the Suns in 1993). MJ finished with 39 points and 11 assists on 16-of-27 shooting and the Bulls won 122-89 over the Blazers.
On his feet was a pair of original Air Jordan 7s in the Black/True Red colorway. Nowadays, the colorway is known as "Raptors" because of the purple accents that seem to tie it to Toronto's team colors. The major difference from the originals and more current retro like the 2012 Raptors, is the dark grey contrasting paneling on the upper from the OG. The 2012 edition featured an all black upper. Color differences aside, the "Raptors" Air Jordan 7 will always be one of the releases people look forward to because of Michael Jordan's performance in that NBA Finals game from 24 years ago.