The Nike catalog is deep, but no one shoe represents the brand's diverse and colorful history better than the collaborations with graphic artists throughout the years. Graphic artists' have taken their talents to sneaker collaborations since the early 2000s, dazzling fans with some seriously cool designs that are often rare and wholly unique. 
From the holy grail of Nike SBs that sells for upwards of $90,000, to sneakers with inspiring messages, some of the world's most creative and talented minds have brought their creations to Nike shoes, making for some of the most sought after collaborations of all time.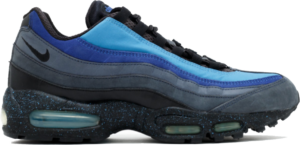 Released in collaboration with Brooklyn-based graphic artist Stash as part of the sneaker giant's Artist Series in 2006, the Nike Air Max 95 Stash was the first of its kind to boast a speckled midsole. The artist "sprayed" it with Harbor Blue on a black base, resulting in his signature palette of blue speckling for a colorway so sleek that the shoe has remained one of the most coveted Air Max 95s of all time. Its gradient nubuck upper goes from black to Harbor Blue, making for a "night sky" effect. The sneaker is rounded out by visible cushioning in the heel and forefront that also features a blue finish.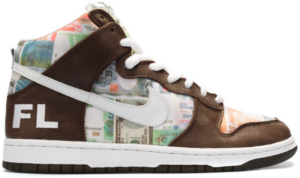 American-based graphic artist Futura released his High Pro SB Dunk "FLOM" in 2004, and 15 years later, a pair of them fetched $63,000 at Sotheby's "Cult Canvas" auction, an all-time high sale for any Nike Dunk. An acronym for "For Love of Money," Futura's FLOM sneaker is considered one of the rarest Nike SBs of all time. Only three of the 24 pairs ever created were raffled to the public, while the remaining pairs were reserved exclusively for friends and family. The tiled base pattern of the silhouette was crafted from different denominations of printed money, complemented by a brown leather upper a white and El Dorado colorway. Think of this as the holy grail of Nike SB collecting.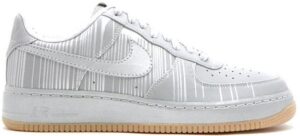 Craig Costello, aka "KR" or "Krink," is known throughout the world as one the most visionary and inspirational street artists. In 2008, as part of Nike's 1World Capsule in which 18 of the globe's most creative influencers were commissioned to create their own AF1s, he dropped the Air Force 1 Low 1World. The shoe boasts a 3M reflective metallic silver upper with the artist's signature dripping paint motif detailing, alongside a tonal silver midsole and a gum rubber outsole underfoot.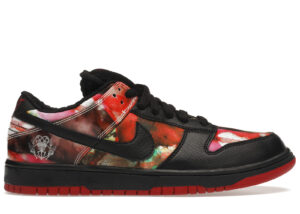 The Dunk Low SB "Pushead" features a gritty, grungy design by the shoe's namesake artist, widely known for his work with Metallica album covers and Thrasher T-shirts. Pushead's version of the Dunk flaunts a paint splatter effect in red, green, and pink, accented with black leather overlays, contrast stitching, and a skeletal graphic on the lateral heel. The black midsole is contradicted underfoot by a red rubber outsole, and it just works. It's a true rock-and-roll, heavy metal sneaker, and Pushead even did original artwork for the shoe's box, which boasts an all-over print graphic.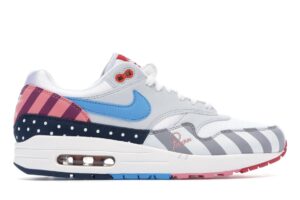 Respected Dutch artist Parra and Nike have worked together numerous times over the years, dropping legendary Air Max 1s such as the "Cherrywood" and "Amsterdam" colorways. And in 2018, they teamed up once again for the first time in over a decade to bring forth the "Parra," which takes abstract interpretations of cityscape and landscape imagery inspired by The Netherlands and applies it to the Air Max's iconic silhouette. Parra's vibrant and signature traditional color palette of light blue, white, red, grey, and pink mesh together to create a truly unique, multicolor sneaker, originally released in very limited numbers.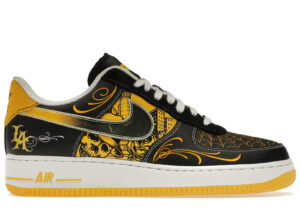 Back in the 2000s, Nike partnered with the Livestrong organization's cancer-fighting initiative in a variety of charitable endeavors, and this included dropping a limited edition Air Force 1 Low in 2009. Los Angeles-based graphic and tattoo artist Mr. Cartoon designed the sneaker's custom artwork with Livestrong's trademark colors of black and yellow. Other signature details of the shoe include an embroidered "LA" logo at the heel, Livestrong branding on the tongue, a yellow outsole, and gradient Swooshes.