New York-based spatial designer Eny Lee Parker is a spatial designer who specializes in furniture and lighting, using clay as her primary material. Parker reclaims the essence of making use in traditional craft from our past – the slowness, the intention, and the respect for natural resources. In doing so, she's garnered a reputation for creating contemporary objects that bring awareness to our presence, as well as to non-living things. 
In partnership with Los Angeles-based creative practice PlayLab, Parker has created a chair for the upcoming 60th edition of Milan Design Week, an interior design fair held in Milan and attended by many of the most respected designers of today, as a part of a curated collective of creatives hand picked by Daniel Arsham for Art & Residence.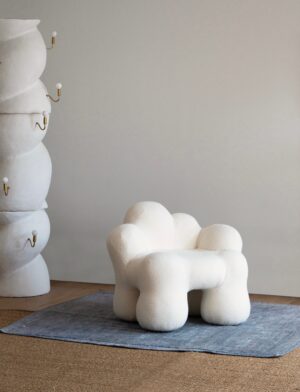 A crucial element to Parker's philosophy is her unique ideology, and how in the process of designing, she's actually designing a process, a culture, a life, and the actual piece, like a chair or the lighting, is secondary. By creating a working space and a process that deprioritizes capitalistic aims like making as much money in as little time as possible, Parker strives toward her artistic goal of living life and creating a working environment that is full of good people working towards good things, and not stressing out in the process.
"I don't really see myself as a serious designer," Parker says. "I take things pretty lightly." And that's a good thing. The Korean designer was born and raised in Brazil, where she says she grew up poor, but happy, raised by a single mother. And undoubtedly, it's her childhood experience that's helped to mold her refreshing and keen sense of who she is, both as a designer and human.
"I don't remember ever being sad for not having things," she says. "I make really expensive things, but I know that at the end of the day, it's about really what brings you meaning, or joy, or happiness. I grew up with a Mom that fed my friends and I a lot. It was very food-oriented, very supportive, and I'm thankful that I've learned what makes people happy, and just being able to foster that."
This mindset is reflected in her business acumen, as well. Parker began her business five years ago while still attending the prestigious Savannah College of Art & Design, and her reasons for launching her professional endeavors are rooted in this mindset of gratitude and striving to live a life free of stress, negativity, and solely material gain.
"From early on, I realized that the designing, creating products, and selling and sharing all of these ideas was really a means to help me get to my goals, and my goals were never centered in design," she says. "It wasn't necessarily about solving or filling a void in the design industry, it was more or about looking at the work environment. It was like, 'Well, I want to work with happy people, I want to work at least with people who want to grow in their personal lives, and their careers, and I want to be supportive of that.'"
Parker's design philosophy of creating and fostering a supportive, positive work environment, in which she and her colleagues can do their best work, drives her each day to create pieces that reflect this very mission. Where many high profile interior designers focus only on the highest-profile projects, Parker defines her success by the life she and her team lead.
"People will always come first before objects, and before, honestly, art," Parker says. "That's just how I want to live. I want to make sure the people around me know that I care for them first. I just think that it's fun to live that way, we can support each other. That really was always my focus. Also, as a person, I say, 'We break stuff all the time here, we make mistakes,' but I mean, I'm a human being, and I will get stressed out, but I try not to dwell on it too much because, we're just supposed to be creating pieces that we should be having fun and bringing this energy into people's homes. There are ethical things that I like to focus on versus designing the best chair out there."
And while she may not be focused on designing the best chair out there, she may have succeeded anyway. The chair in reference is a piece Parker is excited to show off at Milan Design Week – a white chair in the shape of a cloud. Parker explains how the first original chair was made of plaster and fiberglass, but that she altered her vision to create a more comfortable chair, one in which whoever is sitting in it truly feels like they're on a cloud. The final result is a white upholstered armchair in the shape of a cloud.
The designer's joie de vive is reflected in this lounge chair – and the inspiration behind it comes from her passion for living a life devoted to fun and supportive experiences.
"I love lounge chairs because they have fewer rules," Parker says. "I think lounge chairs are really fun when they feel like they're hugging you. I just wanted to feel like you were kind of in the clouds." 
The roots of the chair, and the inspiration behind the design, stem from her fond memories of her childhood. It's this importance of possessing a curious, childlike mindset that also plays an integral role in her artistic process.
"I think every child at some point had this connection with clouds. They look fluffy, but they're not tangible. They are kind of out there, but visually, they're so strong, but physically, it's impossible to touch it and contain it. I just thought it was like, 'Who doesn't want to sleep on clouds?' A lot of the stuff that I do is pretty playful."
One such fun, playful element to a cloud is how while a person can see one shape in a cloud, another viewer can see a totally different shape in the same cloud. Parker also credits her trust in her team to ultimately creating the best design for the user, harkening back to her dedication to creating a supportive, and collaborative, work environment. 
"People can interpret it in other ways," Parker says. "It looked very different when it left our studio, because my team sculpted by hand the foam and then it was sent to the upholsters and they had to add a little bit more foam, so it was kind of like their version of what it came to be. I'm just embracing it. It's fun to see how the chair evolves into reality."
But don't mistake Parker's lighthearted nature for a lack of awareness. The importance of Milan Design Week is top of mind, but she more looks forward to returning to Milan, a city in which she loves. 
"Milan is the most important design week of the world. They want to see what's going on in the furniture world, and I think it's really fun. I feel like I'm going back to my high school years, and I'm really more excited about that. I love Milan, of course, and I think it's going to be really fun, but it's really about that collaboration."
"Art & Residence" presented by Daniel Arsham & StockX explores this converging of worlds and taps non-traditional creatives to push the boundaries of what a chair can be. From fashion designers to architects, "Art & Residence" bridges creative communities – from the world of StockX, to the storied platform of Milan Design Week, taking place from June 7th-June 12th. For more information on the creatives involved in the program, you can click here.