Since its inception in 1973, Japanese luxury brand Comme des Garçons has become one of the most well known and respected names in the fashion world. Many of its sub-labels have gained devoted legions of fans, perhaps none more popular than PLAY. Founded as a sub-label of the larger Comme des Garçon parent company in 2002, PLAY's logo is a small red heart with two gazing eyes. The brand's T-shirts portray the playful, creative vision of the brand's visionary founder, Rei Kawakubo, with the logo representing the easiest way to recognize – and perhaps serving as a launching point into – the brand.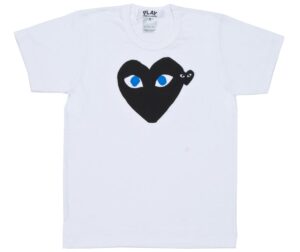 The PLAY Black Heart Blue Eyes T-shirt is a short-sleeved shirt made of 100% cotton. The piece has two black hearts – one with blue eyes and another with black eyes – on its front side, both redesigned versions of the CDG PLAY red heart logo. It also features a CDG PLAY logo on the ribbed crewneck collar, along with cuffs and hem. Released in 2022, it's now available under retail on StockX.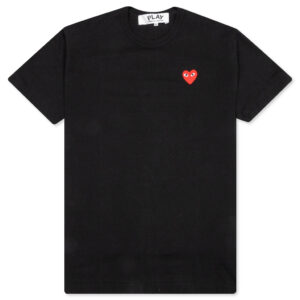 The PLAY Red Emblem T-shirt is a sleek, black shirt also made of cotton. Featuring an embroidered red CDG PLAY heart icon on its chest and an embroidered CDG logo on the collar, its design is rounded out by a ribbed crewneck collar. This particular colorway has been around for years, and it's easy to see why: it's simple, makes a statement, and the red-and-black colorway makes for an eye-catching, eye-popping design.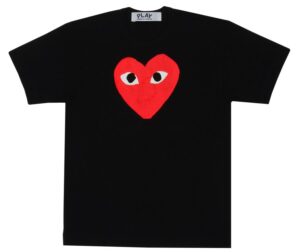 Similar to the Red Emblem T-shirt, this PLAY Red Heart t-shirt also features a red-and-black colorway. But the cool factor truly shines in the larger version of the iconic heart on this particular piece. The screen-printed heart logo is emblazoned on the chest, making for a truly bold look. If you like the Red Emblem T-shirt but are craving even more of the playful heart, then this piece is for you.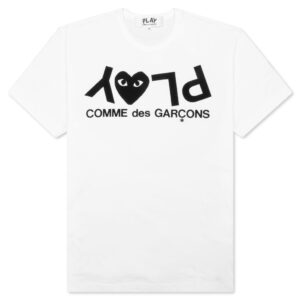 The Inverted Text T-shirt features a black-and-white colorway and playful, graphic-heavy styling that fits right into the PLAY aesthetic. The line's signature heart mascot is colored in jet-black and placed between upside down "PLAY" branding. A ribbed collar and 100% cotton body make for a comfortable piece fit for daily wear. If you're in the market for a plain white tee with some pop to it, this one's for you.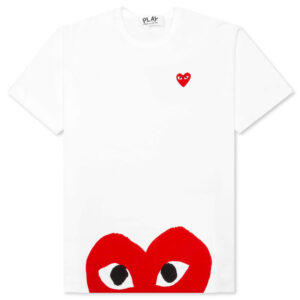 Featuring the iconic Filip Pagowski red heart logo embroidered on the chest and a cut-off heart and eyes graphic peeking above the hem, the PLAY Red Half Heart T-shirt is a great staple shirt crafted from soft white cotton. Complemented by a rib-knit crewneck collar and a straight hem, the piece is finished with the CDG signature logo and graphics. Consider this particular shirt perfect for the summertime, especially on a date night, alongside dark or black denim.