Don't forget your swim shorts. For many people, they're only worn during one season, or while on a vacation to a warm destination. And while they certainly may not be the most top of mind fashion garment year-round, during the summer, they arguably should be the most important piece of clothing you own. Swimwear should not only be comfortable and practical, but it also should make you feel good. Before you take your first pool, lake, or beach day of the summer, invest in a pair that can do all of the above.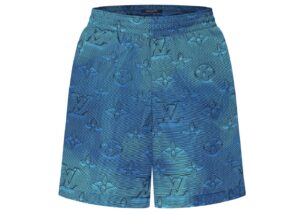 The Louis Vuitton 2054 Packable Swim Shorts in turquoise may have you wondering where you've seen such a stunning color. If you're picturing a crystal clear blue ocean under a sunny summer day, you've right on the mark. Adorned with an all-over Louis Vuitton Monogram motif, these swim shorts are crafted from quick-drying technical fabric and feature a 3D LV  2054 signature on the side. They can also be packed tightly away into their back pocket, so when you're feeling like hitting the pool or the beach, just grab these and go.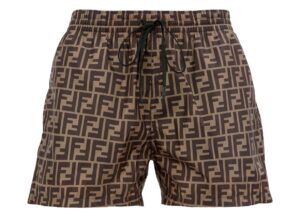 The Fendi FF Motif Swim Shorts are a luxurious pair of trunks for when you're feeling fancy. Perfectly suited for a day to cool off at the spa, or when hitting up a swanky hotel pool, these swim shorts from the iconic Italian fashion house will amp up your water game and take your summer style to a whole new level of dope. Crafted from 100% polyester, the piece features a drawstring elastic waistband and an all-over Fendi print in brown with the letters "FF" juxtaposed.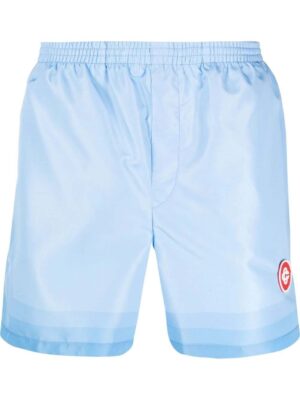 The Casablanca Logo Patch Swim Shorts in this light blue colorway are complemented by a red and white logo patch on the left leg, making for a patriotic look guaranteed to be a hit at any 4th of July party. These swim shorts are made from 100% recycled polyethylene and feature a striped edge and elasticated waistband. Whether at an Independence Day party or just casually lounging poolside on a hot day, this is an ideal pair of swim trunks.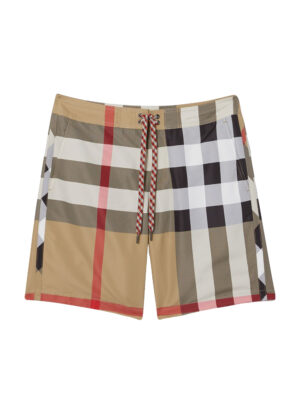 The Burberry Check Swim Shorts in Archive Beige are a timeless, classic addition to any summer swimwear wardrobe. Featuring an all-over, exploded version of the British fashion house's iconic check pattern, the plaid trunks are ultra comfortable due to a breathable mesh lining and are equipped with a Velcro-fastening pocket that will keep your summer essentials secure and close by. Sure, it may not be the most subtle of all swimsuit trunks, but sometimes it's necessary to jump the shark to make a splash. And donning a pair of these trunks is sure to do that.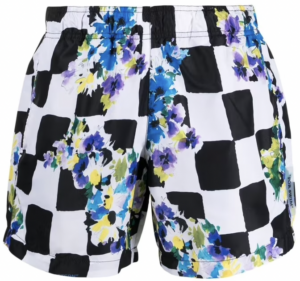 Florals, for summer… now that is truly groundbreaking. The Off-White Floral-Print Checked Swim Shorts may have you confusing seasons at first, but these swim shorts are truly perfect for summer. Featuring a multicolored floral motif print intermixed with a black-and-white check print, this is nothing like your dad's trunks. An elastic waistband, logo print to the back, and rear welt pocket round out this bold design.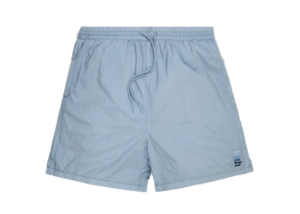 The Kith Active Swim Short is an athletic, comfortable pair of trunks ideal for a casual swim day or even a jog in the summer heat. These swim shorts fall to the mid-thigh in length and are equipped with zipped pockets bungee pullers at the front and back. The light indigo color makes for a breezy design perfect for summertime, and the design is rounded out by a Kith script logo embroidered at the thigh.