Since its introduction in 1985 as a college basketball shoe, the Nike Dunk has earned its reputation as one of the most iconic and versatile sneakers in today's culture. Originally gaining notoriety thanks to designs for specific college basketball teams that were in partnership with Nike (as part of the "Be True To Your School" collection), over time the sneaker shifted to the skate community, in large part due to its nylon tongue that made the sneaker that much more comfortable than other sneakers on the market. Eventually, the SB Dunk was introduced that included padded tongue for stability and protection. 
Since the SB Dunk's debut in 2002 in select skate stores, shops and streetwear brands have teamed up with Nike to drop their own exclusive sneakers. There are those that are minimalist, extreme, and everything in between. But they're all totally their own. Here, we present our favorites, which you can secure right now.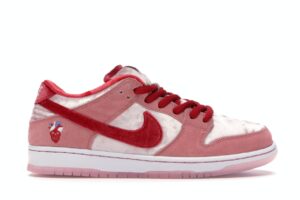 In time for Valentine's Day 2020, Nike teamed up with California-based skateboarding label StrangeLove Skateboards to create a pink-and-red velvet Dunk. Designed by renowned artists Todd Bratrud and Sean Cliver, the Nike SB Dunk Low Strangelove Skateboards features a pink velvet upper with suede overlays and a red velvet Swoosh. The design is completed by Strangelove branding on the translucent outsole, tongue, and insole, making for a sneaker so dope, you'll want to wear both on Valentine's Day and year-round. (If you absolutely need the Special Box, we've got that too.)
Boston-based retailer Concepts have returned with Nike time after time to deliver the Nike SB Dunk Lobster in different colorways. We've gotten five so far, all in very limited quantities. The Purple Lobster features a purple upper with a white accent, black midsole, purple Nike "Swoosh," and purple sole. Originally retailing for $130 at its release in 2018, a pair now is trading nearly 10 times that on StockX. The Green Lobster also was released in 2018 and has a green stone colorway that's minimally speckled, while the sole's neon green makes for a standout pop. In 2009, the two brands dropped the Blue Lobster, featuring a night blue and slate colorway. The Red Lobster was the OG colorway, introduced in 2008 and resembling that of the namesake crustacean, even sporting a bib-themed insole. Rounding out the Lobster collection is the ultra-rare Yellow Lobster. Now trading at an outstanding $55,000 on the platform, this sneaker saw an extremely limited run of just 34 pairs that were exclusively reserved for friends and family in 2009.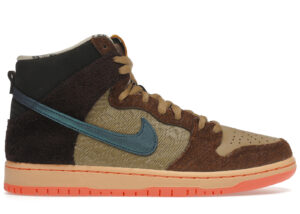 Concepts paired up with Nike again in 2020 to deliver the Nike SB Dunk Turdunken, inspired by Thanksgiving traditions and mallards. The Turdunken was one of their most over-the-top creations yet, in the best way possible. The shoe's iridescent, subtle brown tongue and Swoosh colors represent the turkey's colorful head and feathers, while the side panels feature textured leather that mimics bird feathers. A Hyper Orange outsole further adds to the hunting season vibes, rounding out the design.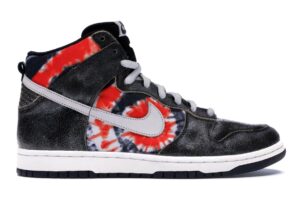 In 2004, long-time Nike collaborator and San Francisco skate shop HUF collaborated with Nike to bring a sneaker that paid homage to both The Golden City's bohemian history and its Giants baseball team. The Nike Dunk SB High HUF boasts a tie-dye pattern and orange and black colorways. The high-top silhouette channels Haight-Ashbury vibes with its midfoot design, while distressed leather paneling around the ankle and toe provides ultimate comfort and support for skating.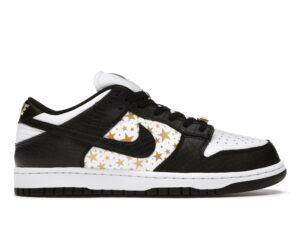 Nike SB and iconic streetwear empire Supreme joined forces once again in 2021 to bring forth an SB Dunk Low inspired by one of the most coveted Supreme SBs of all time. The Nike SB Dunk Low Supreme Black nods to the ultra-rare 2003 Nike SB Dunk High Supreme, while also adding a twist to the OG with a new shape and color palette. A white leather upper with black faux croc skin overlays and gold stars printed on the media panel make for a truly out-of-this-world look. Nike branding is seen on the signature Nike SB overstuffed tongue, and a gold metallic Supreme deubré, white midsole, and black outsole complete the design.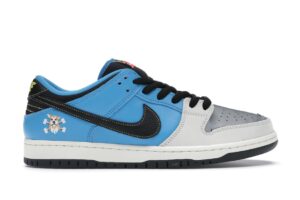 Japanese skateboard apparel brand Instant has made a name for itself since its inception in 2005 as one of the most respected and recognizable labels of its kind in Tokyo and around the world. Alongside Nike, Instant Skateboards dropped its Nike SB Dunk Low in 2020, featuring blue, ivory, and black leather uppers with neutral tones of Pale Ivory and gray working their way halfway up the shoe. The design is completed by a small dog icon with a crossbones background and a blue Swoosh tucked in at the tip of the toe.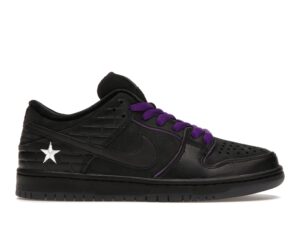 If the Nike SB Dunk Low Familia First Avenue (2021) reminds you of a certain iconic, "dearly beloved" rock legend, your eyes aren't mistaken. Inspired by Prince, the sneaker pays homage to both the late legendary musician, as well as the city of Minneapolis, which is where skate shop Familia is based. The skate shop and Nike SB's latest collaborative shoe features a black-based color scheme, a unique embroidered white star logo on the heel, purple shoelaces, and quarter overlay panels with black brickwork. But perhaps the coolest unique aspect of the sneaker is the incorporation of insoles branded with 701 First Avenue North's renowned checkerboard floor and tickets to the first show that this venue – where Prince's "Purple Rain" was filmed.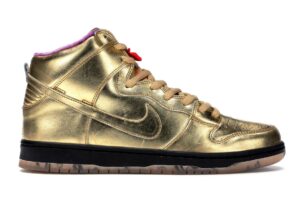 Another SB Dunk that pays its respect to the city in which it hails from is the Nike SB Dunk High Humidity, a NOLA-inspired sneaker that New Orleans' oldest skate shop, Humidity, and Nike dropped in 2018. Notably worn by LeBron James, the shoe's upper displays a metallic gold finish reminiscent of a brass horn, while its matching translucent outsole depicts music note graphics. It also boasts a black midsole with purple velvet inserted on the inner lining, giving a nod to the interior of a high-quality instrument carrying case. The jazzy sneaker's finishing touch is undoubtedly its most intriguing: a removable red bowtie accessory on the laces that matches tongue's red Swoosh logo.