Solid light jackets are essential for summer, but a stable of sweaters and cardigans to throw on under them for those cool summer nights is equally as important. Maybe you've already purchased a great new jacket, so now you might be looking to stock up on some knits to go with. From relaxed jumpers to one-of-a-kind pieces, one of the most fun aspects of knitwear is how diverse it can be.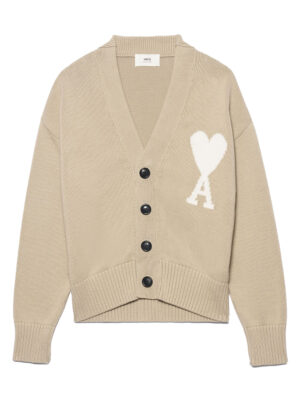 Everyone should have a go-to cardigan for the summer, like this piece from Ami Paris. The neutral and classic beige and white colors make it a daily wear, while the organic cotton and wool blend ensure a comfortable fit. Ami engraved buttons on the knit's front are complemented by the label's heart-shaped logo, and the boxy fit ensures the cardigan will wear well under that new spring jacket, or over a T-shirt if you live in warmer climates.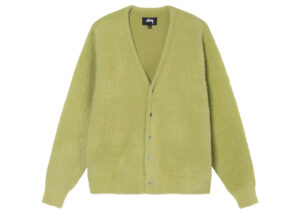 Stüssy levels up the color green with its lime-colored Shaggy Cardigan, and it's a dope shade that only the apparel brand can pull off. Delivered as part of the label's Fall/Winter 2021 collection, this cardigan is made from a 60% nylon, 40% acrylic faux-mohair material and features a button-down closure. It may be minimalist in decoration, but it's anything but simple.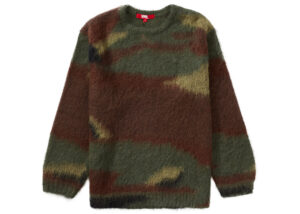 In collaboration with renowned Japanese fashion designer Junya Watanabe, Supreme dropped this brushed camo sweater in Week 11 of their Fall/Winter 2021 season alongside Watanabe's CdG Man label. The sweater boasts a small Supreme x Junya Watanabe tag on the back and is inspired by a camo mohair turtleneck sweater from his Fall 2006 show. Good style is timeless, and this brushed camo sweater proves that.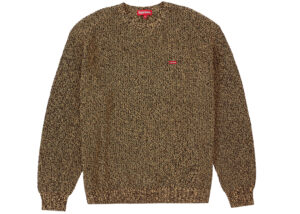 The Mélange Rib Knit Sweater is another stellar Supreme select as it's a relaxed jumper crafted from 100% cotton. Presenting shades of brown and green, the sweater is rounded out with subtle red Supreme branding to the chest. While the garment also comes in red, the brown and green version goes perfect with a sunny day.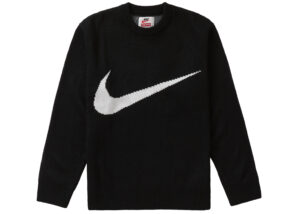 Footwear giant Nike collaborated with Supreme for a second time in 2019 to drop this Supreme x Nike Swoosh Sweater. Originally released in three colorways, including red on white and white on purple, this white on black version is particularly sleek and will have you wondering why the two iconic brands didn't think of this sooner. It's an all-time, '90s inspired sweater that looks as dope today as it will in years to come.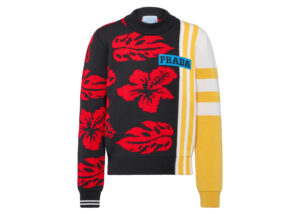 For those forward-thinkers, consider this retro-inspired, exclusive Prada cardigan. The Prada Timecapsule series consisted of an exclusive product drop of 50 items – primarily dedicated to knits – that occurred once a month, and the series' third edition included this wool sweater. Boasting a vintage shape and an original graphic and modernist motif, the black and red piece blends together two contrasting designs from the fashion house's archive. The front features the Prada logo reinterpreted, while a triangle with the drop date, 03-21, is embroidered on the back.